As Facebook Turns 10 Years Old, A Timeline Of The Social Network's History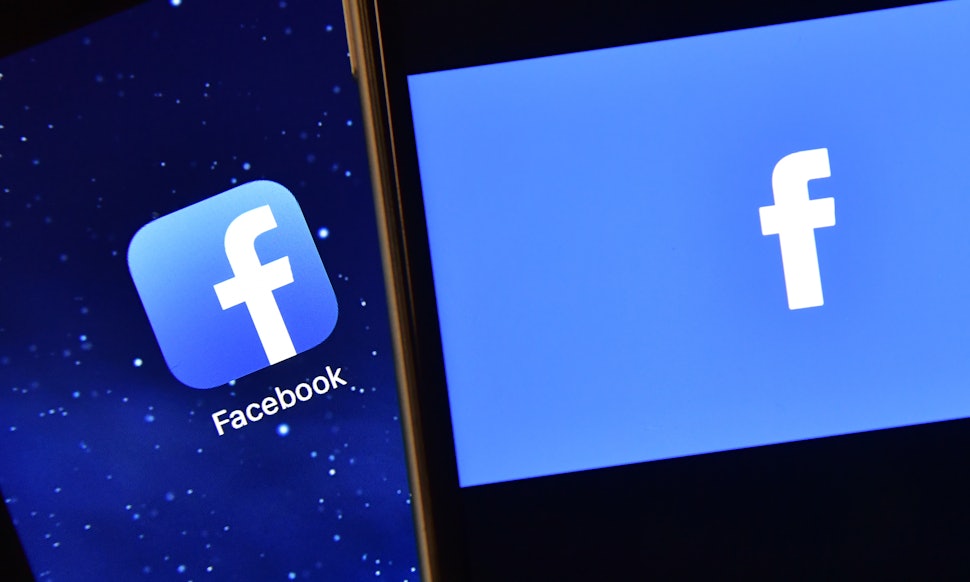 Carl Court/Getty Images News/Getty Images
Here's how you know you're getting old: On Tuesday, Facebook turned 10. The social network has seen its share of drama in the last decade, from being dramatized into Academy Award-winning film The Social Network to seeing million-dollar losses a year after launching. It also got rejected by Snapchat, built a gigantic HQ in California, saw founder Mark Zuckerberg get married, and watched as revenue jumped by 63 percent in the last quarter of 2013.
You already have a Facebook Timeline — so here's your Timeline of Facebook.
2004
On Feb. 4, 2004, Mark Zuckerberg launched Facebook as a social network for Harvard students. It went by the domain thefacebook.com, and spread like wildfire at the Ivy League university. By March, Zuckerberg had expanded to a handful of other American colleges. In June, the company received an angel investment of half a million dollars, and set up headquarters in California.
Whether Facebook was really Zuckerberg's own idea is, of course, somewhat controversial. In short, Zuck may or may not have robbed his fellow Harvard classmates, Divya Narendra and the infamous Winklevoss twins (now investors in Bitcoin) of the idea. Either way, Zuckerberg wrote the code for Facebook himself, and developed the website into a corporation with the help of two other friends. Of course, all of the above later sued Zuck for minimizing their role in the corporation, but, details.
All of the cases settled out of court. This doesn't necessarily mean that the many, many classmates suing Zuck didn't have a case, but that they agreed to take a sum of money and/or shares from the Facebook founder instead of going to court.
Image: Coletivo Mambembe
2005
By the time 2005 kicked off, Facebook had registered a million users and expanded to international universities. In May, venture capital firm Accel Partners invested a casual $13 million in the company.
In August, Zuckerberg decides that "The Facebook" wasn't snappy enough, and changed the site's domain name to just facebook.com. The domain purchase set the company back $200,000. Facebook also expanded into high schools and launches a photo-album feature. This last addition became fundamental to Facebook, because that's how you remember what you looked like with bangs.
Image: Andreas Ivarsson
2006
In 2006, a leaked cash-flow document showed that Facebook had lost $3.63 million in the last fiscal year. The year also saw the News Feed's creation — although at that point you weren't allowed to make sure your ex-boyfriends weren't on it. By the end of 2006, Facebook wasn't just for high-schoolers and college students anymore: as long as you were 13, or pretended you were, you could sign up.
2007
This was the year that Facebook managed to settle all of their ongoing lawsuits, losing a few million in the process but acquiring Winklevii project ConnectU, a "rival" social-networking site.
Zuckerberg shrugged it all off: By 2007, Facebook was already valued at $15 billion.
2008-9
Facebook went global, setting up its international headquarters in Dublin, Ireland. Not much else happened, unless you count steadily inching towards world domination. Oh, and you could now tag your friends in photos.
Zuckerberg began to tell press that Facebook had become cash-flow positive for the first time. Though when you're worth more than many countries' GDP, who needs extra money to burn?
Image: Facebook Dublin/Facebook
2010
This was the year that we all met the "Like" button. Incidentally, Mark Zuckerberg took a huge "dislike" to the release of The Social Network, arguing that it was riddled with factual inconsistencies. (Meanwhile, he flat-out refused to put a "dislike" button on Facebook.)
Zuckerberg's issue with the film didn't stop it from winning three Academy Awards and four Golden Globes. 2010 also saw a couple of big-name acquisitions, and the introduction of Community Pages, which merges Wikipedia with Facebook pages.
2011
In 2011, Facebook got with the times and updated "relationship statuses" to include civil unions. The length of status updates was increased tenfold — you can blame that update for all of the essays about Starbucks that populate your feed — and Facebook launched both Timeline and an iOS app.
By the end of 2011, Facebook's value was estimated at $50 billion.
2012
In 2012, Facebook shed a billion dollars and acquired Instagram. The purchase came just in time for Facebook to go public, and the company was newly valued at $104 billion in the run-up to becoming a publicly traded company. (One billion for Instagram doesn't seem like so much after all, eh?)
This was the largest valuation ever for a newly-listed public company. To celebrate, Zuck married longtime girlfriend Priscilla Chan. By October, Facebook had signed up one billion users.
Image: Mark Zuckerberg/Facebook
2013
In 2013, Facebook decided to make massive changes to the News Feed. Unfortunately, to the surprise of no-one but Facebook, market testing found that almost nobody wanted the changes, and Facebook decided not to roll them out after all.
In June, Facebook announced the incorporation of hashtags. Three days later, hundreds of the company's employees marched to celebrate DOMA's death in San Francisco. One of those things is many times more important than the other.
In August, Sheryl Sandburg joined Facebook as its chief operating officer. Two months later, Facebook tried to buy Snapchat for $3 billion, but Snapchat CEO Evan Spiegel refused.
2014
And we're up to the present day! After a shaky start in the stock market, Facebook developed its mobile presence and made itself more appealing to advertisers, making revenue jump by more than 60 percent. Zuckerberg danced in a sea of dollar bills. (One of those things is not true, at least not to our knowledge.)
Having announced the initiative Facebook Creative Labs a year ago, Facebook launched Paper, a half-news source, half-Facebook timeline on Feb. 3.
"We're looking forward to our next decade," Zuckerberg declared, "and to helping connect the rest of the world."