10 Tricks That Improve Foreplay Before Sex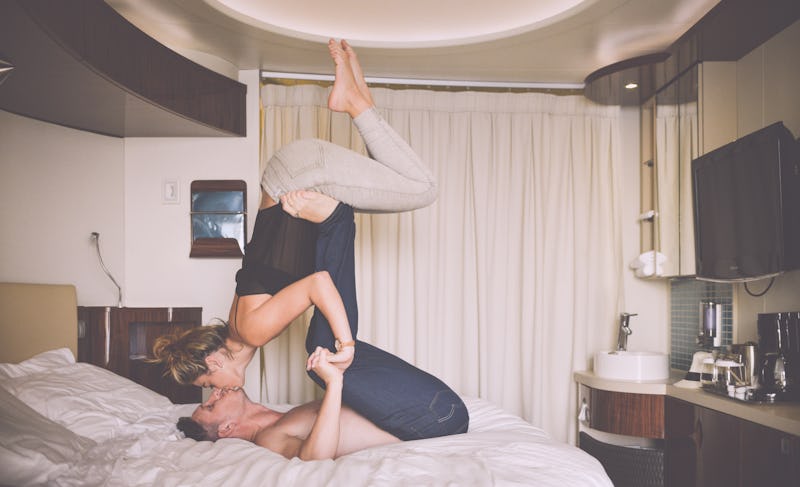 Our weeks are filled with monotonous chores like doing our laundry, vacuuming the apartment, and cooking dinner. But one thing that should never be the source of bored-out-of-your-mind eyerolls is good ol' fashioned foreplay. Learning a few new simple and sexy tricks that dramatically improve foreplay before sex will put the opening act on par with the main event. By adding new X-rated games, toys, and products into the bedroom, you'll both be giving new life to your pre-sex routine and feeling in the mood in no time.
I know what you're thinking: Your weeks are busy, and you don't have a lot of extra time during the week as-is. Or you've been with your partner for a long time, and you're at the point where you just want to cut to the chase already, and is that too much to ask? Try a few of these sexpert-approved tricks, and I promise — you'll want to slow things down pre-romp with your S.O.
You'll have no trouble finding new ways to turn each other on when you introduce a kinky game challenge into your foreplay. Soon, you'll be able to get each other in the mood during the day via text message after reading a book on how to talk dirty to your partner. Get ready to have fun and fearless foreplay that will lead you both to spending more hours under the sheets.
For Extra Fun, Try a Game With 10 Different Controls
Sensuelle Remote Control Rechargeable Bullet, $32, Amazon
Vibrations, and pulsations, and escalations — oh my! This discreet, wirelessly controlled vibrator is tiny, which means you and your partner decide where and when to use it. Give your partner control over which of these ten functions they want you to experience during your next dinner date, or take charge yourself to control your partner's pleasure. (Total Meg Ryan moment). Bonus: The remote control can be used from 65 feet away, and it's completely rechargeable for those anytime, anywhere frisky urges.
Mix It Up With A Delicious, Sensual Massage
As sex therapist Gloria Brame told Cosmopolitan, "Men desire a variety of hands-on stimulation techniques." To spice things up in the bedroom and make your partner's eyes light up, suggest a massage session with this edible chocolate mousse massage oil. It's infused with pheromones, so you'll both naturally be feeling in the mood. (Plus, the delicious sweet taste will make your S.O. even more kissable). When you're done giving your boo a rub down, switch roles, because you also deserve a relaxation sesh with a super sweet ending.
Get Touchy With A Stimulating Finger Tool
Hello Touch X , $92, Amazon
Before you get down and dirty, slip this powerful, vibrating pleasure perfecter on your fingers and prepare for extra stimulation on all of your go-to spots. It moves with fingers making for a more natural play time for you and your partner. Bonus: It's quiet, so it won't interrupt the mood.
Be Spontaneous With An Adult Game
Foreplay in a Ro w, $28, Amazon
Therapist and public speaker on sexuality Ava Cadell told Redbook that X-rated games are something that can make for "laughs, fun, and carefree lovemaking" by any couple. This adult twist on a classic game includes tokens that each feature an erotic act. This fun foreplay activity will mix things up in the sheets, helping you and your partner stay spontaneous when your foreplay has started to feel a little routine. Take turns dropping a token and reaping the O-worthy benefits of a grown-up board game night. Win the game by aligning four of your tokens in the same lines — loser performs the actions from the 4 winning tokens. Bonus: It comes with an extra sensual card game included.
Be Spontaneous Together By Unlocking New Ecstasy-Inducing Games
Cosmo's Kinky Sex Games , $8, Amazon
Leave it to the sexperts at Cosmo to create the perfect erotic game set for you and your partner. Choose a night to stay in, open a bottle of wine together, and start reading through the deck of cards to find ten naughty games to play together including the "Cosmo S&M Challenge." You'll feel closer after challenging each other to play the fun, ecstasy-inducing games — so much so that the game may need to end a little early. One user praised the game, saying it's perfect for those who don't have as much experience with this type of frisky foreplay.
Give Your Partner Control With A Sexy Game
Wireless Remote Control Vibrating Panties , $39, Amazon
Before going out, give your partner the tiny, low-key remote (or vice versa), and slip a pair of these remote controlled vibrating lace panties on for a fun and discreet game that only you two will be in on. They look and feel like they could be a pretty pair straight from your drawer, so no need to worry about discomfort or to try to hide them from your roommates in the laundry room. The wireless remote can induce pleasure from up to 45 feet away.
Wear Confidence Boosting Sexy & Sweet Lingerie
Avidlove Women Lingerie 2 Piece Babydoll (Sizes M-3XL) , $10-$13, Amazon
Sex Therapist Ian Kerner Ph.D. told Women's Health that wearing lingerie has major foreplay benefits because it makes you feel like you're "playing into the role of a seductress." So, go ahead girl, get on with your bad self. This black lace see-through babydoll slip comes in a variety of sizes to give all shapes a boost of sexy confidence — not to mention, make your partner want to get busy ASAP. Unlike some constricting lingerie, this soft mesh and lace will be something you'll feel comfortable rolling around in.
Heat Things Up With A Dirty Conversation
When it comes to having bedroom conversations, Dr. Jenn Berman advised Men's Fitness readers to keep it simple and describe "what you're doing or what you want to do." If this is new territory for you or your partner, read up on the best words to say to get each other in the mood. This little cheat sheet book written by psychology professional, George Klein, will even run you through how to send teasing texts that will have you both wanting to leave the office early. To take your foreplay to the next level, tell your guy or girl to make like Jason Derulo and "talk dirty to me."
Make Things Steamy In The Tub With Sensual Bath Bombs
Schöne Bath Bombs, Naughty (Pack of 6), $18, Amazon
What's better than a hot bath with your boo to get you feeling relaxed, close, and ready to get frisky? This set comes with six naughty bath bombs in fun colors and romantic scent combinations like sugared lime and lavender rose mint. (Bonus: These bath bombs are rich in minerals that will have both of you feeling soft and smooth when you're rolling around in the sheets).
Make Foreplay Taste Irresistible
Fork Me, Spoon Me: The Sensual Cookbook (Limited Edition) , $13, Amazon
Make your own foreplay treats with the aphrodisiac cookbook that includes steamy recipes that you both can make together before you say bon appetite, using each other's bodies as your serving plates. Tracey Cox, author of Supersex for Life suggests different meals like vanilla-scented sea bass and Persian love cake — all created with promoting sexual health in mind. Bonus: To make things extra-hot, try cooking together sans clothing, but wait until everything has finished cooking to start the fun.
Bustle may receive a portion of sales from products purchased from this article, which was created independently from Bustle's editorial and sales departments.
Images: Pexels (1); Amazon (10)