9 Best Waterproof Sunscreens To Use At The Beach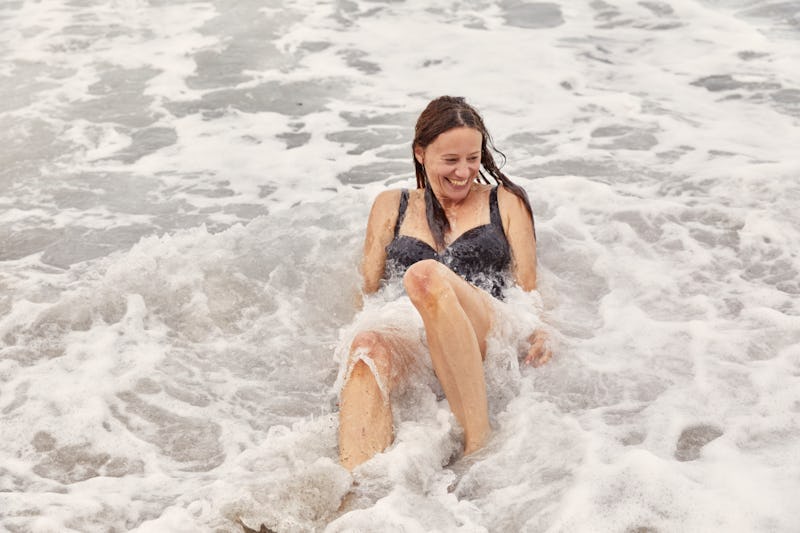 Luca Sage/DigitalVision/Getty Images
Hopefully you're aware of just how important it is to rock sunscreen when you're out playing in the sun, but not all sunscreens are created equal. If you're going to be hitting the pool or waves, make sure to check out all the best waterproof sunscreens so you purchase one that doesn't just wash off. Since water amplifies the strength of sun rays, you want to be as protected as possible!
If you need more convincing for why reaching for waterproof sunscreen is so important when you know you're gonna get wet, prepare to learn from my mistakes. I spent last Christmas scuba diving and snorkeling in Thailand and had forgotten to pack sunscreen. Since many of the sunscreens in that area actually have bleach in them (that's a whole other discussion), I decided to just use my moisturizing face cream with SPF all over my body instead. To say the least, after twenty minutes in some fairly rocky waters, I was feeling the burn. An hour later, I was definitely channeling some lobster hues all over my back. Ouch.
To make sure you don't go down the same non-waterproof/resistant sunscreen path I did, definitely stock up on these before hitting the water!
Neutrogena Wet Skin Sunscreen Spray, $11, Amazon
High SPF, a spray bottle, and totally waterproof — can this be beat?
Hang Ten Natural Sunscreen, $17, Amazon
Free of harsh chemicals, this mineral sunscreen will keep you safe in the sunshine and water for up to eighty minutes.
Cotz Sensitive Water Resistant UVA/UVB Sunscreen, $16, Amazon
For all the folks out there that have to be super mindful of what goes on their skin, this sensitive formula should be safe for you!
Jack BlackOil-Free Sun Guard, $10, Amazon
This oil-free water resistant formula is perfect if you struggle with breakouts.
ShiseidoUltimate Sun Protection Cream Broad Spectrum, $32, Amazon
Thanks to WetForce technology, this sunscreen actually works better once you get in water.
Tot Logic Sunscreen, $14, Amazon
Who cares if this is designed for toddlers, it's 100 percent natural, budget-friendly, and water-resistant for up to eighty minutes per application.
Coola Sport Continuous Spray, $36, Amazon
Mostly concerned about sweat? This natural sunscreen spray has you covered!
LavanilaSport Luxe Face And Body Cream, $11, Amazon
This cream offers ultra-sheer protection against water and sweat so you can play hard without getting burned!
Kiss My FaceWater Resistant Oat Protein Sunscreen, $13, Amazon
This sunscreen is water resistant up to forty minutes per application and packed with good-for-your-skin ingredients. Plus, it doubles as a moisturizer.
Want more fashion and beauty tips? Check out the video below and subscribe to Bustle on YouTube!
Images: Luca Sage/DigitalVision/Getty Images; Courtesy of Brands