'The Revenant' Bear Is The Real Star Of The Oscars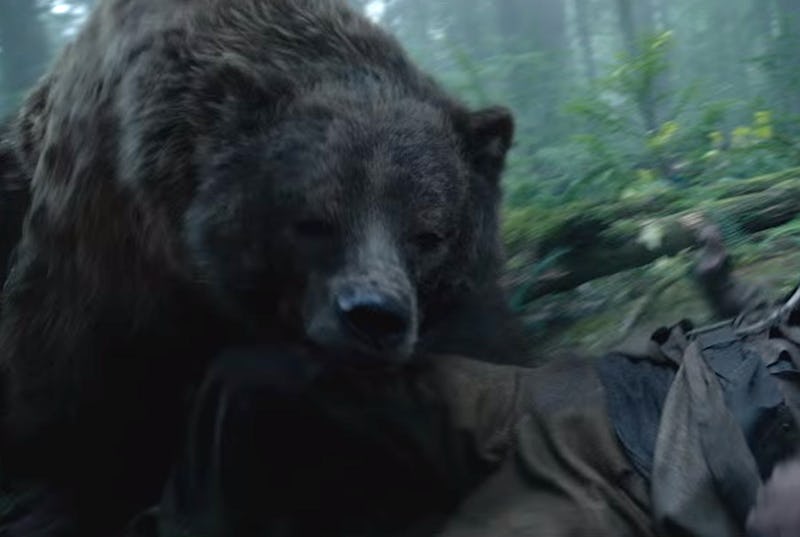 During Sunday's Academy Awards red carpet and ceremony, Leonardo DiCaprio and his Oscar chances were the subject of many conversations, memes, and jokes. Also a popular subject of talk? The Revenant bear and the memes and jokes Oscars fans made all over social media. While the bear's actions in the movie were scary, that hasn't stopped fans from turning the bear into the butt of several Twitter jokes. And, with all the DiCaprio Oscars talk, I'm actually pretty grateful that not every meme is about whether or not he'll win his first Academy Award.
And, I also do love a good bear joke. The Revenant bear, who I'll call Steve because he deserves a name, has been the subject of awards season jokes all year. Jonah Hill even dressed up like the bear during the 2016 Golden Globes in an awkward, but funny, presentation speech with Channing Tatum.
It's too bad the bear isn't up for an Academy Award, but it's probably good for DiCaprio because the bear would certainly give him a run for his "I still haven't won an Oscar" money. Or, I guess the bear would be up for Best Supporting Actor anyway, so DiCaprio's safe from the bear this time. Check out the best jokes below:
In His Award Show Best
So dapper.
Award-Winning Performance
I mean...
A Different Kind Of Bear
Unfortunately Paddington isn't up for any awards either.
I Don't Even Know
What's happening here? The world may never know.
Bear Discrimination
Ugh, how dare they not invite the bear who made DiCaprio an Oscar contender?
Support System
Aww, I knew they'd make up post-movie.
The Perfect Pair
I 'ship it.
When He Showed Up To The Ceremony
This cameo was everything.
Image: 20th Century Fox