7 Skincare Products That Are Bad To Use If You Tan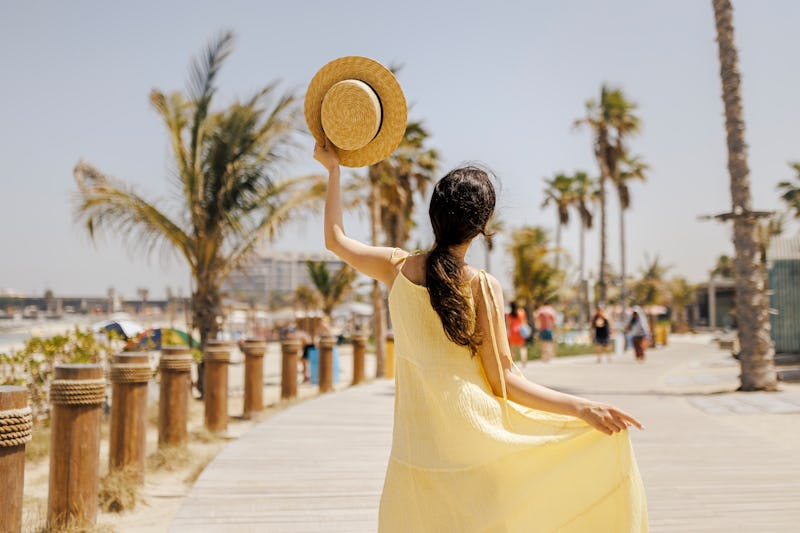 DjordjeDjurdjevic/E+/Getty Images
Many consider tanning to be the illest of skincare ills. Thankfully, though, spray tanning and self-tanners have become the new, healthier norm. Getting that glow in a healthier, much less dangerous manner, however, means being more cautious about your skincare. That's why these skincare products are bad if you tan. If you decide to venture out into the sun for your tanning fix, there are ways to do so safely, but even with tips for tanning outdoors, there are certain skincare products and skincare ingredients that can not only have an adverse affect on your tan, but also on your skin.
One of the leading causes of tanning fade occurs when you use products with retinol. Retinol is actually kind of a miracle product outside of the tanning world. According to Birchbox, retinol is able to help everything from aging skin to cystic acne. Basically, it's in a decent amount of products on the market because it's able to assist with hyperpigmentation, acne, wrinkles, and hydration. It's a real winner — for those who don't tan. For those who do, however, retinol can basically act as an exfoliator, continually killing dead skin cells, and as such, causing a spray tan or a natural tan to fade quicker than usual. Not to mention, retinol increases sensitivity to UV rays and can cause incredible amounts of damage to the skin.
So, tanners — listen up. Here are the common products you should be on the lookout for that may contain retinol.
Moisturizers
Philosophy Take A Deep Breath Oil-Free Oxygen Infused Gel Cream , $55, Amazon
Even drugstore moisturizers can contain retinol. Make sure you're checking the ingredients of whatever moisturizer you're using before exposing yourself to the sun or using sunless tanner. This one from Philosophy is A-OK for those of you who plan on laying out in the sun anytime soon.
Under Eye Cream
Clarins Super Restorative Total Eye Concentrate , $64, A mazon
Intensive treatments can contain retinol, and though the ingredient is usually prominently featured on packaging due to its popularity, sometimes it can hide in something as gentle as an eye cream. Opt for formulas that are retinol-free, like this one from Clarins.
Serums
Mario Badescu Vitamin C Serum, $45, A mazon
One of the most popular use of serums is for a brightening effect, and since retinol can help with this, the ingredient can be found in common serums. Grab a vitamin C serum, like this one from Mario Badescu, which can help protect your skin and fight against wrinkles.
Over-The-Counter Acne Treatment
Clean & Clear Advantage Acne Spot Treatment, $7, Amazon
Retinol isn't super easy to find over the counter, but when you notice Vitamin A as an ingredient, that's a sign of retinol. Be on the lookout for these products if you're treating blemishes, and opt for ones that don't have retinol, like tis one from Clean & Clear.
Anti-Wrinkle Creams
Philosophy Anti-Wrinkle Miracle Worker, $39, Amazon
Tons of anti-aging and anti-wrinkle treatments feature retinol. If you're just venturing into the world of preventative measures for your skin and you're a fan of a tan, keep your eyes peeled. Consider this incredible, retinol-free moisturizer from Philosophy.
Facial Oils
Fresh Seaberry Moisturizing Face Oil, $65, Amazon
While some retinol products can dry, an oil is the perfect solution. However, mixing sun exposure and a retinol-filled oil would be no good. Try this seaberry face oil from fresh!
Foundations
Make Up For Ever Ultra HD Invisible Coverage Foundation, $61, Amazon
Anti-aging and anti-wrinkle foundations can hide retinol in their formulas. While most don't go tanning rocking a full face, for those out in the sun in these bases, be careful of too much exposure. If you plan on wearing makeup under the sun, consider this foundation from Make Up For Ever.
Images: DjordjeDjurdjevic/E+/Getty Images; Courtesy of brands