6 All-Day Bags That Will Make Your Life Easier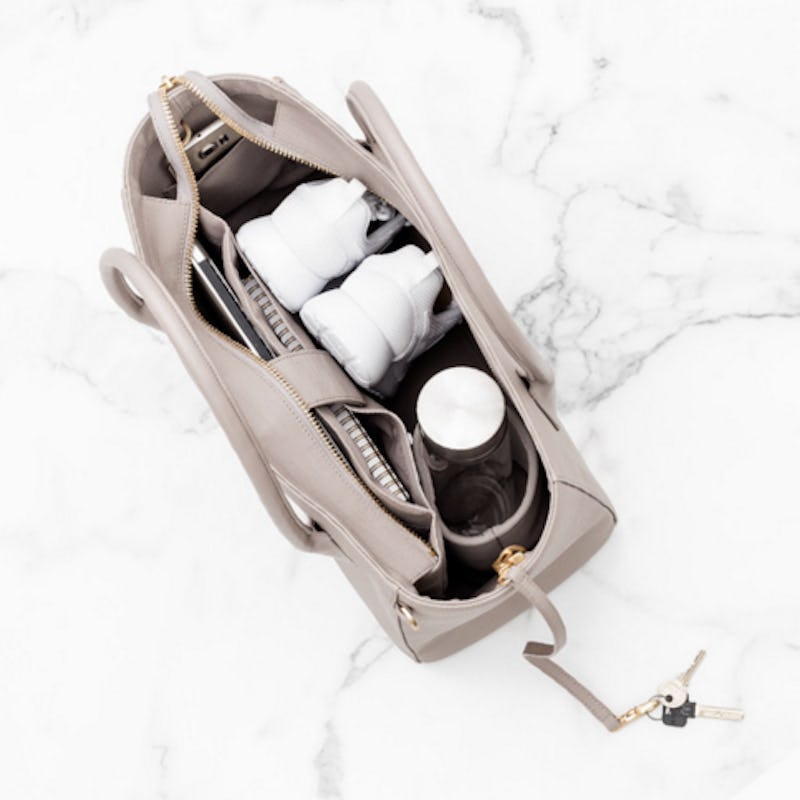 I'm obsessed with this idea of all-day bags that will make your life 1,000 times easier. Obsessed! Because there's something about carrying everything you own or could possible need in case of a zombie apocalypse on your person that just makes you feel like the exact kind of grown up you want to be. I know you know what I mean! It's like when you got to organize all of your school supplies into your new backpack at the end of summer. The best.
What's even more satisfying is when that bag is cute and functional. Pockets? Yes please. Secret compartments? Sign me up. Enough room to smuggle home a litter of abandoned kittens (without feeling like a suitcase)? Must. Doesn't look like a dirty grocery bag? Shut up and take my money.
Plus how satisfying is it to fill your bag with all your stuff, and have it all impressively organized? Now I want to go search #insideemypurse on Instagram. Anyway, back to the bag feels. You deserve everything about having the perfect, day (nay, life?) changing bag. So I've looked far and wide (by way of Google, of course) for a bunch of all-day bags with different features for your different types of day. Because maybe you don't want to smuggle kittens, but those notoriously annoying stacks of files and binders. Or 40 lip glosses. Or half a cookie, some flip flops, and three water bottles. The right bag won't ever judge you.
OK, this purse charges your phone for you. I repeat. It charges your phone for you! You're not going to be able to carry your full zombie apocalypse survival kit in here, or your laptop, but it's got plenty of room to organize your necessities. It also translates well to a lot of after-work looks. Um, and it charges your phone.
Everpurse x kate spade new york Quentin Stripe Wristlet Pouch, $188, Amazon
I might need a minute here to get a tissue because this thing of beauty has literally brought a tear to my eye. According to the website, it has specific compartments for your laptop, tablet, umbrella, wallet, lipgloss, pens, phone, keys and ID or metro cards. It doesn't say, but I'm pretty sure that when you open it up and see all of your well-organized necessities, a rainbow shines out of the bag and you hear a choir of angels. So many satisfying feels.
Dagne Dover Legend Tote - Onyx, $265, Spring
3. Phase 3 'Everyday' Faux Leather Tote
Phase 3 'Everyday' Faux Leather Tote, $39, Nordstrom
This is an option similar in size and style to the Dagne Dover (but with far less handy compartments), that will be a true workhorse bag.
J World New York Elaine Tote Bag, $45, Amazon
Do you ever wish your purse was also a cooler? Because maybe your work refrigerator is way too gross for your yogurt, or insulin, or pumped breast milk? This bag has an insulated cooler section on the bottom. You're literally taking refrigeration on the go with you. Oh, the snacks you can carry! And I think to myself, what a wonderful world.
Glass Handbag Socialite Satchel, $325, Glass Handbag
While we're on the subject of refrigerators, you know how there's a light that comes on when you open it, and then closes when you shut it? Well someone thought to put that kind of lighting in a purse, and now finding your keys is going to be a million times easier.
Lo and Sons O.G. Overnight And Gym Bag, $295, Lo and Sons
If you go to the gym, then to work, then to after work commitments, then you really know how real the bag struggle can be. This bag has a place for your shoes and gym clothes, plus your laptop, makeup bag, and all that other stuff you need. It looks purse-like, so you don't have to feel like you're dragging around a duffle bag. It's probably a little hefty for that perfect transition into evening, but it's not so un-purse-like that you'd feel super uncomfortable. Unless you're always going to the red carpet. In which, hey, be a trendsetter!
So now whether you're trying to prioritize your snacking, hide away your gym sneakers, or keep your phone battery as fresh as your beautiful face, you can do it in organized style.
Images: Dagne Dover