This Video Perfectly Tackles Super Tuesday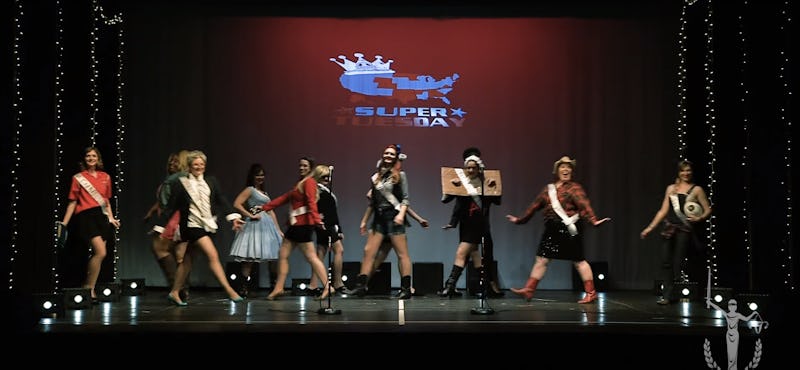 Roe v. Wade, the Supreme Court case which ended in a ruling that affirmed women's access to abortion as an issue of privacy and bodily autonomy, is 44 years old. But in many states today, obstacles remain in place for women seeking abortions. This week, Lady Parts Justice, a group of writers and comics who use their talent to advocate for reproductive rights, released a video which succinctly and humorously summarizes the state of reproductive rights in Super Tuesday states. The timing of the video is perfect, and not only because it synced up with Super Tuesday; it was released one day before the Supreme Court hears arguments for one of the biggest abortion access cases in recent years.
The video, titled "2016 Miss Super Tuesday Pageant!", presents us with 12 "contestants," each of whom represents a Super Tuesday state. The "contestants" are presented by a showbizzy announcer, and each has a statement to make about reproductive rights in her state. A Sarah-Palin-esque "Alaska" quips: "I can't see any abortion clinics from my house!" while a caption appears informing viewers that only 10 percent of Alaskan counties have an abortion provider (a huge barrier in the massive state).
"Alabama" proclaims, "Our constitution is the Ten Commandments!" as a caption explains that in Alabama, fetuses can be appointed a lawyer by the state. A powerful moment comes when "North Dakota," "Colorado," "Wyoming," and "Minnesota" take the stage together and stand in silence. The caption says that these four states, along with 26 others, allow for a rapist to sue for custody and visitation rights for children born as a result of sexual assault.
Reproductive rights were only presented favorably in two Super Tuesday states: Massachusetts and Vermont. "Vermont" says, "My favorite flavor of Ben & Jerry's ice cream is Cookies and Can You Believe How Much Abortion Access We Have?" Concerning Massachusetts' laws, the caption reads, "GO SOX!"
On March 2, the Supreme Court will hear arguments in Whole Woman's Health v. Hellerstedt , a case that was brought forward in response to a 2013 Texas law which will reduce the number of clinics that provide abortions in the state from 40 to six. The law would accomplish this by requiring locations which perform abortions to qualify as "ambulatory surgical centers" — which involves meeting a host of criteria most abortion clinics don't — and requiring that doctors performing abortions be able to admit patients to a hospital within 30 miles.
Miss Super Tuesday contestant "Texas" sums up the results of the law thus: "Everything's bigger in Texas, including the distance to your local abortion clinic!"
The Lady Parts Justice Miss Super Tuesday Pageant gives good insight into the current state of reproductive rights through a smart and funny vehicle.