Here's How Much SPF You Need To Use On Your Face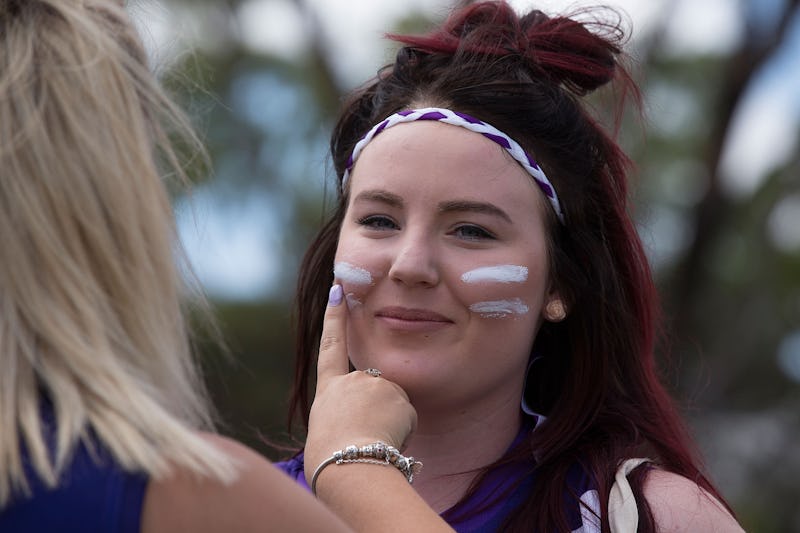 Will Russell/Getty Images Sport/Getty Images
If there's one thing I'm absolutely fanatical about in my beauty routine, it's putting on sunscreen. With my fair skin and freckles, I'm a magnet for sunburns (and skin cancer), so I make it the first part of my beauty routine every day. I've always heard you should be using the equivalent of a shot glass full of sunscreen on your body, but I also wondered: How much SPF do you need to use on your face?
Turns out, you probably need to be using more than you think. "The absolute minimum SPF you need to wear on your face every day — even if you're just sitting in an office or a classroom until dusk — is SPF 30," dermatologist Mona Gohara told Allure .
And, it's not enough to just use a foundation or powder with added SPF. "Makeup does not provide enough coverage," dermatologist Leslie Baumann told WebMD. "You need seven times the normal amount of foundation and 14 times the normal amount of powder to get the sun protection factor on the label. No one does this."
So, you need a dedicated moisturizer with SPF, and you need to apply it liberally. According to dermatologist Elizabeth Hale, that amount is a nickel-sized dollop for your face and neck alone (and don't forget your ears!)
Pur-Lisse Pur-Protect SPF 30, $24, Amazon
Makeup artist Tina Turnbow told WebMD she swears by this SPF moisturizer.
Olay Total Effects 7-in-1 Anti-Aging Daily Moisturizer With SPF 30, $21, Amazon
This anti-aging moisturizer from skincare icon Olay kills two birds with one stone.
Neutrogena Oil-Free Moisture with Sunscreen Broad Spectrum SPF 35, $9, Amazon
I love this oil-free moisturizer for the warmer months, when my face gets shiny faster. And, the price can't be beat.
Colorescience Sunforgettable Mineral Sunscreen Brush SPF 50, $64, Amazon
After applying a moisturizer with SPF in the morning, it's important to reapply throughout the day. I love this loose powder for its SPF 50 and built-in brush.
Supergoop! Defense Refresh Setting Mist SPF 50, $28, Amazon
You could also use this setting mist from Supergoop! over your makeup. Not only will it hydrate your face, it's also equipped with SPF 50.
Sun protection doesn't need to be a hassle — it's easy to incorporate it into your daily routine with a simple moisturizer with an SPF of at least 30.
Images: Will Russell/Getty Images; Courtesy of Brands