The One Mascara You Need To Avoid Raccoon Eyes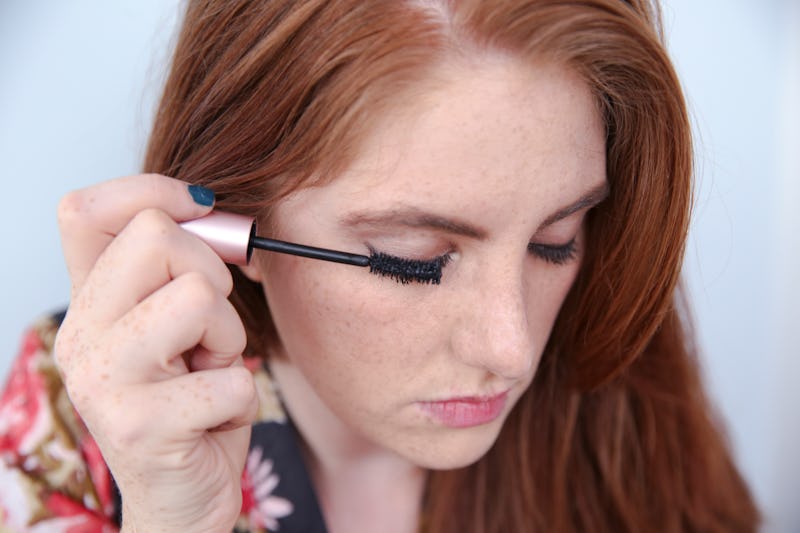 My eyelashes are blessedly long, but they're light enough that a coat of mascara is basically an everyday essential for me. I feel naked without my swipe of black mascara, so I've tested and tried what feels like every mascara on the market. But, no matter what I tried, my mascara always wound up flaking under my eyes an hour after I applied it. Finally, I discovered the one smudge-proof mascara you need if you're prone to raccoon eyes, and — not to be hyperbolic — it changed my life.
I've tried every mascara under the sun: cult drugstore brands, beauty editor faves, and Sephora staples that cost me way too much money, but nothing stopped my mascara from smudging. Even if I loved a mascara's formula when it went on, by the time I looked in the mirror an hour after I applied, I would have mascara tracks under my eyes. That's likely due to my sensitive eyes, which are prone to watering, but when I discovered a new drugstore mascara that didn't smudge, I was hooked. My secret? Tubing mascara.
The product isn't brand new, but it's a relatively recent addition to the beauty industry. In 2011, Lewis Farsedakis released blinc mascara, the first tubing mascara on the market.
blinc Mascara, $26, Sephora
So what does tubing mascara do? It's formulated using a product called an acrylic copolymer, Farsedakis told Birchbox. That acrylic copolymer forms a sort of "blanket" around your lashes by binding to itself and creating tubes that encase your normal lashes. The result is a mascara that truly does not budge. I sit here wearing mascara I applied more than 15 hours ago, and it still looks as smudge-free as when I put it on this morning. When you want to remove it, all it takes is some warm water and a little coaxing, and the tubes slide right off.
Other brands (obviously) jumped on the tubing mascara bandwagon, and the market is full of options.
L'Oreal Paris Double Extend Mascara, $7, Amazon
This is my current mascara of choice, and I'm obsessed with the smudge-proof wear it provides.
CoverGirl Professional Remarkable Washable Waterproof Mascara, $5, Amazon
This CoverGirl mascara looks like its brush is designed to give major volume.
Clinique Lash Power Mascara Long-Wearing Formula, $18, Sephora
This Clinique mascara is designed to last for hours , and I can attest to its smudge-proof powers.
D.J.V. Miaray Fiberwig Mascara, $19, Amazon
This Japanese product is insanely popular there, and it became available in the U.S. last year.
Although tubing mascara isn't necessary for everyone, if you're constantly annoyed by smudged mascara, you have to try it out. And, even if you aren't, its staying power is seriously impressive.
Want more fashion and beauty tips? Check out the video below and subscribe to Bustle on YouTube!
Images: Isla Murray/Bustle; Courtesy of Brands