Claire's Mom On 'House Of Cards' Is A Big Deal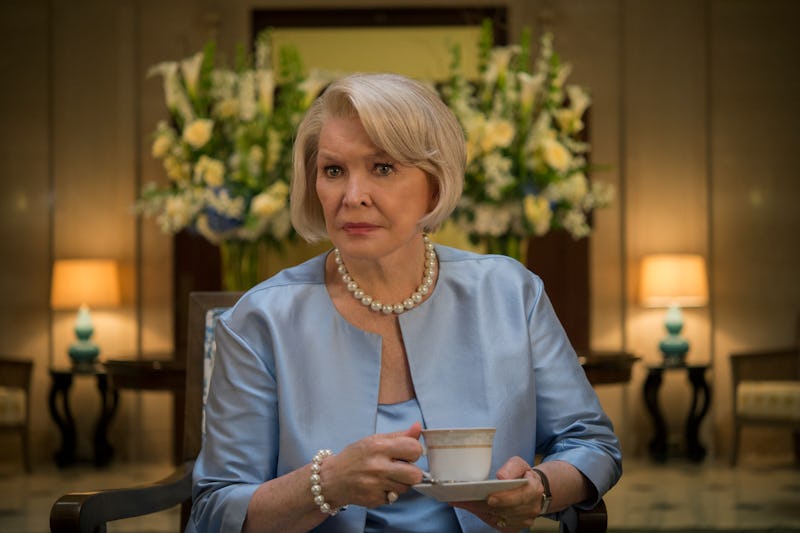 It's that time of year again: House of Cards Season 4 drops on Netflix Friday and I couldn't be more excited. Especially since Oscar-winning actress Ellen Burstyn joins the series this season to play Claire Underwood's mother. And with that in mind, I think it's about time viewers got to know who is Claire's mom on House of Cards and how she affected Claire (Robin Wright) in becoming the Lady McBeth figure she has been for the past couple of seasons. The Baltimore Sun described Claire's mother Elizabeth Hale as an old-money woman of Highland Park in Dallas and The Hollywood Reporter said that the character is a "patrician, withholding mother."
The Baltimore Sun also reported that viewers will get a chance to see a "different, emotionally messier side of Claire" in the presence of Elizabeth and it'll explore Claire's world away from husband and President Frank Underwood, who she split from at the end of last season. This is great news for the series and for Claire's character, because fans have mostly seen Claire either with Frank and being heavily influenced by his ruthless pursuit of power. The couple always seemed to have each others' backs when it came to wanting power at any cost. But last season, Claire finally got fed up with Frank's upper hand in their relationship and decided to leave their marriage once and for all.
What viewers didn't see is where Claire went after she walked out of Frank's Presidential life. According to The Hollywood Reporter, she goes to Texas. I can only predict that she ends up back in Dallas with dear ol' Mom, proving that even someone as badass as Claire Underwood needs to return home again to regroup. Claire will probably be heartbroken — she is human after all — but I can see Elizabeth getting Claire to stop moping and face the world once more. Elizabeth may even convince Claire to run for political office, because The Hollywood Reporter did hint that Claire's journey seems to be parallel to Mellie Grant's on ABC's Scandal.
I don't know what Elizabeth will be like exactly, but if Claire is anything like her, I know that Claire's mom must be just as stone-cold and determined as the woman she raised. Throughout the course of House of Cards, Claire has never let an obstacle intimidate her — and perhaps her mother needs to remind her of that. I hope Claire's mom will empower her daughter and remind Claire that she no longer has to compromise who she is for Frank or his presidency any longer. She can do what she wants to do now. As for Frank, well, I can't imagine Elizabeth likes her son-in-law all that much right now, even if he is the commander-in-chief. He should probably avoid Texas, but knowing Frank, he's going to want Claire back and will try to make it happen.
Images: David Giesbrecht (2)/Netflix