10 Best Facial Gadgets For Acne & Blackheads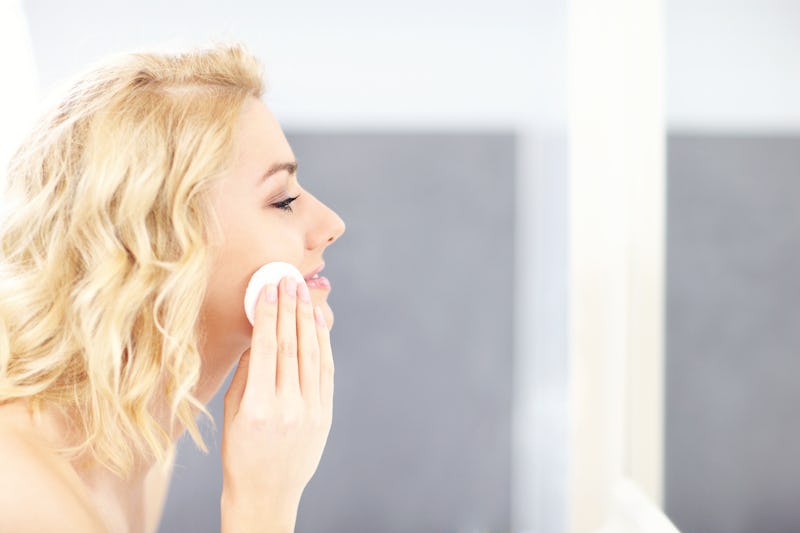 With so many facial tools and gadgets to clear up acne out on the market right now, it's hard to tell which ones actually clear up breakouts and remove blackheads and which ones just fall short. It's one of those things that you need to be extra careful about, too. While skin definitely needs care and keeping in order to look healthy, clean, and spot-free, abrasive chemicals and too much exfoliation can strip off natural oils, change your pH levels, and just plain damage skin to a point where it's lost its elasticity and glow.
It's a slippery slope, and frankly, I'm not a fan of items that exacerbate the problem and cause dependence. If a cream, toner, or tool changes the quality of my skin to a point where I need it in order to feel like my face is clean and healthy, then it's probably not the product for me. Thankfully, there's a whole bunch of gadgets and tools that are specifically created to support skin — to prompt its natural functions rather than inhibit them. That's why I put together this list of favorites that stimulate, exfoliate, and rejuvenate skin in a healthy and chemical-free way, so your face can look clear and clean naturally, no matter what.
Clarisonic Facial Cleansing System, $169, Amazon
The Clarisonic Facial Cleansing System is one of the most popular skin-cleansing gadgets out there, and for a good reason. It cleans 6 times better than just your hands alone by removing impurities with a gentle vibrating motion. This new version has two speeds and a pulsing timer that tells you when to switch areas, and it comes with a sensitive brush head, a refreshing cleanser, a charger, and a travel case. Users say it makes all the difference when it comes to keeping skin clean, smooth, and acne-free, and they'll never go back to traditional washing methods ever again.
KINGA Ionic Facial Steamer, $35, Amazon
This Ionic Facial Steamer has top ratings because it utilizes an advanced ceramic heating element to instantly turn clean water into steam that penetrates deep into your pores. Not only does it replenish hydration in your face, it also promotes collagen regeneration, removes impurities, kills bacteria, and suppresses acne all at once. Reviewers love it because it heats up quickly, it's a wonderful alternative to harsh chemicals, and it feels like a relaxing spa treatment right at home.
Signstek High Frequency Acne Remover, $35, Amazon
If you're sick of creams and washes that don't deliver, this High Frequency Acne Remover just might be your new go-to. It delivers a completely painless high-frequency zap to the skin in order to accelerate blood circulation, strengthen lymph activity, and kill bacteria and impurities under the skin's surface. It's completely portable, so you can bring it anywhere, and people use it for everything from wrinkles to hair loss.
Giro Sensitive Face Cleansing Brush, $26, Amazon
If you've got the type of skin that gets blotchy with the slightest touch, you might be hesitant with most face cleansing gadgets. Thankfully, this Electric Facial Cleanser by Lavo was created with the softest brushes on the market so even unbelievably sensitive skin stays clear and healthy. It deep cleans pores, removes blackheads and whiteheads, exfoliates skin, and reduces bumps with a 360-rotation and two-speed control. It's also entirely waterproof for use in the bath or shower, and because it's durable and great quality, your face will feel smooth and clean for a long, long time.
Skinray Acne Cure, $20, Amazon
Using advanced micro-electron technology, this little tool generates heat and radio wave energy to treat acne. It's great for improving the overall moisture of your skin, and it's also 100 percent safe and easy to use. Simply press the hot tip to any blemish, and jumpstart the healing process. Best of all, it's portable and comes in a little carrying case for easy travel.
Lilian Fache Spa-X Waterproof Cleansing Kit, $102, Amazon
If you're looking for a bit of diversity when it comes to your facial buffer, this Spa-X Waterproof Cleansing Kit has it all. It comes with four interchangeable attachments including a soft brush for delicate skin, a larger brush for bigger areas, a facial sponge to rehydrate your pores, and a pumice attachment for tough exfoliation. It also comes with a gentle facial cleanser made for sensitive skin, and the tool is waterproof, battery operated, and cordless for better control and convenience. Reviewers say its combined vibrating and rotational movement is the best thing for cleansing and revitalizing skin.
Beauty Star Skin Rejuvenation Device, $130, Biosincron
Though this microcurrent facial device was originally created to reduce wrinkles and tighten skin, it's also great for zapping pimples the second they start to form. This tool delivers a stimulating current to the surface of the skin in ten different strengths, ridding the skin of impurities and fine lines, and best of all, it's entirely safe to use on any area. It's entirely cordless, as it runs on a single battery, and reviewers say it makes a huge difference in the overall look and feel of their skin.
If you're looking for small and subtle, this Pocket-Sized Beauty Tool clears acne blemishes while you sleep. It uses a powerful blue light to zap bacteria, and then uses a gentle vibrating and warming function to open up pores remove dirt. It's battery operated and can be used on all different types of skin, and reviewers say it helps pimples to clear up faster than if they'd left them to heal on their own.
Riverlight Naturals Charcoal Pore Sponge, $9, Amazon
For a 100 percent natural solution to acne, this pack of Premium Bamboo Charcoal Facial Sponges is a must-have, and people are going crazy over it. It's made with only high quality, natural ingredients (no chemicals, parabens, or toxins) and it's a perfect way to strip away dead skin, unwanted dirt, blackheads, and leftover makeup without irritating the skin. Reviewers say it's great on every skin type, and it's the first thing they reach for when a breakout hits.
Professional Extractor Tool Kit, $10, Amazon
The jury is still out about whether or not we should be popping our pimples, but if you must, you without a doubt should not be using your hands. Fingers and nails are a breeding ground for bacteria, and that's why this Professional Extractor Kit is must-have for anyone who can't kick the habit. It comes with five different tools as well as a mirror and a classy leather storage case. Plus, because they're made from high-quality stainless steel, they're easy to clean and built to last. It's got all the essentials for every type of skin impurity, and is a definite step up from using your hands.
Bustle may receive a portion of sales from products purchased from this article, which was created independently from Bustle's editorial and sales departments.
Images: Fotolia (1); Amazon (10)