16 Kids' Books To Make You Think About The World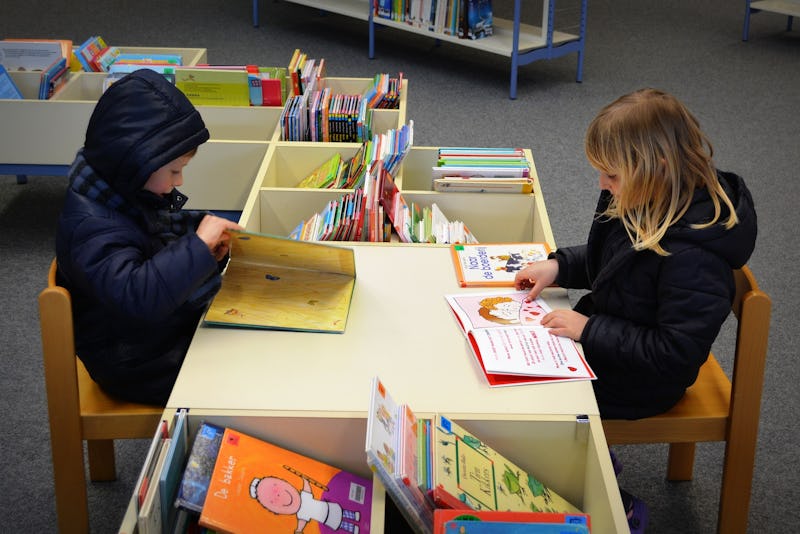 If you love reading as much as I do, then you probably remember the very first book you ever read, all on your own. Mine was The Rainbow Fish, by Marcus Pfister, and it was a story about making friends, sharing what you have — no matter how small — and, of course, glitter. Because that's what 4-year-old girls are all about. But what I remember most about The Rainbow Fish was that it was the first children's book that made me think about the world differently.
As children's bookstore owner Kathleen Kelly (aka: Meg Ryan, in You've Got Mail) said: "When you read a book as a child, it becomes a part of your identity in a way that no other reading in your whole life does." And it's definitely true! I've read hundreds — probably thousands — of amazing novels, memoirs, and nonfiction titles in my reading life, but the books I've read that I will always be able to recall by heart are the books from my childhood. After all, children's books were where I took my first great adventures, and they're the first books that made me see the world differently.
Here are 16 children's books that will make you see the world differently too, no matter what your age.
1. Good People Everywhere by Lynea Gillen, illustrated by Kristina Swarner
It's a lesson people of any age could probably use — especially after about two minutes of reading the newspaper or watching the evening news — that there really are still good people everywhere. Filled with examples of small acts of kindness, generosity, and gratitude, Good People Everywhere is a hopeful picture book for children and adults alike.
2. If the World Were a Village by David J. Smith, illustrated by Shelagh Armstrong
This amazing children's book imagines what the world would be like if the entire global population were represented in a village of only 100 people. If the World Were a Village explores what the lives of these 100 people would look like — from diversity and food security, to healthcare and energy resources. So interesting and illuminating.
3. The Art of the Possible: An Everyday Guide to Politics by Edward Keenan, illustrated by Julie McLaughlin
If the 2016 election season has you asking "what are politics and do we actually need them?" then The Art of the Possible is the children's book for you. It'll take you beyond the political rhetoric of the evening news and back to the grassroots level of politics — describing what everyday people can do to contribute to the political process, even if you're a kid who's too young to vote.
4. Wangari's Trees of Peace: A True Story from Africa by Jeanette Winter
Based on real events, Wangari's Trees of Peace tells the story of Wangari, a young girl who returned, as an adult, to her childhood home in Kenya only to discover that the landscape of her youth had been destroyed by deforestation. Starting by planting nine seedlings in her back yard, Wangari went from small-scale environmentalist to a Nobel Peace Prize winner. This one will definitely leave you inspired.
5. This Is the Rope: A Story from the Great Migration by Jacqueline Woodson, illustrated by James E. Ransome
During what was known as the Great Migration in American history, millions of African American families left the southern states and moved north — for greater freedoms, more opportunities, and better lives. This Is the Rope tells a story of one girl living during this time, and the jump rope that she discovers in the yard one day. For generations her family will find uses — both practical and fun — for this rope, and with it they carry the stories of their past.
6. Looking After Louis by Lesley Ely
Louis is a young boy with autism, and at first his classmates are uncertain about his different interests and needs. But by using open hearts and creative imaginations, Louis's class plans a special soccer game that will help them all understand each other better. Looking After Louis is a beautiful story about friendship, inclusion, and acceptance.
7. Child Soldier: When Boys and Girls Are Used in War by Michel Chikwanine & Jessica Dee Humphreys, illustrated by Claudia Davila
Michel is a 5-year-old boy living in the Democratic Republic of the Congo, when the country is wracked with violence and guerrilla warfare. Then, Michel and his friends are kidnapped by rebel soldiers, and forced to become fighters themselves. Child Soldier is a story about the all-too-true realities of a world where children are still forced into combat, and what it takes for them to survive.
8. I Came from the Water: One Haitian Boy's Incredible Tale of Survival by Vanita Oelschlager, illustrated by Mike Blanc
Based on a true story, I Came from the Water is about an 8-year-old boy named Moses, who is living in an orphanage outside Port-au-Prince, Haiti. When Moses's family died in a flood eight years earlier, Moses was rescued from the waters and learned to make the orphanage his home. But now natural disaster has struck Haiti again, and the orphanage is overwhelmed by more parent-less children. Showing fearless hope, and strength of character, Moses takes the new group of children under his wing, and teaches them how to survive and thrive.
9. The Cardboard Shack Beneath the Bridge by Tim Huff
An important children's book that explains the realities of homelessness in a simple, compassionate way, The Cardboard Shack Beneath the Bridge was inspired by the author's own experience explaining homelessness to his 8-year-old daughter. This is a book that will make readers of all ages think differently about the thousands of families and individual affected by homelessness in the United States and around the world.
10. Bird by Zetta Elliott, illustrated by Shadra Strickland
Mekhai, aka Bird, is a young boy dealing with more than his fair share of adult problems. Mourning the recent loss of his grandfather, and coping with his drug-addicted brother, Bird turns to drawing in order to make sense of his world. Bird is a beautiful children's book about the power art and imagination have in helping young people understand their experiences and survive adversity.
11. Beatrice's Goat by Page McBrier, illustrated by Lori Lohstoeter
Beatrice is a young African girl who wants nothing more than to be able to go to school. But with five brothers and sisters, Beatrice knows her family won't be able to afford the uniforms required for her to attend the school in her village. Then, Beatrice's family receives a goat, and their lives begin to change. Beatrice's Goat is a story about the lives that have been changed by Heifer Project International, and how the donation of just one goat can begin to lift a family out of poverty.
12. Razia's Ray of Hope: One Girl's Dream of an Education by Elizabeth Suneby, illustrated by Suana Verelst
In Razia's village in Afghanistan, girls have not been allowed to attend school for years. But when a new school — just for girls — opens in the village, Razia is desperate to enroll. But first, she must convince her father and older brother just how valuable an educated girl really is. Razia's Ray of Hope is about the power of educating girls all over the world, and is based on the collected true stories of the girls of Kabul's Zabuli Education Center for Girls.
13. My Name Is Sangoel by Karen Lynn Williams & Khadra Mohammed, illustrated by Catherine Stock
After his father died in the war, Sangoel, his mother, and his sister, became refugees in Sudan. When they have the opportunity to move to the United States, the family must take what they have — little more than their traditional Dinka names and memories — and get used to a land with strange weather, busy cities, and unfamiliar noises. My Name Is Sangoel is a children's book about the experience of being a refugee, from the eyes of a child.
14. One Well: The Story of Water on Earth by Rochelle Strauss, illustrated by Rosemary Woods
With water cleanliness and accessibility being one of the greatest issues of modern times — from Flint, Michigan to sub-Saharan Africa — One Well: The Story of Water on Earth could not be a timelier read, for children and adults alike. Rochelle Strauss describes the interconnectedness of all water on Earth — from the smallest raindrop to the largest ocean, and explains to young readers how every drop does truly make a different in the survival of our world.
15. The Wolves Are Back by Jean Craighead George, illustrated by Wendell Minor
From the author of Julie of the Wolves (you know you loved that one) comes this children's book of a similar topic. The Wolves Are Back tells the story of the near-extinction of wolves from the North American continent forever, and how the devastating affects to the natural ecosystem led environmentalists to begin reintroducing the now-protected species back into the country. Demonstrating how every type of animal — the largest to the smallest — plays a vital role in the health of our natural environment, this book will make you think differently about all the creatures we share our world with.
16. I Have the Right to Be a Child by Alain Serres, illustrated by Aurélia Fronty
A beautiful book that will remind reader of any age that children are people too — with dreams, desires, struggles, fears, and above all, protected rights. From the rights to safe neighborhoods, healthy food, and adequate healthcare, to the rights of earning an education, living in a clean environment, and having the freedom to dream big, I Have the Right to Be a Child explores — in easily-understood language — the rights established in the Convention on the Rights of the Child, which was adopted by the U.N. General Assembly in 1989.
Image: Pixabay