How To Get A Glitter Cut Crease Eye Look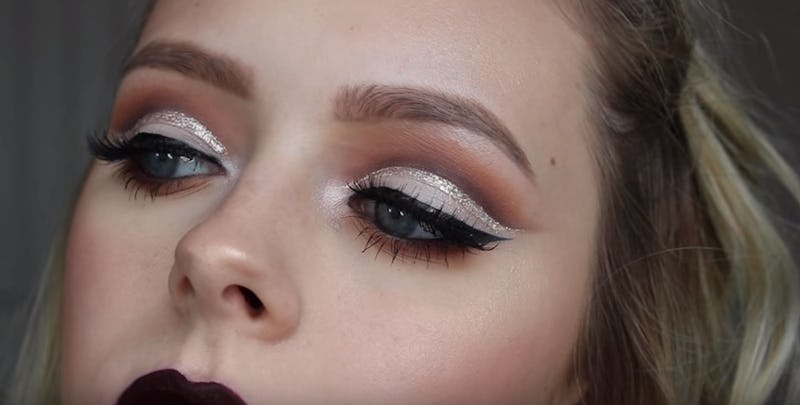 Another day, another wild makeup trend that is breaking the internet. This time, the glitter cut crease makeup look is dominating our social media feeds according to HelloGiggles, and it's actually much prettier than it sounds. As it turns out, you can incorporate glitter into you makeup routine without looking like you're wearing a Halloween costume.
If you're not familiar with the term "cut crease," let me break it down for you. To quote Kim Kardashian on her app (via Allure), it's basically "a technique that contrasts eye-shadow color in the crease of your eye for a sharp, defined look." The cut crease technique is done by sweeping a contrasting shadow color across the indent of the lid, which ends up making the eye area look bigger and more emphasized. The glitter version, as the name suggests, swaps a matte shadow for a shimmery one, in any which color your heart may desire.
Beauty guru Huda Kattan posted a video of blogger Haley Wright demonstrating a sparkly cut crease, and it's actually pretty easy to achieve. All you really need is some glitter in the color of your choice and a sharp angle brush and — voilà! You've got yourself a glitter cut crease.
Check out the pretty makeup look. The glitter is just subtle enough without looking overbearing.
Seriously, how stunning is this?!
Yep, I'm sold.
If you're as obsessed with this trend as I am, check out these seven tutorials that will easily help you nail the look at home.
1. Subtle Glitter
Subtlety is the name of the game here.
2. Party Glitter
This is perfect for a special occasion or just a fun night out on the town.
3. Gold Glitter
I am a huge fan of these warm neutral tones.
4. Dramatic Glitter
If you're looking for more drama on the eyes, this tutorial is for you.
5. Purple Glitter
The sparkly purple complements green eyes so well.
6. Silver Glitter
The finer glitter she uses in this tutorial is definitely more up my alley.
7. Neutral Glitter
A great option for those who are just dipping their toe in the glitter pool.
Want more fashion and beauty tips? Check out the video below and subscribe to Bustle on YouTube!
Image: Cosmobyhayley/YouTube