13 Habits That Hurt Your Skin & How To Fix Them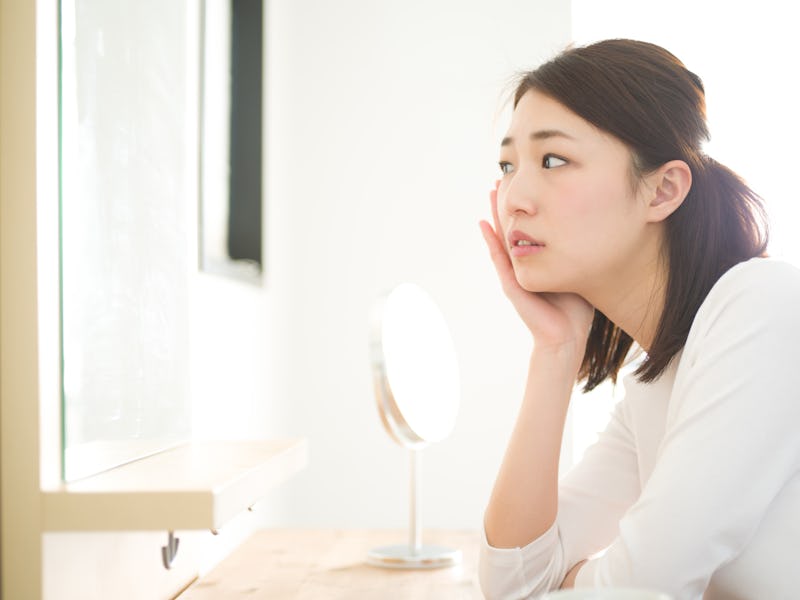 As the main barrier between the inside of your body and the outside world, your skin comes into contact with countless toxins, irritants, and chemicals every single day. Along with bad skin care habits, this could very well mean that your complexion is suffering serious consequences. The environment has a huge effect on your skin, and while it's hard to make changes to the air around you, you can tweak your approach to skin care.
When I first started doing a bit of homework on this topic, I was pretty surprised by what I found. The skin is very porous, and toxins can easily make their way into your body through the surface of your skin — the worst part is, we put them there ourselves. Consequently, a clean sweep of my environment was in order.
Thankfully, once you know what constitutes as harmful skin habits, it's pretty easy to fix them. A few basic tweaks, and you'll be able to minimize the amount of damage you're doing to the surface of your skin and the inside of your body. Here are a few habits I've adopted into my routine, in order to keep my skin fresh, healthy, moisturized, and most importantly, toxin-free.
Dried-Out Living Space: Add Moisture Into the Air & Your Skin
Ultasonic Aromatherapy Humidifier, $36, Amazon; Therapeutic Grade Gift Set, $12, Amazon
If you're locked up in the house all winter, your heating system might start to take a serious toll on your sinuses and your skin. Overcome dry, stuffy air with this Utrasonic Aromatherapy Humidifier. It sanitizes and adds moisture back into the air, which keeps your skin smooth and moisturized, especially while you sleep. It's got seven different color settings, a safety shut-off feature, and a place for you to put your essential oils, so — surprise! — your room now smells like an enchanted botanical garden.
Soaping Up With Sulfates: Instead, Wash With pH-Regulating Soap
Oatmeal, Milk, And Honey Soap, $9, Amazon
The very first thing I did was switch out my soap for something that wouldn't disrupt the pH balance of my skin by killing friendly bacteria. This oatmeal soap bar is an incredible replacement for your mainstream soap because it's 100 percent natural and organic, and it's made with healthy and skin-friendly ingredients like oats, honey, olive oil, and goat milk. It's especially great for sensitive skin, and it transforms into a smooth lather that gently cleans and exfoliates. Best of all, it's chemical-free, won't cause breakouts, and smells wonderful.
Sleeping on Poor-Quality Pillows: Use Chemical-Free Silk
Mulberry Silk Pillowcase, $21, Amazon
Generic cotton pillowcases are a breeding ground for dirt and oil, and they're usually made from poor-quality materials and chemical-ridden dyes. This Mulberry silk pillowcase is one of the smoothest things you'll ever feel, and it's made with the highest quality silk there is — but without chemicals or synthetic dyes. It's hypoallergenic, so it's great for sensitive skin, and reviewers say it's elegant, soft, and they're completely in love with it.
Moisturizing With Synthetic Scents: Use All-Natural Cream
Christina Moss Naturals Organic Moisturizer, $22, Amazon
Cleansing with all-natural soap won't do you much good if you're reapplying irritants in the form of a moisturizer. This handcrafted moisturizer has the refreshing scent of black licorice, and it's made with only natural and organic ingredients like aloe, avocado oil, starseed oil, and coconut wax. Unlike other natural products, it doesn't have to be kept in the refrigerator, and even people with dry, cracking skin say that this moisturizer rehydrates without excess oils or grease.
Don't Store Damp Brushes: After Washing, Let Dry Completely
Yaheetech Makeup Brush Dryer, $10, Amazon
Washing your brushes won't do your face any favors if you're too impatient to let them dry. This makeup brush drying rack lets your favorite tools dry without pressing their bristles up against a flat surface. It's collapsible, which means you can store it away when not in use, and the three-size silicone openings mean any size brush can rest securely.
Showering in Chemical-Carrying Water: Filter Out Irritants
Cedar & Citrus Showerhead Filter, $25, Amazon
For the same reason we filter our drinking water, we should be filtering our shower water — to remove chemicals like chlorine and fluoride that can be irritating to our skin. This shower filter effectively removes impurities and softens water, so your skin stays smooth and flake-free. It doesn't require any tools for installation, and the removable filter is easy to replace. Reviewers say it made all the difference in the quality of their water, so much so that they wish they discovered this one years ago.
Avoid Harsh Scrubbing Beads: Treat Face With Honey
Bee Naturals Honey Exfoliant, $19, Amazon
I'm in love with this honey exfoliant because it feels like a DIY at-home spa day — without any of the mess that usually accompanies it. It's made without any chemicals or parabens, and it uses only natural ingredients that stimulate circulation and soothe skin, such as honey, sugar, and essential oils. It gently buffs away old, dead skin to reveal the healthy and glowing layer underneath, and it'll leave your bathroom smelling like a cross between a massage spa and a bakery.
Don't Squash Face Against Bed: Become A Back-Sleeper
My Face Pillow, $60, Amazon
Excess pressure on the face can lead to breakouts, and that's why the My Face Pillow is one of the best solutions for people who just can't seem to sleep comfortably on their backs. It includes a hypoallergenic inner cover and a washable outer one, and it can be switched out for a silk cover for even further facial pampering. Even chronic side-and-stomach sleepers were in awe of how well they slept on their backs with this pillow.
Swap Out Pore-Clogging Powder: Organic, Full-Coverage Makeups Do Exist
Organic Wear Natural Powder Foundation, $18, Amazon
If you're looking for a reliable power foundation that's free of parabens, chemicals, and synthetic preservatives, look no further than Organic Wear Natural Foundation. It's made with ingredients like jojoba oil and corn starch, is available in nine skin tones, and it includes a mirror and natural goat hair brush for easy application. Two shades blend together for a natural looking finish, and it's made with the finest quality Italian powder for great coverage.
Stop Squinting: Sport Trendy, UV-Protecting Shades
ZeroUV Flat Matte Sunglasses, $11, Amazon
Vitamin D is essential, but too much unprotected time out in the sun can take a toll on your skin — especially the sensitive area around your eyes. These ZeroUV Sunglasses offer 100 percent protection against harmful UVA and UVB rays, so they're ideal for vacations and backyard sun-bathing sessions alike. Users love the smooth matte finish and the overall durability, and they come in a fabric carrying bag for no-scratch travel.
Don't Stay Dehydrated: Keep Water Levels Up For Healthier Skin
Embrava Toxic Free Water Bottle, $22, Amazon
Water gives your skin its elasticity and plumped-up glow, and without it, you're not doing your complexion any favors. The Embrava Toxic Free Water Bottle is wonderful because it's durable and easy to travel with, so wherever you go, you'll never be without water. It's made with BPA-free Tritan co-polyester, and it has a leak-proof lid and tough carry strap to stand up to just about anything. From hikers to athletes to just plain H2O enthusiasts, reviewers are thrilled with it, and they've deemed it "the best sports water bottle of all time."
Skip Chemical-Filled Generic Sunscreen: Protect With Natural Ingredients
Natural And Organic Facial Sunscreen, $17, Amazon
Sun protection is very important, but your run-of-the-mill sunblock might be doing as much harm as good. Beauty By Earth's Facial Sunscreen is wonderful because it's non-greasy, water-resistant, and made with only natural and organic ingredients. Reviewers say it protects just as well as any other sunscreen, and it's great for sensitive skin because it won't cause breakouts.
Stop Scrubbing With Harsh Fibers: Bamboo Washcloths Gently Dry
Premium Bamboo Washcloths , $16, Amazon
Another winner when it comes to sensitive skin, these premium bamboo washcloths are made with incredibly gentle high-quality bamboo fibers for a deep clean without the irritation — without any harsh chemicals in the material. They're widely considered the softest, best towels you'll ever own, and because they're lightweight, durable, absorbent, and tightly-stitched, they make a wonderful addition to your face-cleansing routine.
Bustle may receive a portion of sales from products purchased from this article, which was created independently from Bustle's editorial and sales departments.
Images: Fotolia (1); Amazon (13)