7 Items Every Adult Should Have In Their Bedroom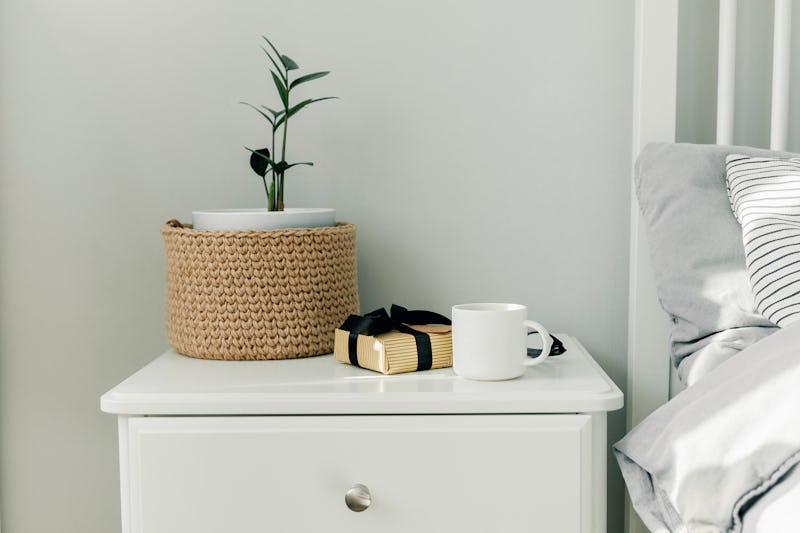 Alexandr Kolesnikov/Moment/Getty Images
As you begin to grow up, your home usually becomes one of the things that take precedence in your life. While in college, you may have been perfectly fine with having pizza boxes as side tables and posters of Leonardo DiCaprio on your walls (OK, let's be real — that's fine at any age), the adult you started to find ways to transition your bedroom from collegiate to grown-up style.
Your bedroom should be a sanctuary to help you escape from the outside world. It's the place you go home to after a long day of work, and the last thing you want is to get frustrated because you don't have everything you need to make it feel comfortable and serene. Being an adult means you have to spend money on the necessities — sorry, clothes, but you're going to have to take a back seat this time. Building your bedroom from the ground up is going to take time, but as long as you know the right things you need, you can always try to get them as time goes on. But let's be frank: there are some items you should get right away to help you transition your bedroom into adulthood. Here are just a few of them items you can get below.
1. Bedframe
BRIMNES Bed Frame with Storage and Headboard, $419, IKEA.com
Probably one of the first things you should get (besides a mattress, of course), is a bed frame. While having your bed lay on the floor is not necessarily a bad thing (depending on what type of mattress you have), mattresses (especially spring ones) are meant to breathe through a spring box above the ground to prevent any moldy situations. Buying a bed frame can help with this issue. If you don't want to buy a normal metal bed frame, why not try to get one that has extra storage. You know, to store your shoe collection.
2. Nightstands
If there's one item that every adult should have in their bedroom, it's the nightstand. Having a nightstand not only makes your room look pretty, it's also functional because it allows you to place your most important items by the side of your bed. According to Apartment Therapy, there are multiple items you can use as your nightstand, like, a bar cart, a desk, or a cabinet to help display your favorite items. Don't be afraid to get creative.
Penelope Nightstand, $349-$399, Westelm.com
3. A Good Bed
Everyone should have a good mattress. Period. You spend around 1/3 of your life sleeping, so it might as well be a comfy one. Having a sturdy mattress means you can wake up with less back pain, it can get rid of your stress, and help you have a restful sleep. Nowadays, you don't have to spend thousands of dollars just to get a new mattress. Companies like Casper or Tuft and Needle can allow you to buy a brand new mattress that's just under $1,000. Plus, they ship it to your house, too. Seriously, can't get better than that.
The Casper Mattress, $500-$950, Casper.com
4. Plants
If you feel like your room needs a major facelift, plants can do just that. Add a few of them around your bedroom to help bring a little bit of green and freshness to your tight quarters. If you don't have room for those oversize plants, go down the succulent route and buy yourself those little guys to dress up the nooks and crannies. Plus, they don't need a lot of attention, so if you forget about them for a few days, you won't have anything to worry about. But if you're having trouble sleeping at night, bringing plants into your room can actually make you sleep better. According to Natural Living Ideas, plants, like, aloe vera, gardenia, lavender, are natural sleeping aids. Buy a few of them and place them around your room, because a bedroom should not only look good, but it should feel good as well.
The Succulent Collection, $40, TheSill.com
5. Throw Pillows
I don't think there's anything wrong with having as many pillows as possible when it comes to your bed. They make everything look so fancy and they add extra cushion. When it comes to picking out your throw pillows, try to illustrate the story you want to tell. Do you want a seamless white bedroom? Buy white pillows that are made with different textures to help add depth. Or complement your bed by purchasing colored pillows that are opposite of what your bedsheets are to add a bit of contrast. The options are endless, so go with whatever your heart desires.
Shag Puff Pillow, $88-$98, Anthropologie.com
6. A Headboard
While having a headboard is not a necessity to make a bedroom more functional, it's a piece to make it more aesthetically pleasing. Whether you like wood, metal, or upholstered, there are plenty of headboards to choose from. But before you buy one, there's one thing you need to keep in mind. According to Wayfair, make sure your headboard fits your bed frame and matches the width of your mattress. This will allow your headboard to fit perfectly right behind the mattress.
Safavieh Dahy Headboard, $299.99, Target.com
7. Floor-To-Celing Curtains
Kendal Yellow Curtains, $89.95-109, CrateandBarrel.com
Curtains are good for a few things: They elongate the height of your bedroom, they look pretty AF, and they shield the sun from waking you up in the morning. While those are good reasons to buy curtains, there are a few tricks you must know, too. According to Interior Designer, Emily Henderson, there are three ways you can hang up your curtains, and they are called: the float, the kiss, or the puddle. If you don't want your curtains to touch the floor, hang them up an inch above the ground. For the second option, measure your curtains so they are kissing the ground ever so slightly. And for the finale, buy velvet or washed linen curtains and let them elegantly drip onto the floor. It adds the perfect touch of romance to the room — which is always a good thing.
Investing in your bedroom is something you should consider. The environment of your bedroom can help you relax and make you happy. Whether you are redecorating or moving to a new apartment, buying these items will help transform your bedroom to match the mature person you're also becoming.
Images: Alexandr Kolesnikov/Moment/Getty Images; Courtesy Brands