11 Times 'The Wine Show' Was Absolute Life Goals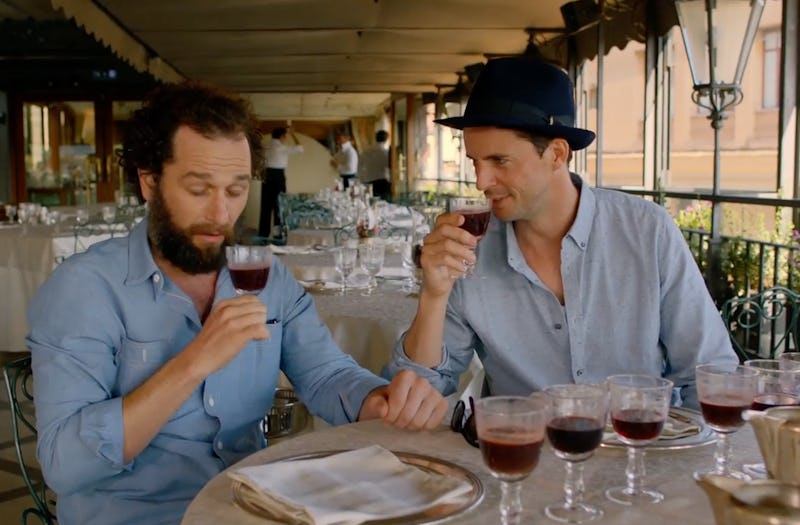 Good news, wine lovers: Whether you know everything there is to know about wine or just everything there is to know about drinking it, there is a new show for you. Matthew Goode and Matthew Rhys — two British actors you may or may not recognize — have a wine show. Like, literally, show about wine. It's called The Wine show, and it's seriously one of the most perfect things I have ever seen in my life. Trust me when I tell you: The Wine Show is absolute life goals. Like, you may have joked about Kanye West being life goals, or even his arch nemesis Taylor Swift, but you have to believe me when I saw that there are so many times in The Wine Show that are absolutely what you want your life to be all about.
Wine being served to you in a garden in Italy? What's not to love? But the setting and circumstances are only some of the things that make this show absolutely amazing. So, no matter where you live you life or how you buy your wine, these guys are living the absolute dream. Take a couple of hints from The Wine Show trailer to see just how good we should all be living.
1. When All They Do Is Hang Out And Have Wine Brought To Them
What everyone dreams for their lives.
2. When They Got To Spend Their Time Wherever This Is
No, that's not a television set. That's a real place.
3. When They Didn't Pretend To Be Something That They're Not
They might have a show about wine, but they're not pretending to know anything about it.
4. When They Were Total Bosses In A Piazza
Because when you do Italy, you should own Italy.
5. When They Loved Champagne Almost As Much As You
Who doesn't love the sound of that cork popping?
6. When They Drank In The Middle Of The Street
You know you wish this could be you every Saturday afternoon.
7. When They Were Allowed To Be Drunk During Work
How can I arrange for this to be my life?
8. When They Found Out The Price Of That Bottle And Almost Choked On Their Wine
Good doesn't have to mean expensive. But, hey, if someone else is paying for it...
9. When They Drank In Unison
Besties.
10. When They Got To Live In A Villa, High In The Italian Hills
I mean, dream come true right there.
11. When They Drove This Super Cool, Super European Car
Seriously, how can I make this my life?
The 13-episode season will air on ITV, so get your corks ready.
Image: TheWineShow/YouTube (12)