10 Books I Wish I'd Had As a Young POC Reader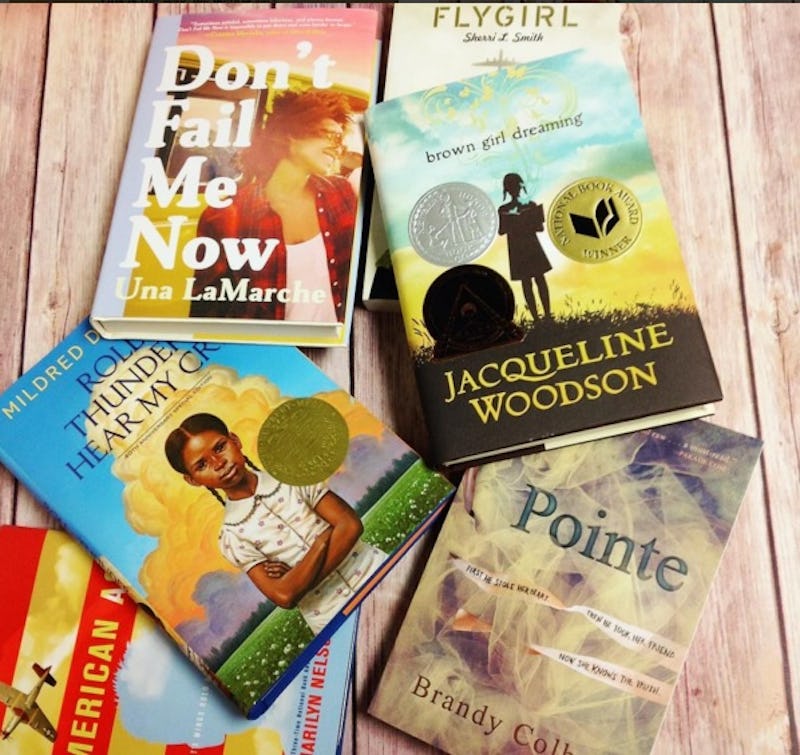 I was a child of the '80s, when Disney afternoon cartoons were worth racing home from school for. I was also an adolescent of the '90s, when teen pop stars and grunge bands battled it out with East Coast/West Coast rappers on the Billboard charts. I was and still am an avid reader. But, when I was a young Black girl I saw many more windows than mirrors in the books I read like Sweet Valley High turned Sweet Valley University, Baby-sitter's Club, Fear Street, as well as books assigned to me in school. Often when people of color or other marginalized communities were in these pages they rarely got center stage nor did they seem like people I could relate to.
Twenty years ago I didn't have the foresight of Marley Dias to create my own Black girl book campaign, and even if I did how many diverse books would I have seen? I do see the growth in the variety of books available to young and older readers now, yet there's more I want to see spanning the diversity of not just my neighborhood but also the world. As an adult with vast reading habits there are titles I've devoured that I wish I had as a young POC reader.
Brown Girl Dreaming 's power is its accessibility and Jacqueline Woodson's storytelling. It begins where she begins with stories of her birth going on to relay her family structure, growth, and gaining a sense of identity as a Black girl in a changing nation. This is a book I would've run home to share with my family, listening to their own stories to match those of Woodson's.
2. Jumped by Rita Williams-Garcia
Readers see how a bully is pushed over the edge, how someone can be involved and a bystander, and how an unwitting victim becomes such. It's a book with layers and emotion. Jumped shows that you never really know what someone's life is like behind their exterior.
Some of the parts I related to most were Esmeralda Santiago revisiting her frustrations with her family, of not understanding the life of adults, and wondering what her role was as the eldest child with responsibility thrust upon her. And the way Santiago sees New York City for the first time encouraged me to look at my hometown in a new way.
A love story within a love story, Aristotle & Dante is also about accepting yourself before you can accept and love others. This is a bold and illuminating story of friendship that would've stayed with me as a younger reader as much as it does for me as an adult.
I read a lot of John Steinbeck in school because he was considered a master in his depictions of the American experience. Jesmyn Ward's National Book Award–winning tome deserves to be on the same mantel. There is hope and hurt throughout but the bond between brothers and sister, friends and neighbors, especially in the face of a hurricane that will change so many lives is a wonderful depiction of an American family.
Like Piddy Sanchez I went through a few phases in high school. I wasn't a daily target but a wandering one. I was an introverted teen attempting to find my tribe let alone myself. Seeing Piddy get beaten down, physically and emotionally, is tough but also the person she realizes herself to be was someone I could completely identify with.
The history of Native Americans was non-existent in my education. So Indigenous Peoples' History is required reading. It's a book that brings you into the heart of U.S. history and the truth of colonization. There's so much to learn about the origins of this nation and it's important to hear this from the Native perspective.
It was/is rare to see a Black girl at the head of a mystery, and even rarer to see her as a kind of Robin Hood for teens, protecting the bullied from the bullies. Panda stays hidden, has a quiet rage about her, and is someone who is loyal to the very end. I adored this book and rooted for Panda from start to finish, seeing bits of myself in her.
ZZ Packer's debut and only book so far has such a range of stories featuring Black folks in many situations, good and bad, well off and not so much, egotistical and frightened. It projected a cornucopia of emotions and situations that allowed me to see the variations of Black people in fiction who weren't pigeonholed or stereotyped, simply human.
10. Kindred by Octavia Butler
The bulk of my horror was R.L. Stine but I also read my mom's Stephen King stash, with her blessing. Kindred is not simply horror in a sense, it's historical, it's fantasy, it's thought-provoking and stands the test of time. Dana's mission to save her family comes at a price when she's thrust back to a period of great brutality.
Click Here To Buy Image: penguinteen/Instagram