15 Daylight Saving Time Memes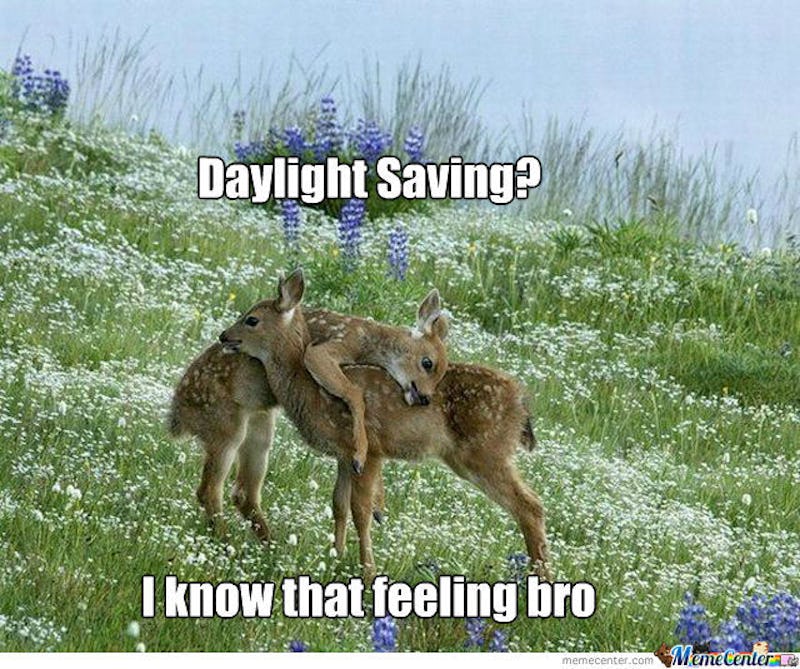 Don't forget to change your clocks on March 13, because oh yes, Daylight Saving Time is quickly coming upon us. If you're not sure which direction you should be setting your clocks, these Daylight Saving Time memes will hopefully help remind you: Spring forward. That's right, in the spring, you lose an hour. (And for future reference, in the fall, you "fall back.")
While there may be no immediate benefits to Daylight Saving Time (you're getting less sleep and a shorter weekend), you do get to have more sunlight during the afternoon. I don't know about you, but after a long winter, nothing sounds quite as nice as that. Monday morning might be a little hard, but you'll adjust quickly. Besides, if anything will help lift your spirits, it's commiserating with the aid of some ridiculous memes like these ones.
Still need something else to look forward to? Only one week after we set our clocks ahead is the official start of spring: March 20. Awesome, right? With more sunshine and the end of chilly weather and snowfalls on its way, it's time to start thawing out. Moving the clocks forward might suck, but moving ourselves forward into spring does everything but suck.
But then it's nothing but sunshine from here on out... sort of.
There's really no avoiding it.
Why do you feel so disoriented all of a sudden?
Get it right.
Say what you will about Daylight Saving Time, but it's super trippy.
But only time will tell if you actually make it to places on time.
But you'll gain it back in November, not to worry.
We're all in this together.
Waking up can be so hard, you guys.
There's always that one person...
I worry about this every. Single. Time.
Luckily, most digital clocks adjust automatically, so there's nothing to really think about.
The Monday after Daylight Saving Time should officially be National Let's All Take A Nap Day.
None. Zero.
Wait, do those even exist anymore?
Images: MemeCenter (20)