This Hillary Clinton Quote About The Flint Water Crisis Proves How Serious The Issue Is For Her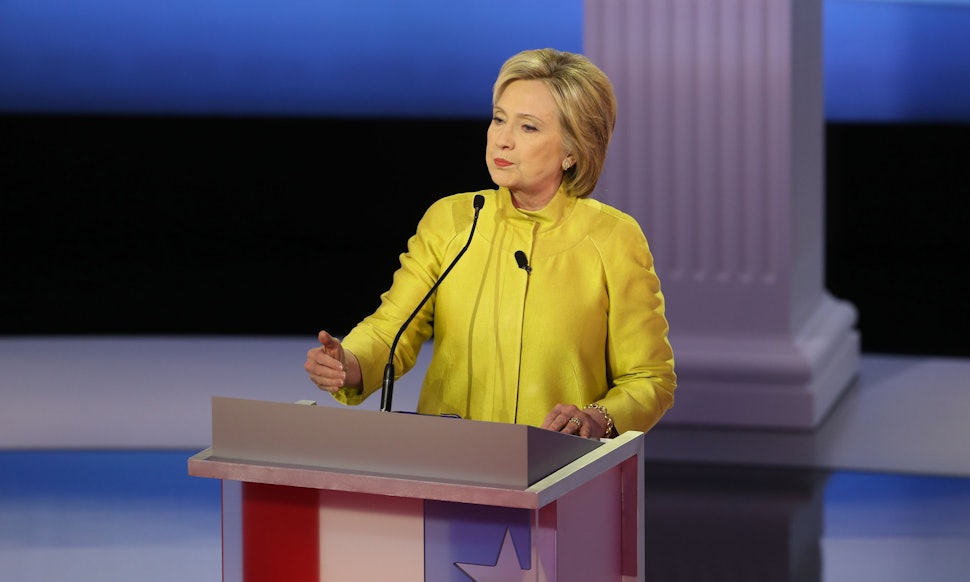 TASOS KATOPODIS/AFP/Getty Images
The Democratic debate took place at the University of Michigan–Flint on Sunday. Given the location, it was understandable that the Flint water crisis would be the main topic of discussion when the debate kicked off. CNN moderator Anderson Cooper worked to effortlessly weave information about the crisis into every question. The debate, which was requested at the behest of frontrunner Hillary Clinton, offered the presidential hopeful a major opportunity to address the crisis with locals and the American public at large. What Hillary Clinton had to say about Flint speaks volumes, especially when it comes to what she would do in the face of this ongoing issue.
During opening statements regarding how she would address the governmental issues regarding the crisis, Clinton called for Michigan Gov. Rick Snyder's resignation. The debate marked the first time that the former Secretary of State had so publicly condemned the governor, echoing Sanders' previous statements that Snyder needs to step down. She vowed that a full investigation would be conducted on this issue and went as far as to plead that the state use its rainy day fund to help residents. "What is more important than the health and well-being of the people [of Flint], particularly children?" Clinton said incredulously. "It is raining lead in Flint and the state is derelict for not coming forward with the money needed."
Cooper pushed back on both candidates' policies, even questioning whether Clinton's vested interest in the Flint water crisis was more of a tactic meant for political gain than something born of sincerity. The presidential hopeful made it clear that — whether she's elected or not — she's committed to the people of Flint. "I will be with Flint all throughout this crisis in whatever capacity that I can and if I'm president, it will always be a priority," Clinton said. For the frontrunner, the issue is far larger than what is unfolding in Michigan. Clinton had this to say about dangerous levels of lead found in water supplies across the country:
This is not the only place where this kind of action is needed. We have a lot of communities right now in our country where the level of toxins in the water, including lead, are way above what anybody should tolerate. We have a higher rate of tested lead in people in Cleveland than in Flint so I'm not satisfied with just doing everything we must do for Flint. I want to tackle this problem across the board. And if people know about it and they're not acting ... they should be forced to resign.
Clinton appears to have done her research when it comes to the issue of providing clean water to all Americans. Her fiery language and devotion to the city may very well earn her even more votes as primaries and caucuses continue to be held around the country. At the least, it's keeping this important issue in the public consciousness.