11 Luxe Sweatshirts That Are Comfy & Chic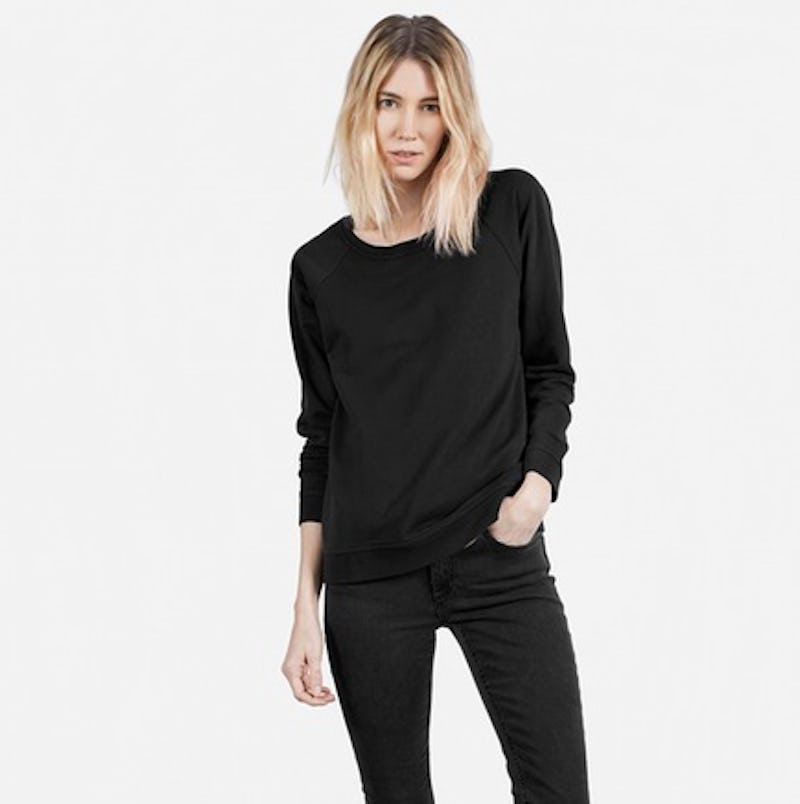 Adulting is hard — You mean, I can't wear the same pair of jeans and my college sweatshirt everyday? Since joining the "real world," certain types of attire are no longer acceptable in the workplace, and that's a huge bummer. Luckily, chic sweatshirts are a thing, meaning you can be equally comfortable and equally elegant, whether you're headed to the office or you're brunching on the weekends.
When I was accepted at Emerson College, I immediately went to the bookstore and bought myself the purple and white sweatshirt that I would wear for years to come. It came with me everywhere — On family vacations, sleepovers with friends, frat parties when I didn't feel like putting on a jacket....Basically, we had a history, and I'm surprise it's actually still alive. Now, I wear it sparingly, afraid that the threads will finally give out on me.
And with the lines of office wear and casual wear blurring, it's easier to get away with putting on more comfortable pieces and ditching the blazer every single day thing. Formal sweatpants are actually acceptable (hello, joggers), and jeans? They're not just for casual Fridays anymore. Of course, this depends on your industry, but for some, casual work attire is the way to go.
In an effort to really maximize my closet, I've been looking for pieces that double for both weekend and weekday wear, starting with a chic sweatshirt that'll both feel ultra comfy, but keep me looking put together.
1. The Simple Crew
Everlane The Crew Sweatshirt, $40, everlane.com
This is the most versatile thing you'll have in your closet.
2. A Little Commes
Comme des Garçones Play Grey Heart Patch Hoodie, $290, ssense.com
Simple with a little cute heart detail, this mushroom is the perfect mix of playful and minimal.
3. The Extra Long
Pink Clove Plus Size Lounge Slouchy Roll Neck, $37.27, asos.com
With this extra long fit, you can totally pair it with a pair of leather leggings for work.
4. The Sweatshirt Dress
Golden By TNA Passage Dress, $90, us.aritzia.com
With trainers like these, this sweatshirt dress is a hit.
5. The Cool Cutout
Contemporary Frayed Drawstring Hoodie, $22.90, forever21.com
I'm actually in love with this little detail. Impractical, maybe, but cool, yes.
6. The Lace Up
Mine Or Yours Lace-Up Sweater, $68, nastygal.com
The lace up trend is absolutely everywhere, making this the trendiest sweatshirt ever.
7. The Solid Blue
Acne Studios Galatea Cotton-Blend Jersey Sweatshirt, $320, www.net-a-porter.com
It is a little pricey, but a sweatshirt like this one is definitely an investment.
8. The Zip
Liz Claiborne Plus Long-Sleeve Zip-Detail Hoodie, $54, jcpenney.com
The two symmetrical zips on this sweatshirt add a sense of upgraded edge to this sweatshirt, making it cool enough to wear to your weekend activities.
9. The Pink
Rag & Bone Langford Cotton Sweatshirt, $195, stylebop.com
You can just tell this sweatshirt is super soft.
10. The Off The Shoulder
ASOS CURVE Off Shoulder Sweatshirt, $34, us.asos.com
Styled exactly like this one is, this pink sweatshirt is cute enough for date night.
11. Talk That Talk
Maison Kitsune Parisienne Sweatshirt, $196, shopbop.com
Paris is always a good idea, and this sweatshirt splays that sentiment right where you can read it.
Who says you can't look comfortable and polished? The two aren't mutually exclusive, and these sweatshirts prove just that.