7 Ways To Celebrate International Women's Day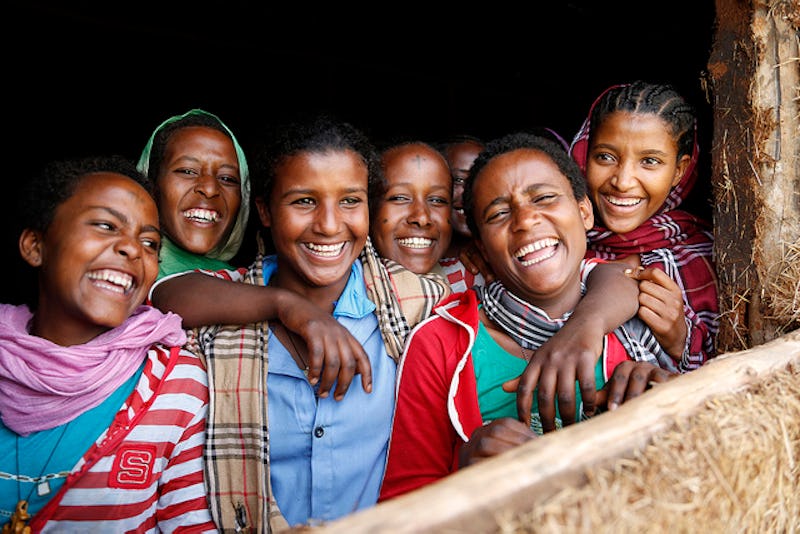 March is National Women's History Month here in the U.S., but this Tuesday, March 8 is a global observance of women worldwide. There are so many different ways to celebrate International Women's Day, so the real question is, how will you be honoring the holiday?
This year, the message of International Women's Day is more important than ever. While the accomplishments of women cannot be overlooked, neither can the fact that progress is slowing down around the world. In 2014, the World Economic Forum predicted that global gender parity could be a reality by 2095, but last year, they changed that prediction to 2133 — 38 years later. The progress towards closing the gender gap in economics, education, and social aspects has actually slowed down, meaning women around the world are getting fewer opportunities than they were before.
While that doesn't seem like a cause for celebration, the organizers of International Women's Day, and myself, see it differently, which is why this year, they're asking people around the world to #PledgeForParity. Instead of letting the numbers get you down, use them as inspiration to advocate for change, speak up about gender equality, and continue the work women started the first International Women's Day in 1911.
Use this International Women's Day to not only honor all that we have accomplished, but to fight for what we still deserve. If you're not sure where to get started, here are seven ways to celebrate International Women's Day and truly make a difference in lives of women around the world.
1. Make A #PledgeForParity
One of the easiest but most important ways to celebrate International Women's Day this year is by making a #PledgeForParity using the campaign's official hashtag on social media. By making the pledge, you can promise to help girls and women around the world accomplish their dreams, challenge typical gender biases, demand gender equality in leadership positions, and more. By pledging for parity, you're pledging to help close the gender gap in economics, politics, education, and all other aspects of life faster, because the rate it's being done now is unacceptable.
2. Vote In Your Local Primary Or Caucus
This year, International Women's Day happens to fall on a Tuesday, and for many states, that means it also falls on voting day. If your state (Hawaii, Idaho, Michigan, or Mississippi) is holding a primary or caucus, celebrate IWD by going to the polls and using your right to vote. It's a right women in this country fought long and hard for, and a right that women in other countries are still struggling to attain.
3. Find An Official IWD Event Near You
Is there an official International Women's Day event in your area? Find out on the campaign's official website, and if you're lucky, you could spend the day at a career festival, a tech conference, or a networking event.
4. Bask In Female Creativity
Women have made significant contributions around the world through politics, technology, and, of course, art. Celebrate this IWD by visiting a local museum or art gallery and viewing artwork by women. If you prefer the written word, visit a local bookshop and buy a new book by a female author, or check out your local library for any new reading material.
5. Start A Conversation
International Women's Day is the perfect opportunity to start a conversation about gender equality wherever you are. Whether you're with your friends and family, in an academic setting, or even at work, ask people about their thoughts on gender parity and gender equality. Call out biases, and encourage other women around you to speak up about their experiences. A conversation can go a long way.
6. Donate To A Good Cause
From Shot@Life to Girls Not Brides, there are dozens of amazing organizations that help women around the world that are worth donating to. Find a cause that matters to you, whether it's preventing violence against women or women's economic independence, and donate whatever you can. Every cent matters.
7. Advocate For Yourself
One of the best things you can do as a woman on International Women's Day is to advocate for yourself. Whether it's in the workplace with your boss or at home with your partner, speak up about your wants and your needs. No one is going to hand you equality. You have to fight for it, and the first place to start is by exercising your own voice.
How will you be celebrating International Women's Day this year?
Image: DFID/Flickr