Here's The Difference Between Hair Oil & Serum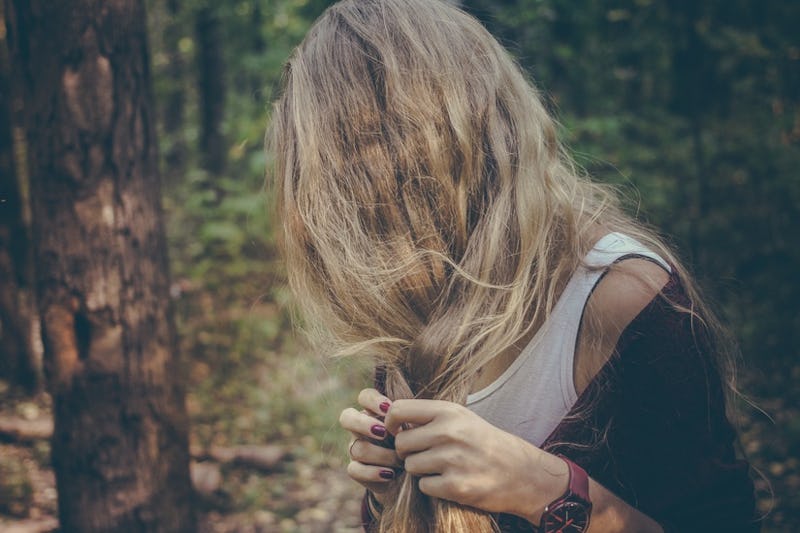 Hair products make all the difference in styling. They can protect your hair from heat, add volume, shine, texture, or make your styles last longer — but not all products are created equal. Choosing a hair product is not a one-stop shop kind of deal, and each are good for different things. If you're unsure what the difference between hair serum and hair oil is, then it's definitely time to learn what they do. They might look similar, but they're not intended for the same use.
You obviously know hair spray, heat protectants, and texturizers are all different, but hair oil and serum are a little problematic. They have a similar texture, and can often be the same color, so you might think they're interchangeable — but they aren't. So let me break it down for you.
Hair serums are a styling tool. They can add shine, protect against humidity (making them amaze frizz-fighters), and smooth your hair. You want to apply serums to wet hair prior to styling and only use one to two drops.
Hair oils, on the other hand, are not meant to aide in styling. They are a conditioning/nourishing treatment that improve the health of your hair by sinking into the strands (not sitting on top and coating the outside, like a serum). Oils will lubricate your hair and add in fatty acids to replace the lipids in your hair, which will help prevent split ends and breakage. You can apply hair oil when it's wet, if your hair is feeling dry, or even use oil as a hair mask.
Now that you know what they do, shop these hair serums and oils to help condition and style your hair.
Nutiva Organic Virgin Coconut Oil, $9, Amazon
Literally, what doesn't coconut oil fix?
Leven Rose Organic Jojoba Oil, $14, Amazon
Jojoba oil might work wonders on your skin, but it's great for your hair, too.
VoilaVe Organics Argan Oil, $15, Amazon
If you have colored hair, try clear argan oil instead of Moroccan Oil, which can cause your highlights to turn brassy.
Garnier Fructis Sleek And Shine Anti-Frizz Serum, $9, Amazon
You're one pump away from sleek and shiny hair.
Coconut Milk Serum, $8, Amazon
Instead of using straight coconut oil, use it in a serum for better styling.
Paul Mitchell Super Skinny Serum, $27, Amazon
Not only will this smooth your hair, but it will also reduce dry time.
John Frieda Frizz-Ease Extra Strength 6 Effects Serum, $8, Amazon
This serum is extra-strength, so you'll be protected against humidity.
Want more fashion and beauty tips? Check out the video below and subscribe to Bustle on YouTube!
Images: Amazon; Pexels; Loxa Beauty