10 Things Grown-Ass Women Need In Their Apartments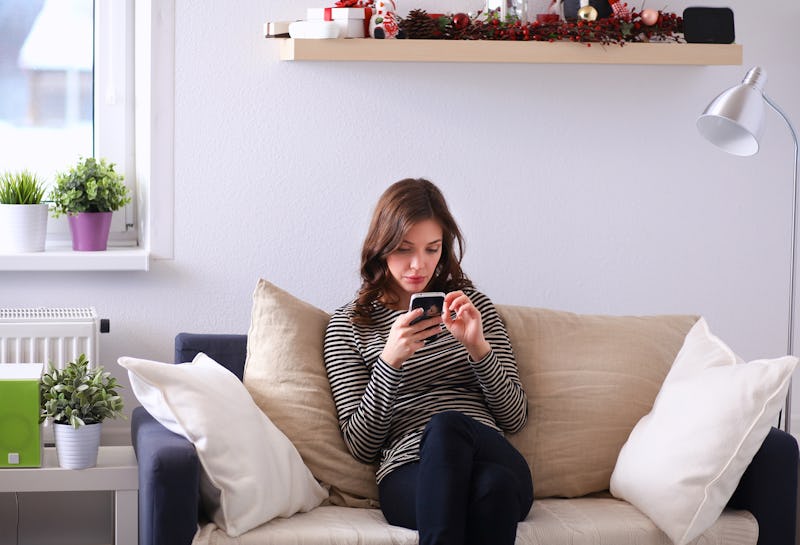 There are things almost anyone can confess to having in their apartment — the things that make it feel like home. Whether it's your comfy decades-old blanket or a pile of old high school T-shirts you only wear to bed, there are certain things you just can't give up. While there's no need to improve your living situation by tossing out your oldies, there are a few additional items that every adult woman should have in her apartment.
If you're like me and you refuse to take down the One Direction poster that you ventured into Toys 'R' Us to find (#noshame), then simply incorporate these life-simplifying (and mood-improving) musts into your crib for a space that's truly next-level. Your room will be more livable when you finally purchase a holds-it-all jewelry organizer, which will help you avoid the hunt for that earring you swore you put on your bedside table last night. You'll probably be in a better mood when you crawl into your sheets after work and gaze at your hanging terrarium, as plants are said to improve your overall well-being. And you'll be in an even better mood if you treat yourself to real wine glasses, when Mason jars just won't cut it.
Check out these apartment essentials that will make your space more livable, organized, practical — and not to mention, completely Instagrammable.
A Mood-Boosting Hanging Terrarium
Hanging Clear Glass Prism Air Plant Terrarium, $30, Amazon
Plants increase productivity and help boost your mood — perfect for those nights when you have extra work to take home from the office. This artistic hanging terrarium is a contemporary decoration that's the ideal size for small room plants like cacti and succulents, which can be seen in practically every decor bloggers' Instagram feed. Bonus: It's made of clear glass, featuring easy air flow for a healthier plant, and its sturdy metal frame is pyramid shaped for a fun, geometric aesthetic.
A Time-Saving Clothing Steamer That Heats Up In Two Minutes
Pure Enrichment PureSteam Fabric Steamer, $30, Amazon
You're rocking a crisp white button-down that you pulled fresh off the drying rack, and yet, it looks like you slept in it. This best-selling, fast-heating steamer will knock out wrinkles in two minutes and is compact enough for you to fit in your closet and pack up for all of your future travels. With an automatic shut-off feature and a safety guarantee on all fabrics, you can kiss your iron board struggles goodbye.
A 4-In-1 Jewelry Stand That Holds All Your Favorites
Maybe you have been keeping your jewelry organized, but it's taken a ring dish, a necklace stand, an earring post, and a bracelet bar in order to do it. Free up some room on your desk for photo frames or fresh flowers and snag this four-in-one jewelry stand that keeps your rings, earrings, bracelets, and necklaces together and organized. It's cute and sophisticated with a concrete dish and three double-rail copper posts to hold even the tiniest of post earrings.
A Dishwasher-Safe Set Of Wine Glasses...
Red Wine Glass By Ikea - Svalka Series, $23, Amazon
You know the scenario: It's Sunday night, and your BFFs head over to watch the new episode of Girls armed with a bottle of red wine. You break out a cat mug, some water glasses, and whatever else you can find to pour the wine into. Or, you snag one from this set of six durable glasses — your perfect starter set. Its simple, minimalist design is the ideal size for a good pour. Bonus: they are machine-washable and have the ideal stem size for fitting in the dishwasher, according to praise from a user.
...And The Grown-Ass Adult Wine Rack To Go With It
Under Cabinet Stemware Holder and Wine Rack, $21, Amazon
Now that you have good quality, appropriate wine glasses, you need a place to store them. This stylish, under-cabinet hanging rack holds six bottles of wine and six glasses, so you'll always be prepped for a last-minute get together. Faking it to your friends that you definitely weren't napping and totally remembered it was girls' night is highly encouraged.
A No-More-Messy-Room Clothing Rack With Bottom Shelves
Songmics Adjustable Double Rail Garment Rack , $40, Amazon
If you're not blessed with the luxury of a walk-in closet (or you are, yet you can't make it from your bed to your door without stomping on a piece of your wardrobe), organize clothes where you can see them. This adjustable double-rail rolling rack also features two bottom shelves for placing your shoes and it's easy to put together — no tools needed. Not only will this make your life easier when choosing an outfit in the morning, but your friends won't be compelled to call a Hoarders specialist the next time they visit.
The Soft Hangers That Will Save Your Clothes' Shape
Closet Complete Velvet Ultra-Thin No-Slip Hangers (50), $28, Amazon
Basic wire hangers are a huge no-no. They rust, causing damage to clothing (and also can cause your favorite top to lose its shape). Invest in some quality hangers like this set of 50 durable, non-slip velvet hangers. They'll not only look more sophisticated on your clothing rack, but they'll protect the shape of your pieces and keep them from slipping onto the floor while you're out and about during the day. One user calls them the "perfect hangers" because their curved shoulders keep clothes hanging more naturally. Plus, they're thin enough to save precious closet space.
Modern Floating Shelves Declutter Your Room
Clea r Floating Shelf (Set of 2), $23, Amazon
There comes a time in every woman's life when she needs to stop cluttering her bathroom, kitchen, or living room surfaces with excess stuff — but no need to get rid of it! Display your prettiest candles, books, plants, and doodads on these super-sturdy lucite shelves that are guaranteed to blend into any room in which you hang them. Their contemporary design adds a little edge, and users say they're ideal for displaying everything from perfume bottles to items above the bar.
No More Tinny iPhone Sound
Jawbone Mini Jambox Wireless Bluetooth Speaker , $65, Amazon
Playing music straight from your phone is convenient, but it's just not the best quality for your adult get-togethers. Outfit your home with the cool-looking wireless speaker that lets you connect your phone through Bluetooth, playing nonstop for its 10-hour battery life. (It's actually small enough to toss into a coat pocket, too, so you can take your tunes with you on-the-go.)
Grown-Up Night Lights Display Your Favorite Memories
If you need a night light in order to sleep, step it up a notch with these trendy string lights that are set up as glowing photo clips displaying the snapshots you may or may not have had taped to your wall. These lights are perfect for nighttime because they emit a subtle white light that won't interrupt your sleep, and they are battery powered, so need to worry about a lack of outlets in your room.
Bustle may receive a portion of sales from products purchased from this article, which was created independently from Bustle's editorial and sales departments.
Images: Fotolia (1); Amazon (10)