8 Mistakes You're Making While Washing Your Bras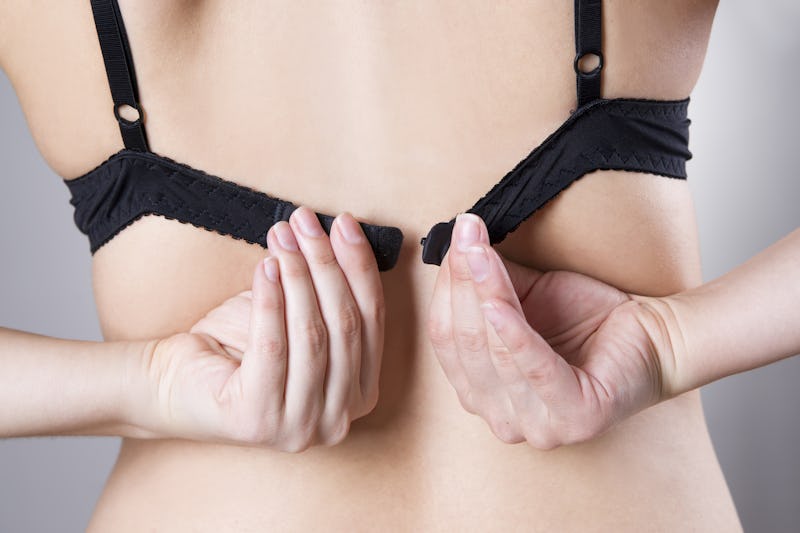 If you're anything like me, you put a lot of thought and money into your lingerie collection, but unfortunately, knowing how to wash your bras is a separate art form all on its own. Lace bras and silky underwear don't hold up too well against continuous washes and high-heat drying, and I can't tell you how many times I've mourned the loss of an old (or not so old) lingerie-related friend on laundry day.
Thankfully, though, this art form comes with a set of ground rules to help keep your under-things shapely, hole-free, and looking like new. When possible, hand wash your lingerie, and when not possible, don't just throw it in with your sweaters and jeans — keep your bras and panties separate, and use detergent that's going to be extra gentle on your things.
Dryers and delicates are pretty much mortal enemies, but if you're really too strapped for time to air dry, take some protective measures with a few high-quality dryer balls. Lastly, how you store your bras could mean the difference between a short-lived life and surviving well into the clothes version of senior-citizendom. Here are a few of my favorite tricks and gadgets I use to protect my delicates, so I can keep building my lingerie collection instead of constantly needing to replace it.
Store Your Bras In A Lingerie Case
Wrapables Bra Lingerie Case, $19, Amazon
Shoving all of your bras into a drawer post-wash is one of the worst things you can do for them. This Wrapables Bra Lingerie Case was originally made for travel, but its hard outer protective case and inner pockets are ideal for keeping your bras and panties protected and crease-free at home, too. It fits several bras inside, and stores and supports them in such a way that the padding won't get crushed or bent, therefore extending the life of your lingerie. Reviewers love that it's well made, durable, and comes in a whole variety of different designs.
Wash Your Bras Separately In Mesh Bags
This adorable set of Mesh Laundry Bags is ideal for delicates because they help keep your bras separate, protected, and immune to the dreaded "my bra strap is tangled around every piece of clothing in this machine" phenomenon. The bags are double layered and reinforced, so they're extra durable, but they're also porous enough to give your things a thorough cleaning, every time. The varied sizes allow for all types and sizes of lingerie, and the anti-stuck zipper is great for quick and convenient use, each and every laundry day.
Use A Super Gentle Detergent
Forever New Fine Garment Detergent, $14, Amazon
Regular detergents are often too tough on lace and silk, but this Forever New Detergent is specifically made for delicate items like bras. It uses an organic formula made without bleach or phosphates, so the elasticity and look of your bra remains like new. Reviewers say that this detergent saves them trips to the dry cleaner, and after use, bras and delicates are clean, soft to the touch, and most importantly, hole-free.
Air Dry In Style
Round Clothesline Hanging Rack, $10, Amazon
Air drying your bras is arguably the best way to keep them from deteriorating, and this Round Clothesline Rack is a smart and space-savvy way to do just that. Its attractive chandelier-like structure holds up to 18 garments, and its spring-tension metal clothespins are much stronger than the generic wooden ones. This rack is made from stainless steel, so it's durable and water-safe, and because it's round and features an anti-slip hanging hook, you'll be able to find an out-of-the-way place for it, no matter how small your space is.
Wash And Dry Your Lingerie By Itself
Mini Washing Machine And Spin Dry, $90, Amazon
If you're set on keeping your delicates separate, this Mini Washing Machine is an incredible investment. It's small and lightweight, and it's just the right size to wash all of your bras and underwear in one go. It's got a spin-dry cycle that removes all excess water to severely cut down on air-drying time (and won't cause damage), and reviewers advise not to let the size fool you — it washes thoroughly and completely, despite the fact that it fits conveniently on any counter or in any closet.
If You Must Machine Dry, Use Wool Dryer Balls
Wool Dryer Balls, $18, Amazon
Machine-drying your bras is never a particularly great idea, but if you've got a job interview in 45 minutes, and you've just washed the only bra that won't show through your classiest blouse, put your bra in one of the aforementioned mesh bags and throw one of these 100 percent Pure Wool Dryer Balls. They're a lot easier on fabrics than dryer sheets because they soften and fluff your clothes without any chemicals or toxins. They also cut static cling, as well as eliminate wrinkles, and reviewers say they even get your clothes to dry faster. Plus, they come in an adorable reusable canvas bag (fluffy sheep cartoon included) for convenient keeping.
Gently Scrub Away Stubborn Dirt & Stains
Home-It Super Soft Clothes Brush, $8, Amazon
Handwashing your delicates is ideal, but sometimes you feel like they're not as clean as they could be if you used something other than your fingers. This Home-It Super Soft Clothes Brush has ultra-soft bristles to protect fabric while getting rid of lint, dirt, and stains. It also has a high-quality wooden handle for easy grip and control, and users say it's an amazing tool for quick fixes — which means fewer trips to the dry cleaners.
Use Organic Soap Seeds to Carefully Clean Your Bras
NaturOli Soap Nuts, $12, Amazon
Everyone knows that going green is great for both the planet and your wallet, but who knew it was also super easy on your bras? These NaturOli Soap Nuts are made from the Sapindus plant; the pulp of the fruit is used to make an all-natural, biodegradable form of soap that gently cleans your clothes without any chemicals or allergens. It won't leave a residue on anything, a handful of soap nuts can be tossed in a wash bag and used for multiple loads, and they're extra gentle on your favorite lingerie.
Bustle may receive a portion of sales from products purchased from this article, which was created independently from Bustle's editorial and sales departments.
Images: Fotolia (1); Amazon (8)