The 10 Best U.S. Airports for Getting Stranded — Thanks, Worst Winter Ever!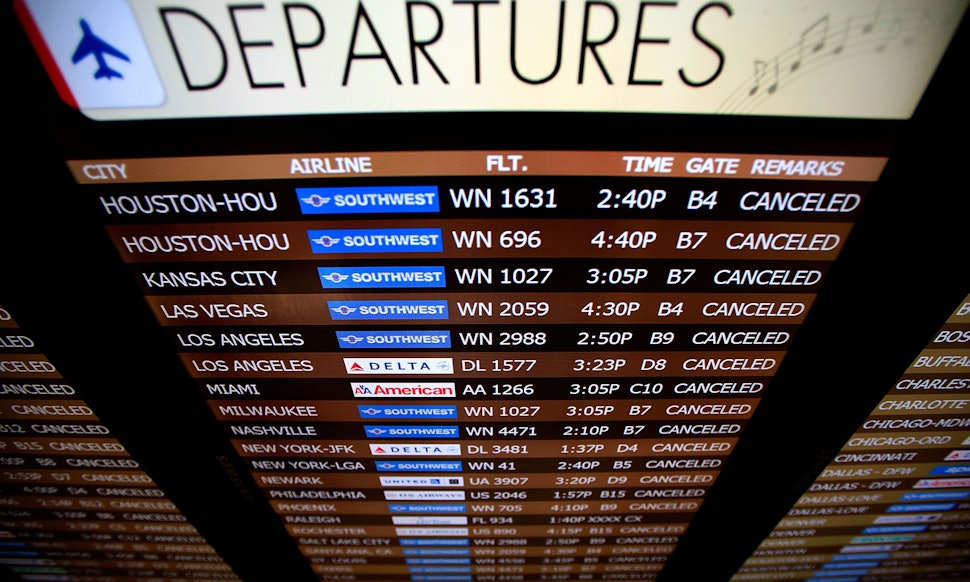 Sean Gardner/Getty Images News/Getty Images
Are you ready for Polar Vortex round three? Well, looks like there's no getting around this one, unless the weather man is completely wrong. Pull up Weather.com and it warns of a "travel nightmare for millions" thanks to winter storm Nika, which will be spreading heavy snow, sleet, and freezing rain over much of the Midwest and Northeast. If you were planning on getting on an airplane this week, well, you're pretty much screwed.
Fly delays and cancellations are a traveler's hell, but there could be a silver lining to this giant storm cloud. If you end up stranded at one of these 10 U.S. airports, things could definitely be worse...and don't hold your breath, New Yorkers — JFK, LaGuardia and Newark definitely DON'T make the list.
Indianapolis Airport (IND)
Indianapolis has much more to offer than the annual Indy 500 — though I can attest that the event is quite unforgettable. IND holds the top spot for Midwest airports and it's especially revered for the design, as it's the first LEED-certified airport campus in the world. Why do I love IND so damn much? With free Wi-Fi and more than an ample amount of charging stations, you'll never have to fight for an outlet.
Image: Indianapolis International Airport/Facebook
Nashville International (BNA)
Not only is Nashville an amazing city in terms of culture, but the airport's not half bad. Few delays to worry about here and BNA also scores high for design, food, and shopping options. If you're a parent, you are in luck because there are not one but THREE play areas to occupy your kid for awhile. Your walk from the terminal to baggage claim may include a live country music — I saw a local school group performing.
Image: Nashville International Airport/Facebook
Minneapolis (MSP)
Storm Nika might make on-time departures unlikely in Minneapolis, but let's move onto the good things about MSP. The shopping and food options are top-notch compared to other international hubs — with more than 50 places to choose from, it's practically a mini-mall. Meadow Bakery & Café is a major plus for this organic-obsessed writer.
Image: MSP Airport/Facebook
Austin–Bergstrom International Airport (AUS)
The city of Austin is not the worst place to get stranded, and neither is AUS airport. Flight delays are rare and if, in fact, you do take off late, there is enough live music to keep the complaining to a minimum. There's also a Saxon's Pub here, not to mention a slew of barbecue (Salt Lick!) and Tex-Mex dining options. My suggestion? Plane food sucks so pick up a snack before boarding. Your stomach will thank you later.
Image: Austin-Bergstrom International Airport/Facebook
Charlotte (CLT)
I don't fly through Charlotte often but when I do, I'm always thankful that things go rather smoothly. There is free Wi-Fi, awesome rocking chairs in the atrium that will make you forget where you are, and some really interesting stores that are great for buying last-minute gifts. I don't usually splurge on expensive dinners but if you have a long delay, order a wine at Beaudevin. You might be surprised what a little glass of bubbly can do to your mood.
Image: Charlotte/Douglas International Airport Overlook/Facebook
Miami International (MIA)
To be fair, Miami isn't the only decent airport in Florida. Orlando International Airport (MCO) and Tampa International Airport (TPA) also make the cut. My first bit of advice is that if you get hit with a seriously long delay, do yourself a favor and head back to the beach for a few hours. Location-wise, it's completely doable given enough time. If not, indulge in one of the terminal spas before boarding the plane, or check out one of the airport's art exhibits — what would you expect from the city that hosts Art Basel?
Image: Miami International Airport - MIA/Facebook
San Francisco (SFO)
It's a bit of a hike from SFO to the city center but the good news is that it's very affordable via public transportation. The best terminal for design is Terminal 2 but the rest of the airport is still aesthetically pleasing, with its sleek and modern interior. If you're flying into SFO you're in luck because it won't take a century and a half for your bag to arrive at the carousel. There's an Anchor Brewing company and a spot for Niman Ranch burgers, and as for Wi-Fi, yes it's free. Silicon Valley is a stone's throw away after all.
Image: San Francisco International Airport (SFO)/Facebook
Portland International Airport, OR (PDX)
Portland is cool. We know this already but did you know that PDX is one of the best international airports in the country? First off, the design is actually pleasant to look at and the stores cater to a large demographic, so there's likely something that sparks your interest. There are also a ton of restaurant options like Stanford's (order the fish tacos)!. Oh, and did we mention that close to 90% of all departing flights are on time?
Image: vitroid/Flickr
Las Vegas (LAS)
Don't let a long layover get you down. If you're stranded indefinitely, why not head back into town? It's literally a five-mile drive from the airport. Las Vegas may be over-the-top when it comes to gambling and parties but LAS is smaller and therefore more low-key and manageable. For the most part, the check-in line goes fairly fast as do the security lines. It's not the most kid-friendly place but hey, there's free Wi-Fi and slot machines in the terminals, so who cares!
Image: McCarran International Airport/Facebook
Seattle (SEA)
Can't sleep? Well, that's probably because you've had too much coffee and that's probably because it's so damn good! Yup, coffee in Seattle (even at the airport) is like nothing you've ever tasted before and when you've got nothing but time, ordering another cup feels like the most exciting part of your day. Besides that, the Wi-Fi is fast and reliable so try to get some work done while you can. Otherwise, pick up a few local gifts at the souvenir shops or check out one of the great eating options.
Image: Seattle-Tacoma International Airport (Sea-Tac)/Facebook