'Underground' Portrays A Unique Slave Narrative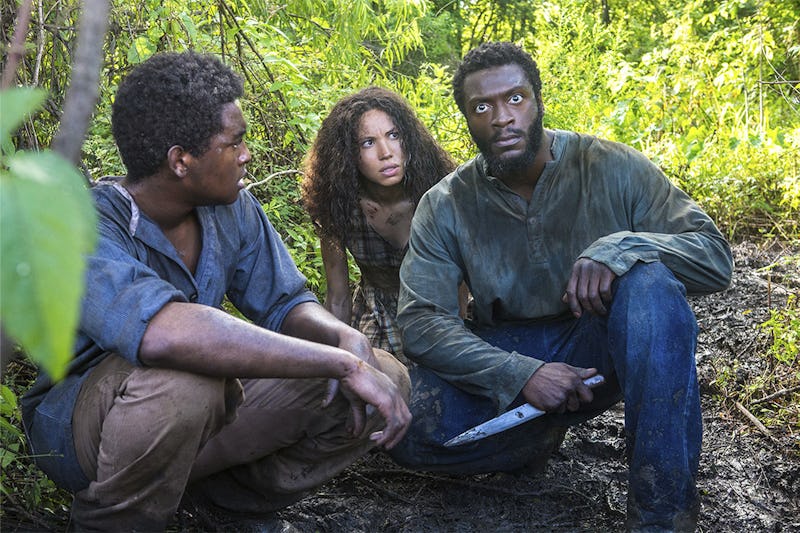 The new WGN America series Underground might seem familiar at first, but the people behind the series want to portray a slavery narrative that is like nothing you've ever seen before. Considering its historical context, you may also be wondering if Underground is based on a true story of any specific, real Americans. While the show is trying to depict the real conditions and historical setting that fuel its characters' determination to escape slavery, Underground is not about the story of any particular slaves, so don't expect perfect historical accuracy or the portrayal of a single real story. But while a lot of slavery dramas are ponderously serious, this one will be heart-pounding, since Underground is putting the viewer right in the shoes of slaves as they attempt to escape and the white abolitionists who risk their position in society to do what's right and help them.
Executive producer Akiva Goldsman promised /Film that even though the show will use action to dial up the tension, it's still very true to history. "Fundamentally, it is so hyperbolic, and yet it happened. It was real," he said. "People really were trapped beyond any reasonable measure in a pervasive and impossible form of oppression. They really managed in some number to escape anyway. As such, the terms of that are actually in weirdly genre terms."
Goldsman makes a good point — the lives of real escaped slaves, from famous figures like Harriet Tubman to lesser-known individuals such as Robert Smalls, a former Confederate whaleman who sailed himself to freedom, include feats of so much strength it boggles the mind. The struggle they went through, from the physical effort of running and hiding to the mental anguish of leaving family behind, is more daring and brave than most onscreen action heroes. Underground is going one step further by turning Noah (Aldis Hodge) and Rosalee (Jurnee Smollett-Bell), two of the slaves who make their escape, into actual action heroes.
Underground's stars say the same. Smollett-Bell told Philly.com that she was inspired by listening to the stories of real escaped slaves, saying, "these were the revolutionaries, these were the resisters, these were the men and women who were bold enough to fight back, and try to take their life in their own hands ... The actual [escape] attempt helped tear down the system of slavery."
The series also depicts a collaboration between former slaves and white allies who are fighting to help end slavery, which is loosely adapted from real history. Quaker couple Levi and Catharine Coffin helped shepherd hundreds of former slaves to freedom, and The Indiana Historical Society quoted Coffin as saying, "the Bible, in bidding us to feed the hungry and clothe the naked, said nothing about color, and I should try to follow out the teachings of that good book" to explain why he spent much of his life devoted to working on the Underground Railroad. As a successful store owner, Coffin was able to use his good social standing and money to help more fugitive slaves — maybe Underground will show a similar journey for John and Elizabeth Hawkes, a white couple who strongly support abolition.
In addition to portraying the real struggles faced by those who sought freedom through he Underground Railroad, there is an incredible level of historical detail on Underground, from every piece of costuming to the filming locations at LSU in Baton Rouge, which producer and writer Misha Green told NOLA.com were all former plantations. "It makes a big difference to be in actual slave shacks that had slaves in them," she said. "I think that adds to the show and the feel and vibe in a way that we couldn't have found anywhere else."
So while Underground is not based on any specific real people, it proves that you can still be very faithful to history without following the events of a single person's life. Instead, Underground plans to reframe traditional storytelling about slavery entirely, while demonstrating the very real courage and dedication it took to escape.
Images: WGN America (2)