Check Out This Body Positive Coloring Book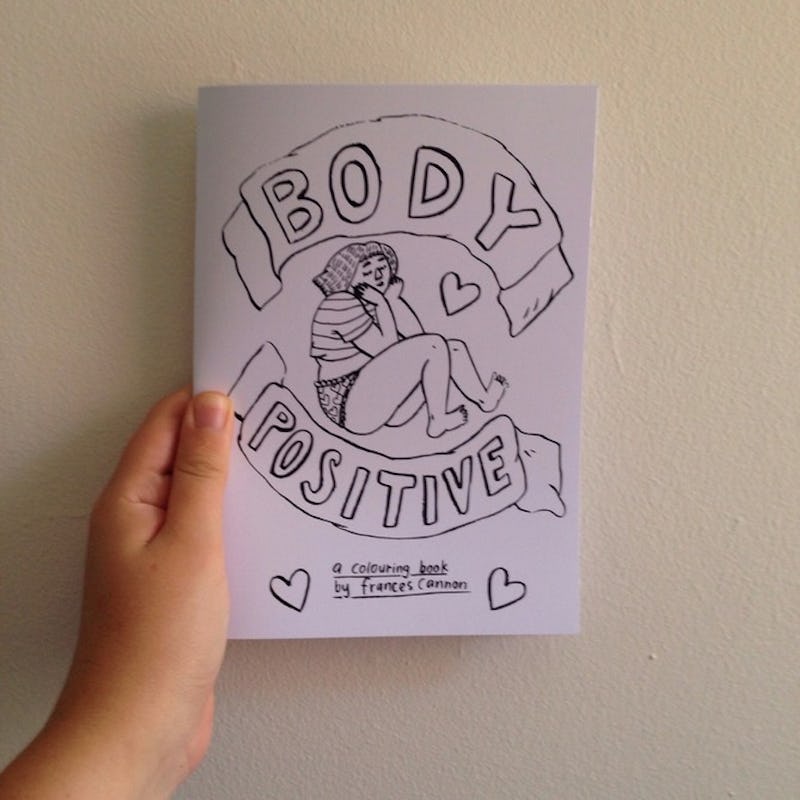 Body positive art is, at this point, not an incredibly new concept. But, due to the individuality of artists, most body positive art still feels like its own personal revolution. Melbourne-based artist Frances Cannon's body positive illustrations as well as her original body positive coloring book don't just give representation to many different types of women and their unique bodies, but to the processes those bodies go through as well. From body hair to discharge to period blood, Cannon is helping remove the stigma that has surrounded female bodily functions for far too long.
The artist's coloring book is only furthering these body positive notions. Coloring as an activity has a lot of stress relieving benefits to it, meaning that Cannon's book will hopefully affect your wellbeing on more levels than one. This isn't an accident, either. As Cannon tells me via email, she prefers to perpetuate self love rather than only body positivity "because it is more inclusive and also involves loving your mind and personality as well as your body."
Although I personally believe that body positivity encompasses embracing yourself wholly — inside and out — Cannon has a point. As much as we need to accept ourselves physically, accepting ourselves mentally and emotionally is crucial, too. And usually once we love who we are as people, loving our bodies comes naturally.
When I asked her how she came to be a part of the body positive movement (and now such a celebrated artist within it) she tells me that it came both "naturally" and "almost by accident." But her first introduction to the activism arrived through art.
"I first heard about it when I started university. I was surrounded by amazing artists who were confident, talented, and beautiful. They, alongside other artists online and on social media, introduced me to the idea that it was OK to love and cherish my body! I have always had an interest in drawing bodies (I've been drawing and painting since I was in kindergarten), but it wasn't until a couple of years ago that I was able to merge my passion for drawing with my love for women."
Cannon's love of women is a constant throughout her work, and it's especially moving given that she celebrates all women and all facets of womanhood with no shame or prejudice. Her work — including her body positive coloring book — is the kind that inspires women to love themselves without apology.
Our conversation ended on an empowering and inspiring note, with Cannon telling me that she not only hopes to spread body positivity, but that she wants to see more women find it within themselves and support others in the community with their self-love.
"I want to be encouraging to the people that look on my page. Solidarity and support from other people is so important. We should all try to be a little more encouraging and loving to people in our lives," she finishes, leaving me wanting to spread the self-love message to anyone and everyone who'll read (or draw) it.
Want more body positivity? Check out the playlist below, and be sure to subscribe to Bustle's YouTube page for more inspo!
Images: Courtesy Frances Cannon