7 Apps For Improving Your Yoga Game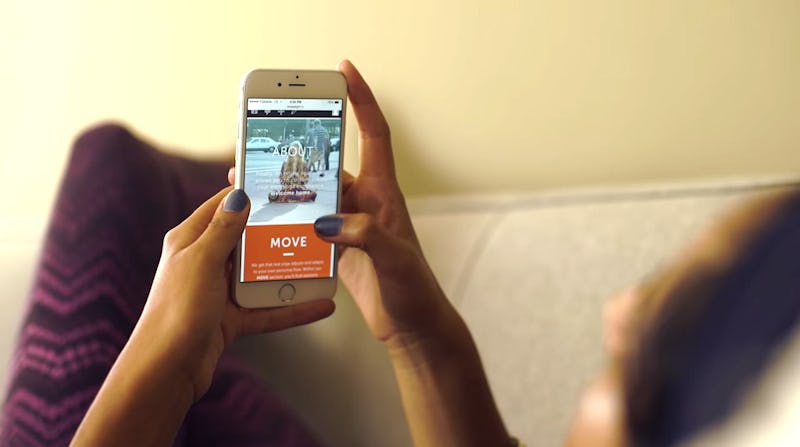 Yoga has been around for at least 26 centuries, which makes the practice much older than both paper and scissors, but not quite older than rocks. It is safe to say that yoga has survived the test of time, and has seen its fair share of technological advances — and that includes the invention of the smartphone. These are the best fitness apps for improving your yoga game. From squeezing in a sun salutation before you head to work in the morning to perfecting your breathing and even getting out to a class at your favorite local studio, these apps will have your mind, body, and breath connected like never before.
There are about 14 different styles of yoga, and each style focuses on different skills, poses, and head spaces. Bikram yoga is consistent across instructors, studios, and even countries, and is very, very hot. Vinyasa flow-style yoga will have you floating through sun salutations as you flow from pose to pose. In Iyengar yoga, you may find yourself upside down in a headstand or handstand. But regardless of the style of yoga you choose to focus on, or if you decide not to focus on any one in particular, your smartphone can be an important tool in developing your practice.
These are some of the best yoga apps on the scene right now.
1. oneOeight
oneOeight is a multi-platform subscription-based experience that is more of a lifestyle guide than purely a yoga pose app. Created by Instagram celebrity and animal rescue champion Rachel Brathen, popularly known as @yoga_girl, this service integrates four paths to enlightenment that include recipes, energizing yoga classes, calming meditation sessions, retreat opportunities, and guides to social activisim.
oneOeight, oneOeight.tv, $14 monthly with a free 10 day trial
2. 5 Minute Yoga
If you don't have the time for a full blown yoga class during your busy workday, 5 Minute Yoga is a great alternative. You can get your day started in a positive way in less time than it takes you to shower.
5 Minute Yoga, App Store, Free (with in-app purchases)
3. Salute The Desk
Another app for the busy professional, Salute The Desk is an easy way to fit yoga and meditation into the workday. The app will also keep track of the number of stretches you've done for each muscle group as well as the minutes of meditation practice completed.
Salute The Desk, App Store, $2.99
4. Yoga.com
Participate in one of dozens of pre-made yoga programs, or build your own custom practice. Keep track of your progress on the 300 poses available in this app with the yoga diary feature.
Yoga.com, App Store, $3.99; Google Play, Free with in app purchases
5. Pranayama
This app will help you learn a different school of yoga, that of your breath. Manage stress and get oxygen to all the muscles in your body with Pranayama Free, available for iPhone and Android.
Pranayama, App Store, Google Play, Free
6. Pocket Yoga
Choose between 27 different yoga sessions of varying degrees of difficulty, track calories burned, and even play music from your own phone library behind your practice instructions.
Pocket Yoga, App Store, Google Play, $2.99 with in app purchases
7. ClassPass
ClassPass allows its users to visit any participating workout studio, and it's definitely not just limited to yoga. From Stand Up Paddle Board classes to dance classes to solo time at the gym, ClassPass is an awesome way to find the perfect yoga practice for you, and there are so very many to explore!
ClassPass, App Store, Google Play, Free app to use with subscription (price varies by location)
For more ideas, check out Bustle on YouTube.
Images: Rachel Brathen/YouTube; oneOeight.tv; App Store (5); Google Play