Ways To Get Your Makeup To Stay On For Way Longer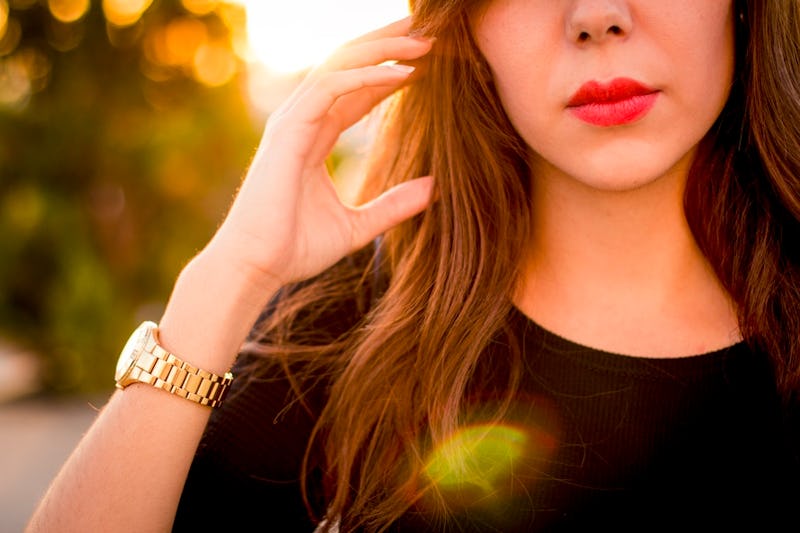 Getting our makeup to stay put for more than a couple hours is pretty unusual for most of us. In fact, I'd say it's one of the eternal makeup struggles. But it doesn't have to be like this! There are ways to make your makeup last all day (really, truly!) and they seriously aren't even hard.
And I'm no stranger to the makeup fading dilemma. Back when I worked in an office I dealt with meeting clients all day long and often had to attend evening events — which for all practical purposes meant I had to keep duplicates of almost all my makeup products in my desk drawer or haul certain products to work if I wanted my makeup to look fresh. Not only that, I'm admittedly the world's worst face toucher and despite my best efforts I touch my face and rub my eyes a ton. This means my makeup was often faded — or worse — just plain smudged — by about 1pm every day.
Looking back, I wish I had just done slightly more detective work in the makeup arena during this time, because if I had I would have quickly come to realize that my faded makeup problem didn't actually have to be a problem at all. There are several super simple and cost efficient tips for making makeup last for hours — you just need to know what to look for.
If you're at your wit's end with makeup that just doesn't last, here are seven tips that should majorly help you out.
Maybelline Fit Me! Matte + Poreless Foundation, $6, Amazon
According to Landy Dean, a makeup artist at the Marie Robinson Salon in New York City in a piece for Real Simple, oil in foundation and other makeup makes it way more likely to slide out of place, making it look smudgy or faded. Instead, she recommended opting for oil-free options whenever you can. And if you have dry skin that does well with oil-based formulas, she said to just make sure you always adequately moisturize before using an oil-free option.
Smashbox Photo Finish Primer Water, $32, Sephora
Bridget March, beauty editor over at Cosmopolitan, stressed the importance of using a primer when making your makeup last for hours. "Primer 'seals in' your moisturizer and provides a smooth, even surface for makeup. Not only this, it keeps your makeup from being absorbed, giving it greater staying power," she wrote. She also strongly recommended buying a primer specifically suited to your skin type, whether it be dry, oily, or combination, and even suggested buying two different types to apply to the different sections of your face if different areas exhibit different problems. She also said to make sure you invest in eyelid primer for ultimate eyeshadow staying power and to prevent creasing.
Maybelline Volum' Express The Falsies WP Push Up Drama Waterproof Mascara, $9, Walgreens
In that same Real Simple piece, Liliana Grajales, the spa director and makeup artist at the Ritz-Carlton in Miami, said to definitely opt for waterproof mascara when weighing your options. "Any kind of moisture, whether it's humidity, tears, or sweat, makes non-waterproof mascara come off," she said, and noted that the key to water proof mascara is to apply it quickly before it dries.
Kat Von D Lock-It Foundation, $35, Sephora
And in addition to waterproof mascara, think about investing in long-wear options in general. March recommended trying everything from long-wear foundation to gel liners to ensure your makeup is budge-free. Just make sure you have a solid makeup remover at home to make sure you can get it all off at the end of the day!
FaceStudio Master Fix Setting + Perfecting Loose Powder, $8, Amazon
In a YouTube video on making your makeup last, professional makeup artist Eman recommended lightly applying a translucent setting powder after all other layers (primer, foundation, blush, etc.) have been put on. She said this added step will ensure everything stays in place while also providing a smooth, flawless finish. Just remember to use sparingly as a little seriously goes a long way!
Urban Decay All Nighter Makeup Setting Spray, $15, Nordstrom
Eman also recommended finishing the entire makeup application process with three to four spritzes of a high quality setting spray. This way your makeup seriously will not budge all day. Makeup Forever and Urban Decay both have highly-rated setting spray options if you're looking for one of your own.
Chloe New Eau De Parfum, $50, Amazon
While not technically makeup, perfume is another one of those things that can fade disappointingly fast. In another Real Simple piece, Jean Claude Ellena, a perfumer for Hermès, noted that if staying power is important to you when purchasing a perfume, opt for eau de perfumes instead of eau de toilettes, as they are stronger and more concentrated. And while you may be tempted by the eau de toilette initially because it seems lighter and more refreshing, remember it will ultimately wear off faster.
Makeup can disappear faster than you can ride the subway to work on a hot summer day, but it doesn't have to be like that! Equip yourself with the right basic products and say hello to all day makeup convenience.
Images: Pexels (1)