Chloe Sullivan From 'Smallville' Was A #Boss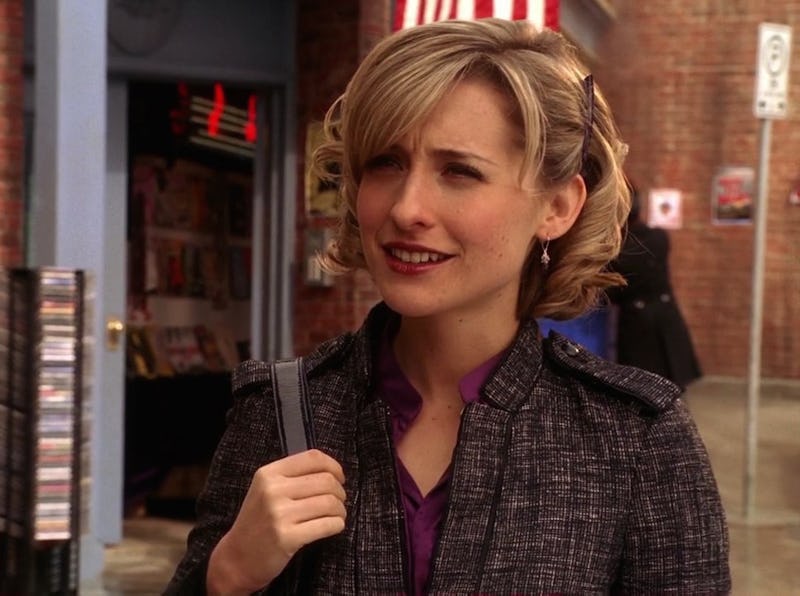 Smallville happens to be one of those shows that has a wonderfully permanent spot in the lives of those of us who grew up watching the WB. And while I loved all my WB shows, this superhero one has a special place in my heart — Tom Welling embodied the soul of Superman better than anyone else, in my humble opinion. And, although many people will think back to his lady love, Lois Lane, with fondness, I personally think that Chloe was the true heroine on Smallville. She was such an inspiration to me, and to every woman who tuned in to the show.
In fact, I really wish that Chloe was a real person. I want to hang out with her, get tips on maintaining a super cute haircut, and sass Clark Kent with reckless abandon. Is that so much to ask? I don't think so.
But because I don't yet possess the ability to make fictional characters real, let's take a ride down nostalgia lane and peek through some of the best Chloe moments instead. Whether she inspired you to chop your hair into a bob or become a badass journalist, admit it: this character gave you life. She is easily one of the most underrated female characters of all time, and here's why.
1. She Sassed Superman
Chloe never backed down. She threw shade at the Man of Steel. That's so metal.
2. She Rocked The Haircut Of Our Dreams
Raise your hand if you chopped off your hair In an attempt to rock this style. Yeah. I quickly discovered that only Chloe can truly pull this bob off. She is like a magical unicorn, and I am forever in awe of her majestic mane.
3. She Controlled The Watchtower
She put The Watchtower online and single-handedly controlled a massive group of superheroes because she possesses a big ol' brain. In a world full of super people with superpowers, Chloe's super power was her initiative and her intelligence. That's impressive beyond measure.
4. She Had The "Wall Of Weird"
That's so seriously badass. She is so unapologetically obsessed with finding out the truth about her strange town. The wall was like a passion project to discover that strange truth no matter what the cost, and I can totally respect her chutzpah.
5. She Wasn't Afraid To Take Control
She didn't care that she was a mere mortal in a world of superheroes. She would stand up and take complete control whenever the situation called her it. Having that kind of confidence in your abilities when standing up against such power? That's admirable.
6. She Landed Her Dream Job
Chloe worked her way up from a high school newspaper reporter to working for the Daily Planet as a basement reporter (gotta start somewhere). That drive is what made me want to be her best friend and inspired me to keep pushing towards my aspirations.
7. She Was Unapologetically Brilliant
Using your brain is rad. Chloe had some serious grey matter between her ears, and she used it to her advantage whenever she needed to. It's nice to see a female television character be driven by intelligence, rather than just a pretty face. Chloe could run circles around anyone in Metropolis.
8. She Was The Most Loyal Person Ever
If you hurt any of the people that Chloe Sullivan cared about, then you were officially living your last days on this earth. She would ruin you. Sure, sometimes she was the one hurting her friends, but haven't we all been there? She's still the best person to have in your corner.
9. She Was Bursting With Wisdom
Sometimes, the words that came out of Chloe's mouth seemed less like the words of a teenager turned young woman and more like the wisdom of a much older person.
10. Her Love Life Was Inspirational Too
Chloe never settled for anything less than what she deserved. While she, like all of us, made some mistakes along the way to finding her perfect match — I'm looking at you, Davis Bloome — eventually she found a guy whose flaws matched hers and whose virtues inspired her own to be even better.
11. Her Cousin Was Lois Lane
And yet Chloe and Lois never overshadowed each other as characters. In fact, they were loving and supportive of one another, and helped one another develop into finding their niche on the show. It says a lot about Chloe that not even an iconic character like Lois Lane could replace her on the show, despite their similarities.
12. She Was Endlessly Relatable
Chloe was you and you were Chloe, and the fact that Chloe could be so much like you and yet also be such a badass was basically enough to make you also want to be a badass.
Basically, Chloe is an amazing character. The fact that she was specifically created for the show makes her popularity with fans even more impressive.
Images: Warner Bros. Television; tornposters, dailysmallville, tornposters, queencanaries (3)/Tumblr; Giphy (7)