11 Face Washing Mistakes That Make Acne Worse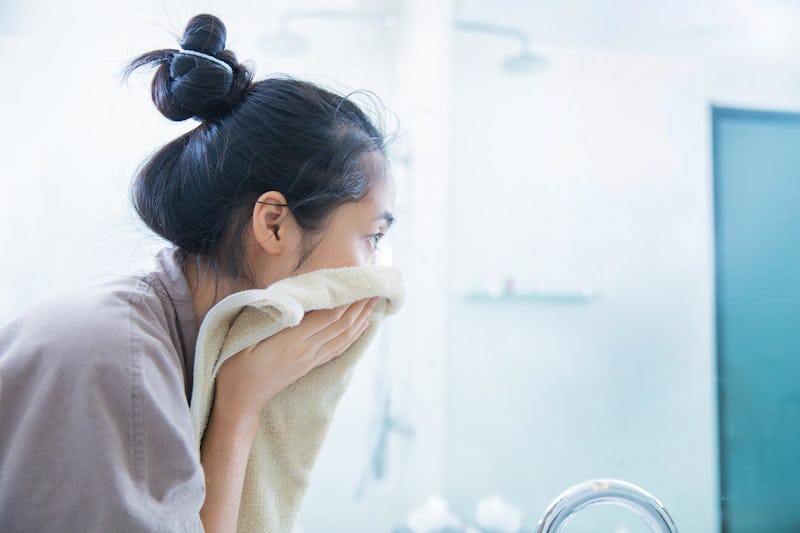 If you're one of the lucky ones who can wake up the day after a particularly sweaty workout (or especially greasy meal) with smooth, crystal-clear skin, then I, for one, salute you. For the rest of us, shiny skin and morning breakouts are a huge problem, and it turns out that you might not know the best way to wash sensitive skin or acne-prone skin. Oftentimes, our skin can be affected by the unnatural products we use, the cosmetics we apply, the sleeping habits we have, and the things we eat, and, unfortunately, no one single product is going to prompt an overnight miracle transformation.
Thankfully, however, there are small changes and habits you can implement into your routine to help keep your skin clear and blemish-free, even if it's particularly prone to breakouts or sensitivities. It'll take a little bit of work, and you might have to ditch that one face wash you've been optimistically clutching onto for several months now, but it's all in the name of continuously clearer skin. So, yeah, well worth it. Here's a list of my favorite tips for keeping acne and blemishes at bay, so your skin can look fresh and clear, no matter how sensitive it is.
Wash With Rosewater
100 Percent Natural Moroccan Rose Water, $11, Amazon
Rosewater is an incredible toner and cleanser because it's filled with natural vitamins and antioxidants that soothe irritation and restore essential hydration back into the skin. It's also a great solution for those with acne-prone skin because it balances oil and shrinks pores. This 100 percent natural Moroccan rosewater contains no chemicals, preservatives, or artificial fragrances — just beauty-restoring rosewater. Reviewers say it smells amazing, and it just might be the most well-rounded skin care habit they've ever adopted.
Keep Skin Balanced With Natural Soap
Cleopatra's Choice African Black Soap, $8, Amazon
If you're using a harsh soap that strips all the natural oils from your skin (even the good ones), your body overcompensates and produces loads more oil, which in turn causes breakouts. This African black soap is made with only natural and organic ingredients like shea butter, coconut oil, honey, and aloe vera, which balance skin's oil production and prevent acne. Reviewers love the subtle, fresh smell and smooth consistency, and one even referred to it as "a miracle in a package."
Shea Butter Is Your New Best Friend
Unrefined Ivory Shea Butter, $12, Amazon
Shea butter is one of the best things for acne-prone skin, because it provides all-natural moisture without clogging pores. This block of unrefined ivory shea butter is incredible because it's 100 perfect unrefined and organic, which means that all of its health-giving vitamins and minerals are still entirely intact. While shea butter is a popular ingredient in other skin products, this bar comes without all of the chemicals and additives, and reviewers love it because it melts like butter in the palm of your hand and simply makes your skin glow.
Clear Up Breakouts With Natural Antioxidants & Vitamins
Herbal Facial Oil, $38, Amazon
People often turn to topical medicines when their acne is particularly difficult to handle, but the chemicals and toxins in these products can dry out skin and cause scarring. This herbal facial oil utilizes nature's very own medicine in the form of antioxidants, vitamins, and fruit oils. It opens up clogged pores and balances your skin's production of oils to reduce breakouts, and reviewers say that their broken-out skin has improved dramatically, both in texture and tone.
Upgrade To A Smarter Sponge
Pure Konjac Activated Charcoal Sponge, $10, Amazon
While your typical sponge does nothing but collect bacteria (which, in turn, causes breakouts), these pure Konjac activated charcoal sponges pull impurities out of your skin, restore the natural pH balance, gently exfoliate dirt and dead skin, and control oil production. There's a morning sponge to brighten up your skin and a night sponge to buff away dirt from the day. Plus, because they're both natural, biodegradable, and have absolutely no chemicals, you can rest easy knowing that you're doing what's best for your skin.
Quickly Remove Your Makeup – Not Your Skin's Moisture
Aali Naturals Makeup Remover Wipes, $23, Amazon
Generic makeup remover wipes are often filled with harsh astringents that irritate skin, but these Aali natural remover wipes get rid of makeup and dirt while retaining your skin's natural elasticity and moisture. They're made with ingredients like coconut extract and aloe, which leave your face feeling clean and fresh — but won't clog pores and cause acne. They also come in a convenient pack for easy travel and quick use, whenever you may need them.
Wash Gently With Anti-Bacterial Bamboo
Organic Bamboo Washcloths, $12, Amazon
Since your fingers produce tons of oil and touch countless germs, it's not a great idea to wash your face with them, if your skin is particularly temperamental. These organic bamboo washcloths were originally created for babies, but because they're entirely natural, dye-free, hypoallergenic, and antibacterial (because of the bamboo fibers), they're a wonderful addition to anyone's bathroom, regardless of age. Users say they're the softest towels they've ever used, they're durable enough for countless washes, and they leave even sensitive, breakout-prone skin feeling soft and fresh.
Moisturize Without Oily Residue
Daily Bliss Organic Moisturizer, $40, Amazon
It's often a slippery slope with moisturizers (pun intended) when you have acne; without them, skin is too dry, but with them, more greasy breakouts ensue. This 100 percent natural organic moisturizer provides all the hydration and nutrients your skin needs in the form of aloe vera, olive oil, honey, and amino acids, but unlike other brands, it absorbs quickly and won't leave a layer of oily residue. Because of its health-giving ingredients, it repairs skin as well as hydrates it, and some users say that the very same day they put it on, their skin started looking better.
Be Gentle With Your Exfoliation Routine
Bee Friendly Organic Facial Exfoliator, $25, Amazon
If you're not careful with exfoliation, it can make acne much worse, causing whiteheads to rupture and spread bacteria to other parts of your face. It's a very delicate process, and that's why this Bee Friendly organic exfoliator is filled with nutrient-dense ingredients that help nourish skin — not irritate it. It's made with coconut oil and honey, which are both naturally anti-bacterial, and organic sugarcane, which gently improves circulation and buffs away old skin. (Also, how many people get to say that their go-to exfoliator is handmade by holistic beekeepers in Hawaii?)
Pull Out Oils With Bentonite Clay
Bentonite Clay Mask, $11, Amazon
Every once in a while (when you feel like pampering yourself), it's a good idea to switch out your regular washing routine with a bentonite clay mask session. It's wonderful for acne-prone skin because it pulls excess sebum oils and toxins to the surface and out, and because this particular one is only pure, natural clay, sensitive skin won't be irritated by additives and fragrances. Not only does a 15-minute session tighten skin and boost circulation, it also exfoliates, and users are practically obsessed with how clear and smooth their skin feels.
Sleep Easy Without Breakouts
Nufabrx Blemish-Free Pillowcase, $37, Amazon
Washing your face won't do much good if the second you lie down to go to sleep, your skin gets covered with bacteria again.This Nufabrx pillowcase is specifically made for people who are prone to breakouts. It's made entirely from bamboo fiber, and it has ingredients like lavender, lemon balm, tea tree oil, and wintergreen oil added in, so this pillowcase is antimicrobial and hypoallergenic. Reviewers really like the pleasant, fresh smell of the oils, and some say it made a dramatic improvement in the overall clarity of their skin.
Bustle may receive a portion of sales from products purchased from this article, which was created independently from Bustle's editorial and sales departments.
Images: Fotolia; Amazon (11)