13 Female Artists To Hear Before SXSW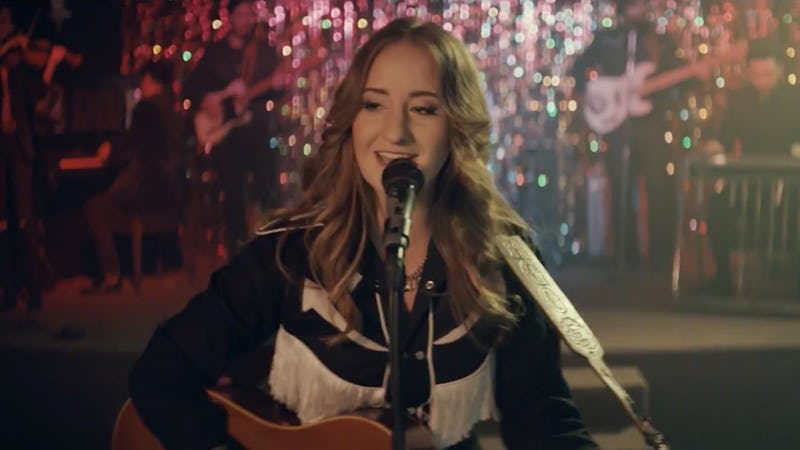 It's almost that time of year again. You know, that time when music lovers, publicists, and journalists head on down to Austin, Texas for the South by Southwest Music Festival. That one week in March when your social feed is chock full of photos and reports shouting out all the great new music to look out for in the coming year. However, if you can't make it down to Austin for SXSW, running from March 11 to March 20, don't fret — you can still check out all the up and coming acts the festival will introduce. To start you off, I've got this list of 13 female acts set to perform at SXSW that everyone down there will be talking about. The women who haven't broken big yet, but their names are bound to be on the tip of everyone's tongues after they take the stage in Austin.
So, if you are going to SXSW this year, think of this list as a helpful guide to what you need to see once you get there — and if you're not, check these artists out anyway. Get those headphones on and get ready to meet some of your soon-to-be favorite new female artists.
1. Julia Jacklin
The Aussie singer-songwriter Julia Jacklin will definitely have you comparing her to Angel Olsen with her alt-country twang. Her first single "Pool Party" has Jacklin weaving a heartbreaking tale about a partner's drug use by a pool. "My heart is heavy when you're high," she sings over simple drums. "So for me, why won't you try?" That sadness is perfectly articulated in the song's video, which looks like Napoleon Dynamite if directed by Harmony Korine. Her upcoming full-length album, Don't Let The Kids Win, is expected to drop later this year.
2. Japanese Breakfast
Japanese Breakfast, the solo project of Michelle Zauner, can get a little dark, but that doesn't mean it isn't pop. It's just of the experimental kind, playing with minimalism and anime samples for something new and interesting. In fact, you'll likely get a Björk vibe from the Philly singer's latest single "The Woman That Loves You" off her solo debut, Psychopomp, out April 1, which lets a soon-to-be ex know he better treat her better or it's over. It's basically the most even-tempered kiss-off ever.
3. Flint Eastwood
Recording acted as a coping mechanism for Jax Anderson, better known as Flint Eastwood, while she was dealing with the death of her mother. Now the six-track EP Small Victories, which came out this past fall, is inspiring other people, just as she hoped it would. The Michigan native told the Detroit Free Press, "Loss is a scary thing and my hope is that this record connects with people beyond just melodies that make you feel good." Her track "Glitches" certainly is doing that, acting as the perfect song to pump you up, whether it's during a workout or just a bad day at the office.
4. Jean Deaux
With her single "Father Time,"Jean Deaux gets both personal and existential. Yes, as the Chicago native sings on the house track, she really has only met her father twice, but the song is really a metaphor for life and death that has her singing about the space-time continuum. Don't worry though — you don't have to be a physicist to know this song is a hit. Expect to hear more from Jean Deaux when her project Soular System Vol. II drops sometime this year.
5. Miya Folick
Miya Folick isn't afraid to be vulnerable. On songs like "I Got Drunk," off her EP Strange Darling, the folk singer, who will remind some of early Cat Power, talks about having too much to drink and having to write someone a love song. On the EP's title track, Frolick talks about not knowing what she wants, posing the ultimate question: "Will I want you by the end of this word?" Jury's still out on that one, but you'll likely want to listen to her music for at least the foreseeable future.
6. Birdcloud
The two women behind Birdcloud make country music filled with crass humor that is bound to make your grandmother blush. Their song "F*ck You Cop" talks about being high on Robitussin, and on "Ice Balls," they use a mandolin to talk their left-of-center sexual preferences. But the duo's best song just may be "Peench Me," which talks about all the amazing things that have been happening to them — including "Jack White retweeting their tweets." Definitely a big deal.
7. Kristin Kontrol
Kristin Kontrol will make you want to rip a pair of bleached denim jeans at the knee, grab a Sharpie and recreate Debbie Gibson's Out Of The Blue album cover. Luckily, that's exactly what Kristin Welchez was going for with her latest project, which is definitely a departure from her other gig as Dee Dee of the Dum Dum Girls. With Kristin Kontrol, the singer is able to put a little bit more of herself into her music, and her real self is definitely an '80s pop star. Her debut album, X-Communicate comes out May 27.
8. L.A. Witch
For those who are missing the Dum Dum Girls though, the garage band L.A. Witch is bound to fill that void. The three women behind this reverb-soaked band tell dark tales worthy of noir films, but they manage to make it all sound so sweet.
9. Negative Gemini
As Negative Gemini, Lind­sey French is making '90s techno cool again with her new single, "Body Work," which has her taking Britney Spears' 2003 ballad "Everytime" and turning it into a club jam. French told Nylon her music is at once nostalgic, and futuristic, declaring she's the "future future-pop star." She hopes in the very near future electronic music will have better female representation, sending this message to the haters: "If they're going to judge me before they hear my music, I'd love to surprise them and make them feel stupid." The Virginia native plans to release her debut album, Body Work, later this year on her own vinyl-only record label, 100 percent electronica.
10. KING
This Los Angeles R&B trio KING has already found a fan in Stevie Wonder with their recently released debut, We Are KING. But if you need anymore proof that you should be listening, just check out the beautiful harmonies on KING's latest single "Carry On," which is all about learning to love the proper way.
11. Margo Price
Margo Price has already gotten a co-sign from Loretta Lynn producer Jack White, who signed her to his label, Third Man Records — so SXSW just seems like the cherry on top of the sundae. Her debut, Midwest Farmer's Daughter, out March 25, deals with heartbreak, regret and too much drinking. But don't think this is some country cliché, Price's pain is all her own.
12. Kari Faux
As Kari Faux makes clear on her track "Gahdamn," featuring Childish Gambino, she's not into small talk... so I'll make this brief. The Little Rock-based rapper is bringing the "futuristic fire" that will take you higher so start listening now so you can say you knew her when. Look out for her upcoming album, Lost En Los Angeles.
13. Aurora
"Infectious" is the perfect adjective to use when talking about Aurora's new single, "Conqueror." The track off the 19-year-old Norwegian's debut LP, All My Demons Greeting Me as a Friend, out March 11, is a rather spritely ditty that has her balking at the fantasy that we need a savior. Maybe all we really need to save us is to play this track on repeat.
So, even if you can't head down to Austin for SXSW, don't worry — you've still got tons of amazing music to listen to.
Image: OfficialTMR/YouTube