9 Mistakes That Make Hair Look Thin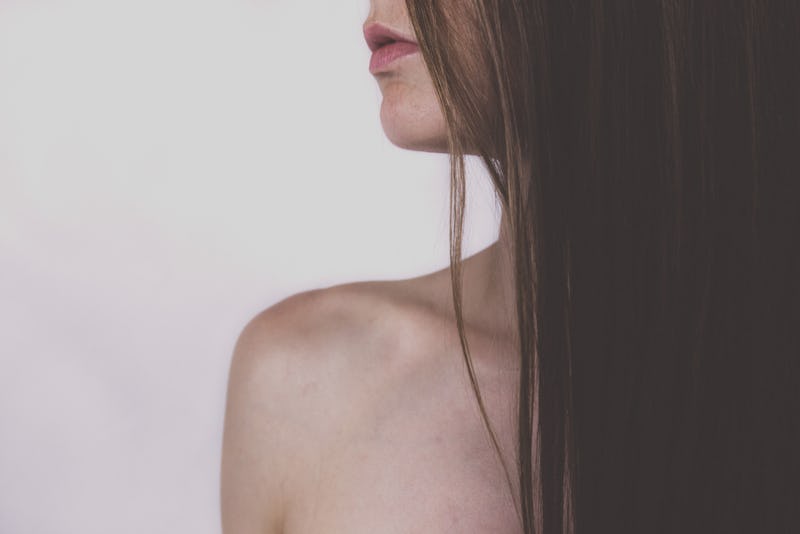 Because a full ponytail for me is the same general thickness as someone else's pigtail, I'm hyperaware of practices that make hair look thin and stringy. As a result, I spend a good chunk of my time in the morning trying to make my hair look full, flowing, and voluminous, and let me tell you — it's not easy. I'm a wash-my-hair-daily kind of girl, because if I don't, it looks even thinner, and forget it if I try to ease frizz with most oils and creams. It's separation central, especially close to the roots.
Nonetheless, throughout my hair-thickening journey, I've found that thin-looking locks and stringy strands often come from unsuspecting places — even, sometimes, from the very same products that claim to help with growth and volume. Unfortunately, we live in a world full of chemicals and excess hot tools, and though I'm just as guilty as everyone else (if it came down to a choice between my straightener and my boyfriend, there would be a pros and cons list, for sure), these things do a huge number on your hair. Thankfully, however, I've collected a fair amount of tips and tricks along the way for making hair look and feel thicker and more voluminous, no matter how big your ponytail.
Stretch Your Wash A Few Extra Days
Organic Mermaid Dry Shampoo, $17, Amazon
The less you can get away with washing your hair, the less oil your scalp will produce, and the less stringy your hair will look. This Organic Mermaid Dry Shampoo uses all-natural arrowroot powder, baking soda, and kaolin clay to absorb oil, and essential deodorants like rose and palmarosa to give hair a clean, beachy smell. It's easy to apply, won't make your hair look chalky or dusty, and can help stretch your wash a few extra days, so hair looks better and takes less damage.
Fortify Hair With Natural Proteins
Fortifying Protein Hair Mask, $14, Amazon
This Fortifying Protein Hair Mask is infused with argan and macadamia oils to deeply condition hair, which adds volume to brittle and thin strands, making them appear thicker and more voluminous. Because it's sulfate- and paraben-free, it's safe for all types of hair (even color treated). In addition to providing protection, it stimulates growth, too. Reviewers say that this mask completely rescued their hair from the bleach-and-heat afterlife, adding back the nutrients and hydration it needed to look lively and dense once again.
A Great Blow Dryer Is Imperative
Remington Silk Ceramic Blow Dryer, $31, Amazon
This is, hands down, the best blow dryer I've ever owned, and I've owned a lot. While other ones tended to thin out and burn my hair, this Remington Silk Ceramic Blow Dryer has shockingly powerful air flow and ionizing technology to reduce static and burn, which keeps hair looking silky and thick, even if you're a daily washer, like me. It's ceramic and has multiple settings, including cold, so you can minimize heat damage, and it's sturdy and durable (but still sleek and lightweight), so I know I'll be using it for a long time to come.
Prompt Growth With Argan Oil
Pura D'or Hair Growth Argan Oil Shampoo, $36, Amazon
Argan Oil is all the rage in haircare right now, and that's because it's rich in fatty acids and vitamins that serve to repair and plump up strands. This Pura D'Or Argan Oil Shampoo uses organic extracts and nutrients to nourish hair, both by strengthening the strands you already have and by drastically prompting the growth of new ones. It lathers well and cleans thoroughly while also hydrating, and reviewers say there are no words for how happy they are with their thicker, smoother locks.
Preserve Natural Hues With Henna
Rainbow Research Henna Hair Color, $8, Amazon
When hair is all the same color, it can look flat and thin, whereas when your hair has lowlights and highlights, it creates the illusion of there being more of it. Henna is a wonderful alternative to other coloring products because it shades the hair rather than dyeing it, preserving your hair's natural complexity of colors. This Rainbow Research Henna Hair Color has no additives, chemicals, or pesticides, but it coats your hair with a beautiful red hue that blends naturally and fades gradually. Best of all, the henna plant is actually good for your hair, so it strengthens strands and supports growth while giving you a classy new look.
Switch From Shampoo — Just Cleanse With Lavender
Renpure Cleansing Conditioner, $7, Amazon
This is my daily-use replacement shampoo, and let me tell you: I'm in love. While other shampoos strip the natural oils from your hair, Renpure Cleansing Conditioner strips only the dirt, leaving your hair's natural sheen. As a result, your body produces less oils (because it doesn't need to compensate) and hair appears thicker, cleaner, and more voluminous. This cleansing conditioner replenishes the oils, minerals, and nutrients your hair needs to stay healthy. It also works on all hair types, has no sulfates, dyes, or parabens, and it smells absolutely incredible.
Spread The Love (And The Oil) With Boar Bristles
Bamboo Boar Bristle Hair Brush, $13, Amazon
Plastic brushes are super tough on your hair, causing breakage, separation, and poor distribution of oil. Especially if you blow dry your hair regularly, a good quality boar brush is essential. This Bamboo Boar Bristle Hair Brush is made with partially natural bristles that are much easier on your locks, as well as a bamboo handle that's much easier on the environment. This brush stimulates blood flow to your scalp, which increases growth, as well as evenly distributes your hair's natural oils from the roots to the tips, conditioning your hair just by brushing.
Sleep On Silk – Not Cotton
Mulberry Silk Pillowcase, $20, Amazon
While typical cotton pillowcases can make hair feel dry and brittle, this Mulberry Silk Pillowcase is just the thing to evenly distribute natural oils throughout your hair and prevent breakage, as it's chemical-free, naturally dyed, and made from 100 percent high-quality silk. It's got a convenient zipper for easy removal and washing purposes, so your pillow stays sanitary, and reviewers say it prevents tangles, feels ultra smooth and comfortable, and bonus: It's awesome for your skin, as well!
Never Break Hair (Or A Hair Tie) Ever Again
Blax Hair Elastics, $4, Amazon
If you regularly pull your hair up with abrasive ties that tangle and cause breakage, then expect fly-aways, split-ends, and limp strands to ensue. These Blax Hair Elastics are strong, durable, clear, and dependable, but they won't cause any breakage to your hair. Instead, they're made of a snag-free material that comes right out without tugging or struggle. Reviewers say that even though they stretch super far, they've yet to snap any of them.
Bustle may receive a portion of sales from products purchased from this article, which was created independently from Bustle's editorial and sales departments.
Images: Freestocks/Pexels; Amazon (9)