'The Stepchild' Shows A Very Real Issue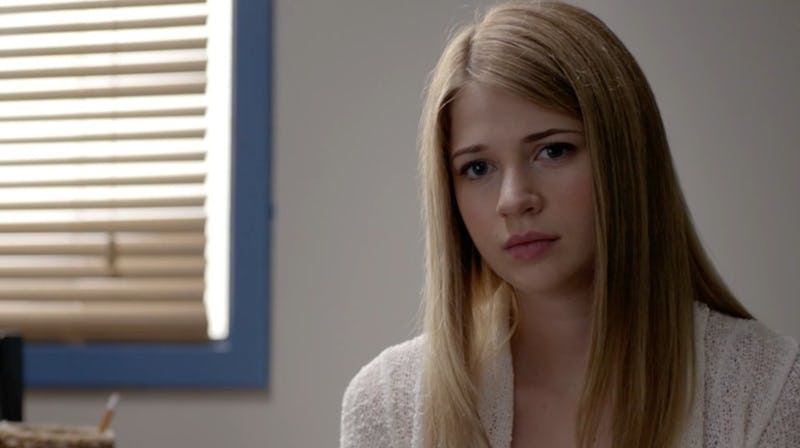 It's the weekend, and you know what that means: It's time to curl up and watch another melodramatic, sensationalistic, but still totally entertaining movie on Lifetime when Saturday night rolls around. So, what epic drama will the network be serving up this week, you ask? Well, once you hear the movie's title, you may immediately wonder if Lifetime's The Stepchild is based on a true story.
There's no mention of The Stepchild having come from a true story in its synopsis found on the movie's page on Lifetime's website, which reads like so:
After spending months in the hospital recovering from the physical and emotional injuries she suffered during a home invasion that claimed the life of her father and left her stepmother, Beth, injured, Ashley Bennett returns home to try to move on with her life. Plagued by fragmented memories of the night of the murder, Ashley begins to suspect that her father's friend and business partner, John, who is now living with her and her stepmother, is up to no good and she enlists the help of her boyfriend to look into his behavior. When Ashley learns that John's wife died in an unusual accident, she becomes convinced that John is behind her father's murder and that Beth is in serious danger. However, Beth sees Ashley's erratic and paranoid behavior as a sign of suffering from post traumatic stress. Is Ashley simply jealous of this new man or is John a cold-blooded killer? And if Ashley can remember everything from the night of the murder, will she be prepared to face the truth?
The film's co-writer and director Roma Roth described The Stepchild as "a tight little Hitchcockian mystery that will keep the audience glued to their seats until the end" in a recent interview with The London Free Press, which also leads me to believe that the movie is a complete work of fiction.
However, aside from the over-the-top murder-mystery plot, The Stepchild also deals with the very real issue of the effects of post-traumatic stress, which is often something we hear associated with veterans in the news, but it can affect anyone that has experienced "a shocking, scary, or dangerous event," according to the National Institute of Mental Health. Everyone experiences post-traumatic stress differently, but in The Stepchild, it appears that Ashley will exhibit such symptoms as bad dreams, having trouble remembering the traumatic event, and feeling worried.
In particular, Ashley's therapist tells her that she is experiencing paranoid ideation, or just paranoia, in The Stepchild as a result of witnessing the traumatic event of a home invasion that left her father dead and her stepmother injured. Ashley's therapist tells her she is paranoid for thinking that her stepmom's boyfriend, John, killed her dad and is after Beth next. But since this is a Lifetime movie, that's probably what actually happened. But again, in real life, paranoia affects everyone differently.
Even if The Stepchild isn't strictly based off of one true story, it definitely reminded me of some other past pieces of entertainment. For one, The Stepchild immediately gave me some Hamlet vibes, except instead of an uncle murdering the king of Denmark to rule the land and shack up with the queen, it's a business partner who might have killed a man to get with his wife and eventually take over his company.
Of course, if you want to get a bit more general about it, stepparents or the new boyfriends/girlfriends of parents are often portrayed as evil in stories. The stepmother in Cinderella is the quintessential wicked stepparent. You'll find more terrifying stepfathers in This Boy's Life and in the 1987 and 2009 horror movies titled The Stepfather. But I'm pretty sure Meredith Blake (Elaine Hendrix), the girlfriend of Hallie's (Lindsay Lohan) dad Nick (Dennis Quaid) in the 1998 remake of The Parent Trap will always be the worst.
Image: Reel World Management