Demi Lovato's VS Swim Special Look Was On Point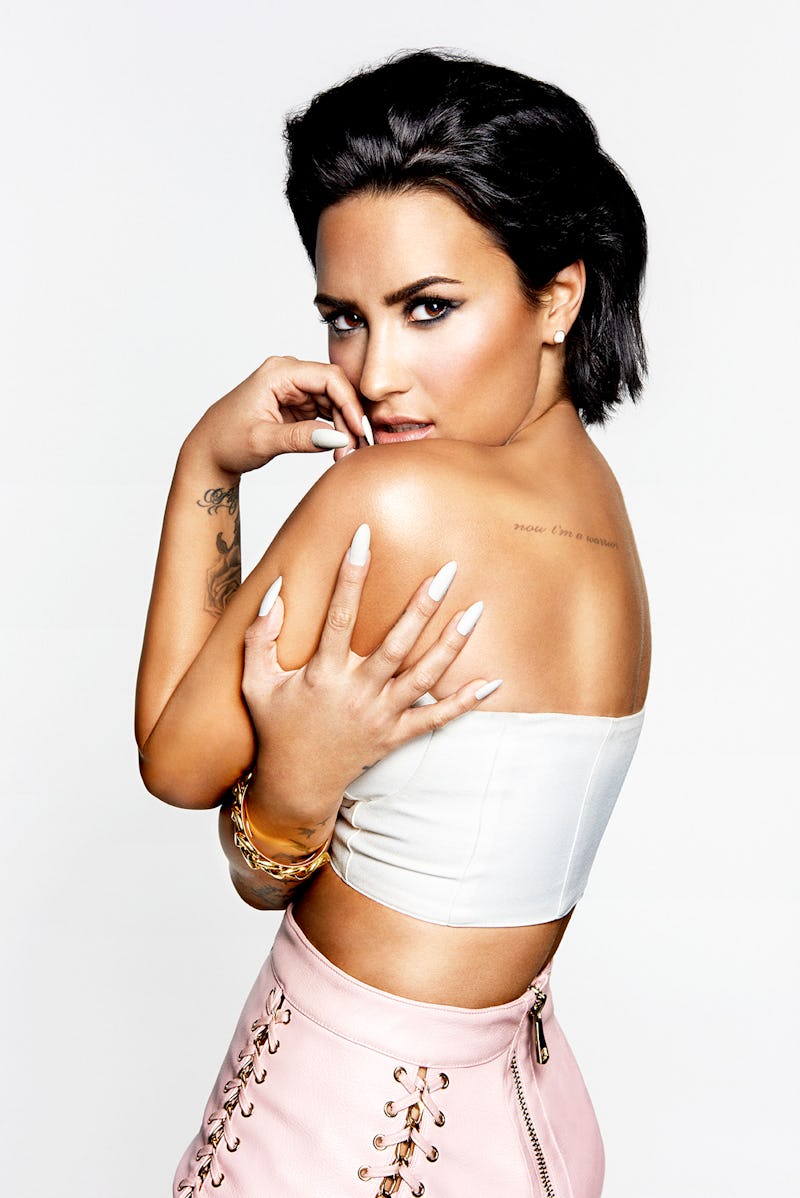 Since Victoria's Secret aired its first swim special last year, I've been eagerly anticipating this year's edition. That excitement became even more real when I heard Demi Lovato and Nick Jonas were selected to perform at the show. And of course, Demi Lovato's Victoria's Secret 2016 Swim Special look totally killed it. She looked amazing.
Considering the special was shot in St. Barth, I expected Lovato to show up in something tropical and island-inspired, but her performance look was a little edgier than I expected — and I loved it. Lovato wore a black satin corset with black shorts and over-the-knee suede black boots. The corset had the coolest cut-out sequin shoulders and a gorgeous sweetheart neckline with floral details.
Lovato looked totally confident and amazing as she performed "Cool for the Summer," "For You," and "Confident." Her hair, which is currently cut in a super cute angled bob, was bedhead-y and piece-y, but it totally let the neckline of the bodysuit shine, which was a major style plus in my book.
Of course, that wasn't the only look Lovato sported during the show. She rocked a totally gorgeous gauzy white coverup in some of the previews for the show, and her round sunglasses were St. Barths chic.
So pretty, right? It makes me want to take a tropical vacation like, right now. But that doesn't compare to Lovato's performance outfit.
I mean, she's totally killing it. I love how all the Victoria's Secret Angels wore black outfits during her performance as well. It added some edge to what was a totally beachy, tropical night.
Her stacks of black rings and pointy black nails totally added to the badass look she was rocking.
That corset! Lovato totally killed it tonight, and I love that she gave her outfit some of her signature edge.
Want more fashion and beauty tips? Check out the video below and subscribe to Bustle on YouTube!
Image: Courtesy of Brand