Nick Jonas Had To Wear Pink On The VS Swim Special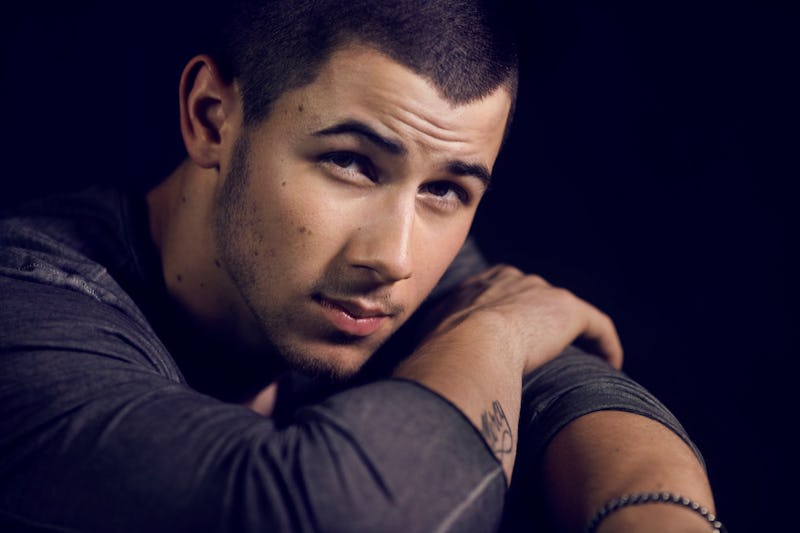 As much as I looked forward to seeing all the angels at the Victoria's Secret Swim Special, I have to be honest. I was also 100 percent there for Nick Jonas. The singer was one of the selected performers for the VS Swim Special, and he totally killed it on stage. Of course, Jonas' Victoria's Secret 2016 Swim Special look had to include a pink jacket in honor of the brand's PINK line (or at least that's what I'm telling myself).
Jonas' swim special look included a classic white tee, light wash ripped jeans, and tan boots. And the best part? A pink satin bomber jacket he wore. I'm telling you, this jacket is 100 percent Pink Ladies-style, and I kind of love it. The jacket also had embroidered trees and birds on it on it, but if you take those off, it could've been taken right off the back of Frenchie or Rizzo from Grease.
I personally love that Jonas totally embraced the kind of girly aspects of the night and wore this fun pink jacket (although guys wearing pink is totally great in my opinion). And, considering Jonas wore an olive green bomber jacket in the previews for the show, I guess he's loving that style lately. He's also obvi into the classic white T-shirt as well.
Jonas performed "Levels," "Chains" and "Jealous" on the show, and the models joined him, most of them wearing adorable cutoffs and white tank tops (over swimsuits, naturally).
He looks awesome, right? And that jacket is surprisingly chic.
And, the embroidery on the jacket takes it to another level.
Considering the special was filmed in balmy St. Barth, I'm not surprised that Jonas took off the jacket during "Jealous," which you can see in the background of this photo.
But, his look with the pink jacket was one of my favorites of the night. Totally killed it, Nick.
Want more fashion and beauty tips? Check out the video below and subscribe to Bustle on YouTube!
Image: Courtesy of Brand