The 'School Of Rock' TV Show Has A New Dewey Finn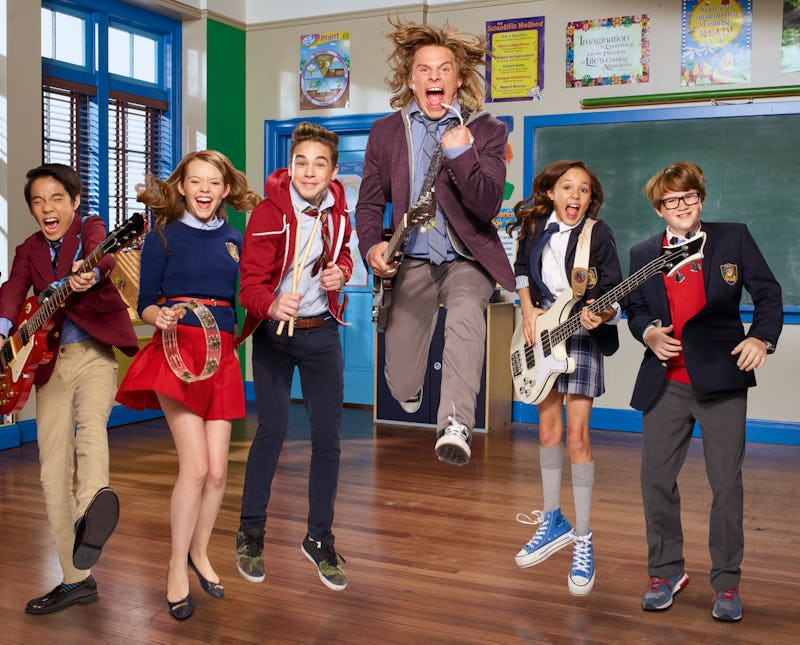 I'm more than a little bit obsessed with the 2003 comedy School of Rock, and I don't care who knows it. There's so much that I love about School of Rock, from its classic rock soundtrack to its solid puns (" Cello , you've got a bass.") to a female character who is not villainized but celebrated for her Type A personality in class factotum Summer Hathaway (Miranda Cosgrove). But the main reason why I think School of Rock is such a successful movie is because it cast the perfect actor for its lead role of musical slacker-turned-substitute teacher Dewey Finn. So when I first heard that Nickelodeon would be premiering a new live-action TV version of the movie on Saturday, March 12 at 9:30 p.m. ET, I definitely wondered if the School of Rock TV show will feature Jack Black.
Unfortunately for all those who have pledged allegiance to the band, that is not to be for now. Not only did Black say that he has "nothing to do with" Nick's School of Rock TV series during the Television Critics Association press tour in January 2015, but he also said he has no plans of being involved with the show. "No, my plate's pretty full. I don't like looking back. I only look forward," he said, as reported by TVLine.
Well, that certainly doesn't rock. And if you were hoping Black had something to do with School of Rock: The Musical , which is currently playing on Broadway, he wasn't involved with that project either.
But have no fear, because the School of Rock TV show is still in good hands. The original film's director Richard Linklater and producer Scott Rudin will also be serving as executive producers for the series.
It looks like this small-screen adaptation will be fairly faithful to the original movie as well. Just like the movie, School of Rock the TV series follows a class filled with obedient students whose world gets a lot more rocking when struggling musician Dewey becomes their substitute teacher. The TV show even uses pretty much all of the same character names as the original film.
So if Black won't be reprising his role as Dewey, I bet you're wondering who was cast to fill those big shoes. That lucky dude is Tony Cavalero, who is in the main company of the legendary Los Angeles improv and sketch comedy theater The Groundlings. You may also remember him as Stanley Watts on Hart of Dixie or as the Sweater Guy in The DUFF. All of this tells us that Cavalero can act, sing, dance, and isn't afraid to look silly. He's no Black, but he'll probably be an adequate and likable Dewey on School of Rock.
In addition to Cavalero and his pre-pubescent castmates, School of Rock will also feature a few guest stars during its premiere season, including Fall Out Boy's Pete Wentz, Big Time Rush's Kendall Schmidt, and The Thundermans' Kira Kosarin. OK, so you'll probably only be excited for those guest stars if you watch Nick on the regular, but some guest stars are better than no guest stars.
Still, we shouldn't lose hope in Black ever returning to School of Rock. He hinted that he would be up for starring in a sequel to School of Rock last month on ITV's This Morning — if certain conditions are met, that is. "I'd love to do School of Rock 2," Black said on the British morning news show, as reported by The Daily Mirror. "We have to have the same creative team, and it would have to be as good a script as the first one, which is a tall order because all the planets aligned for me there."
Black, Linklater, and School of Rock writer Mike White all reunited with the movie's cast to celebrate its 10th anniversary back in 2013, so it looks like the whole gang isn't averse to getting back together again. But for now, I can only pray to the gods of rock that Black shows up in something School of Rock-related in the future.
Images: Michael Elins/Nickelodeon; Giphy (2)