10 Funny St. Patrick's Day Memes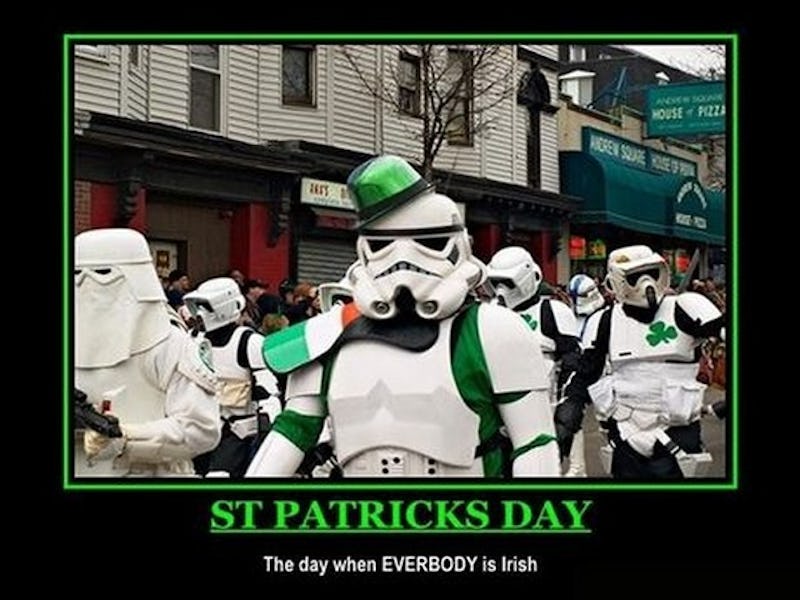 St. Patrick's Day is one of those special holidays where Americans like to act extra ridiculous. If you don't know what I'm talking about, then these 10 funny St. Patrick's Day memes will help spell some things out for you. And if you really don't know what I'm talking about, make sure you find yourself in one of these 10 best St. Patrick's Day cities in the U.S. come March 17. They know how to really get the party started.
How do most people spend their St. Patrick's Day? If I am being totally honest, it's probably at the bar. There is nothing wrong with enjoying a festive glass of Guinness or some green beer after work, and St. Paddy's Day falls on a Thursday this year, meaning you probably don't have plans to party too hard. But, St. Patrick's Day still lends itself to some pretty hilarious situations — hence, how many of these memes were born.
No matter how you plan to spend St. Patrick's Day this year, just be sure you are safe about it. Have a good laugh as you scroll through these memes, and remember that St. Patrick's Day can be all about having a good time, but it shouldn't be at the expense of anyone's safety.
Get the facts straight.
Nom nom nom nom.
Now this is a holiday I can get behind.
Fun fact: Blue was originally the color first associated with St. Patrick's Day.
Actually, don't pinch anybody.
Camaraderie is a beautiful thing.
I've never seen an animal in costume who has a good attitude.
Er, cheers.
The luck of the Irish is clearly on your side.
Have a good one, y'all!
Images: MemeCenter (10)