'Girl Meets World' Season 3 Episodes Sound Awesome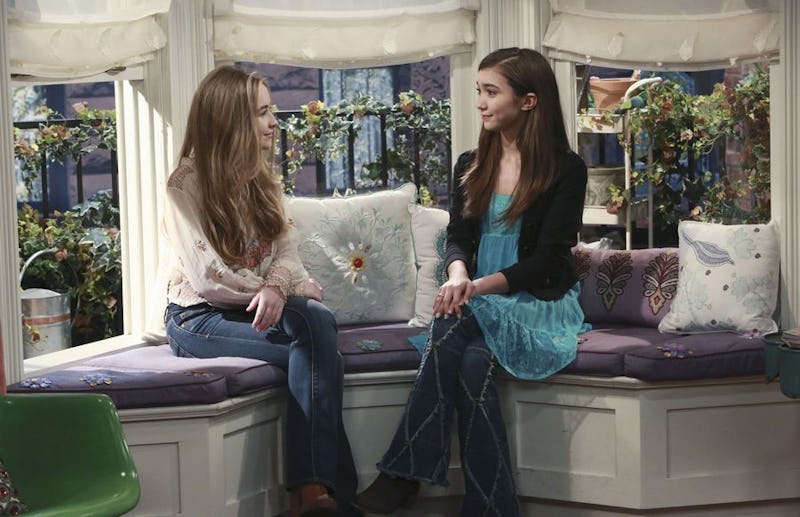 Most Boy Meets World fans were excited to see Disney Channel's Girl Meets World to catch up with old favorite characters, like Cory, Topanga, Shawn Hunter, and others. But, lately, Cory and Topanga's daughter Riley has been dealing with the complexities of growing up and it's totally worth watching all on its own. So, will Girl Meets World return for Season 3 and let fans watch Riley and best friend Maya on the rest of their journey? The Wrap reported that Disney Channel renewed the comedy series for a third season and it will air later in the spring.
For now, Girl Meets World airs its Season 2 finale on Friday night, in which Riley, Maya, and the gang are graduating from middle school. And, of course, life is getting complicated. Previous episodes have explored the love triangle between Riley, Maya, and Lucas in Texas, as well as Maya's complex relationship with her parents and what tearing down Riley's bay window means to hers and Maya's friendship. As Riley and her friends take the big leap into high school, they'll be facing a bunch of new challenges — and perhaps new characters and love interests as well. The Girl Meets World writers' Twitter account recently posted some of the episode titles for Season 3 and they could mean so many things for the show.
Don't worry, no spoilers here, just speculation on what these titles could mean for Girl Meets World Season 3.
"Girl Meets High School Parts 1 and 2"
I'm pretty confident this episode will be all about Riley and Maya's transition into the brave new world that is high school in New York City. If Cory is going to follow Riley to high school á la Mr. Feeney, then I imagine she'll probably feel some embarrassment of having her dad as her teacher around all of these much older and cooler kids.
"Girl Meets Jexica"
Could Jexica be the most popular girl of high school, like Mean Girls' Regina George or the rough crowd? Or is she the cool alter ego that either Riley or Maya created for high school? Or is it just a unique name?
"Girl Meets Permanent Record"
I'm thinking that Riley, Maya, and Lucas get into some hijinks and a high school teacher threatens to put it on their permanent records. Of course, this causes more hijinks and scheming to ensue as they try to find and fix their permanent records.
"Girl Meets Triangle"
One of the most compelling parts of Season 2 was the revelation of the Maya/Lucas/Riley love triangle, which was total surprise, but made perfect sense if you look back on the series. I'm hoping this title means the series will be revisiting those complicated feelings between this trio.
"Girl Meets True Maya"
There has been tons of speculation about this title on the internet, since the original title was "Girl Meets She Don't Like Me," according to a Girl Meets World writers' tweet. Could Maya be compromising herself to be popular or fit in? Or is this something bigger? Whatever it is, it'll be a can't miss episode.
"Girl Meets Ski Lodge Parts 1 and 2"
Uh oh. Boy Meets World fans might recall the show's own infamous ski lodge episode when Cory kisses another girl, which causes him and Topanga to (gasp) break up. If Girl Meets World follows suit, then this two-parter will have lots of love triangle action. Drama aside, I can't wait for it to come back this spring!
Images: Eric McCandless (4), Ron Tom (2), Mitch Haaseth/Disney Channel