6 Big Batch Warm Weather Cocktails To Share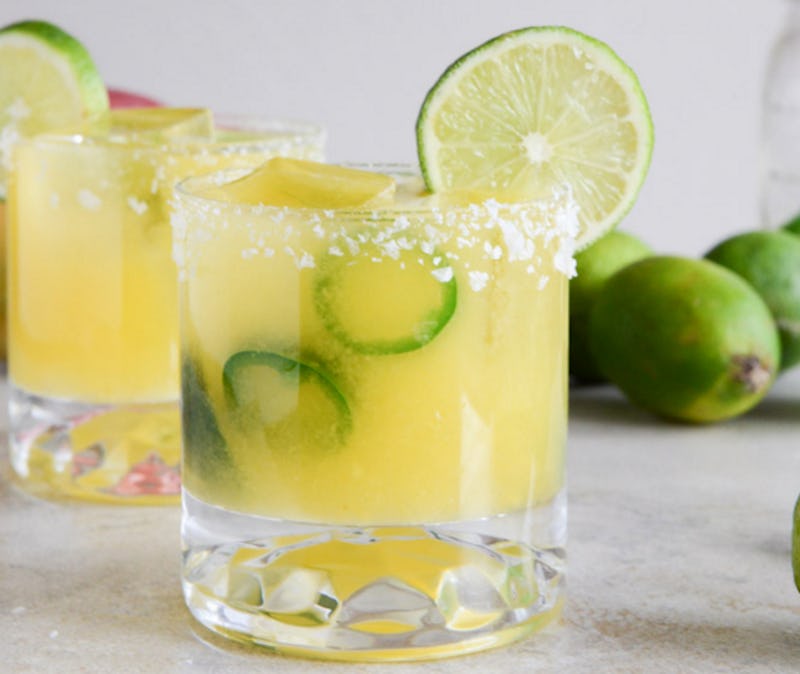 Winter is done, and with it goes its warm, spicy beverages, icy sidewalks, and cable knit sweaters — good riddance, old friend. Now that we're well into March, the season for fruity cocktails with loads of citrus slices has definitely arrived. These spring drink ideas are perfect for improving your mood after watching your alma mater get knocked out of the NCAA basketball tournament by some morally righteous underdog that rallied from 20 points down to ruin your party and your bracket with the quiet swish of a free throw. Yeah, I'll admit basketball makes me a bit dramatic, but at least there are these big batch cocktails to help deal with the stress.
I recently came into a boatload of tequila in seemingly every flavor under the sun, and I chose to use the stash of the delicious agave goodness to make a lot of super interesting margarita-type cocktails. There was a basketball watch party and picnic coming up that weekend, so, the timing could not have been better. Tequila and spring are like barbecue sauce and onion rings — you just want to drown one in the other... or something like that. The recipes that emerged from this experiment were all delightfully refreshing, occasionally unusual, and all stiff as a fresh $100 bill.
This is what I was working with:
Let's just say that it wasn't the time to mess around with making drinks in individual cups. Check out those recipes and more tequila cocktails to share with your friends this spring.
1. Ginger Beer Whiskey Barrel Fizz
Upon Googling Black Barrel Aged Tequila, I found this recipe from Mantitlement, and I made a few changes, because... feminism. This cocktail was the most unusual of the bunch that I made for sure and a crowd favorite as well.
3/4 pound ice
2 bottles (4 cups) Reed's Ginger Beer
1/4 cup agave nectar
1/4 cup fresh squeezed orange juice
2 cups Hornitos Black Barrel Aged Tequila
4 limes juiced
1 bunch mint, roughly chopped
Assemble ingredients in order, stir with wooden spoon, and serve.
2. Spicy Grapefruit Margaritas
So, I made a drink that was essentially just like this with my supply of Plata silver tequila, but this picture gives you a much better idea of what it looks and tastes like since the picture is actually in focus and it wasn't taken at night time. Find the recipe at Cookie + Kate. To adapt this recipe into a big batch 16-serving pitcher, just multiply all of the ingredients by 16 and skip the shaker.
3. Spiced Honey Tequila Sangria
This stiff little number was sweet as can be and all the more delicious for it. Adapted from this recipe from Creative-Culinary, people were already fighting over the leftover fruit by the time the rest of the pitcher was being emptied.
3/4 pound ice
1 bottle Pinot Noir (or other dry red wine)
1 cup fresh squeezed orange juice
3 limes, juiced
3 cups Hornitos Spiced Honey Tequila
1 cup cubed watermelon
1 cup cubed honeydew melon
1/2 cup red grapes
Combine ingredients in pitcher, stir, let chill in refrigerator for 20 minutes (or don't), and serve.
4. Mango Jalapeño Margaritas
I've made this recipe from How Sweet It Is before, and it works perfectly with silver or Reposado tequila. Letting the tequila marinate for 24 hours with the sliced jalapeños really sets the whole thing off.
5. Sparkling Prosecco Margaritas
Next up on my list of margaritas to make is this recipe from A Farmgirl's Dabbles. If you're making drinks for a party, big batch drinks are the easiest way to avoid spending the entire party shaking up people's drinks while the ice melts in yours, so this recipe is just perfect.
6. Sriracha Strawberry Margarita
Yaaaas! This recipe from Domestic Fits is a spicy and sweet concoction that can easily be multiplied to make more than one drink per blender-session. I would try this with lime-infused tequila for an extra hint of citrusy flavor.
For more warm weather cocktail ideas, check out Bustle on YouTube.
Images: How Sweet It Is; Jessica Learish (2); Cookie + Kate; A Farmgirl's Dabbles; Domestic Fits