Tips and Tricks For Controlling The Frizz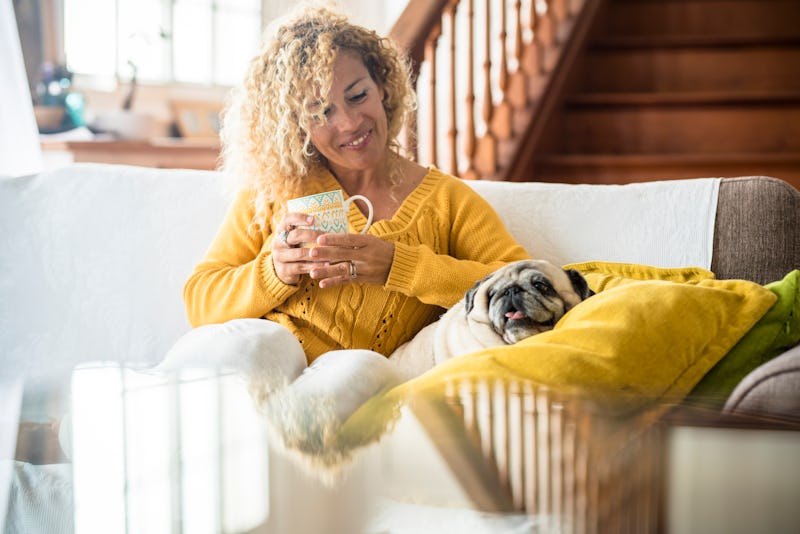 Cp 360 lifestyle/Moment/Getty Images
I have frizzy hair. Sorry not sorry. And while sometimes I love sporting my air dried hair in its most natural element, other times I just want a smooth, sleek look to fit my mood or ensemble. It's why ways to tame frizzy hair has often been an ever-sought-after item in my Google search history.
And it's not to say I never am able to attain straight hair; it's more that when I do, it always seems like more of a matter of luck or randomness than anything identifiable I actually did. In fact, I can practice a defrizzing technique, think I've absolutely mastered it, and then not be able to replicate the results in the slightest for the evening or event that actually matters. Or, even more frustratingly, I sometimes notice my best hair days happen when I've done literally nothing at all and am just hanging out in my pajamas — and I generally have no idea why or how.
If this is sounding familiar, or you feel like you're constantly in a state of warfare with your hair, fear not. I can totally relate, and I've even created a list of seven hair hacks that will seriously help you out in the anti-frizz department.
1. A Microfiber Towel
Microfiber Hair Towel, $8.95, SimplyGoodStuff.com
Also consider: DuraComfort Microfiber Hair Towel, $12.99, Amazon
In an article for DailyMakeover.com, celebrity stylist Mark Mena said to start by using a super absorbent microfiber towel on your hair instead of tousling it with a regular one. "When towel drying your hair, never rub your hair in the towel," he noted. "Always wrap your hair and squeeze the excess water out." This will prevent the hair cuticle from opening up and allowing more moisture in.
2. Get The Right Brush
Earth Therapeutics Natural Bristle Cushion Brush, $10, Amazon
A compilation piece for GoodLiving.com on ways to beat the frizz stressed the importance of using the right type of brush (and never plastic!) when combatting frizzy hair. They noted that a wide tooth comb or boar bristle brush will be best, as the unique structure of the bristles help to disperse the natural oils from your scalp throughout your hair, giving you awesome shine.
3. Sleep On Silk
Lilly Silk Momme Terse Silk Pillowcase With Hidden Zipper, $16.99, A mazon
That same GoodLiving.com piece recommended sleeping on a silk, as opposed to a cotton, pillowcase. They note that it's in part because silk has a cooling effect that keeps moisture on your skin — not on your hair.
4. Product (But Not Too Much)
TIGI Bed Head Control Freak, $11, Amazon
In a piece for Cosmopolitan on battling the frizz, stylist Christine Healey noted that frizz often comes from a lack of moisture, so after using a good conditioner, also use a moisturizing, de-frizz product on your hair before it fully dries. And my personal tip on this one is that self-restraint is key! I cannot tell you how many times I have used way too much product and ended up with greasy, stringy locks.
5. Blow Drying
Ultra CHI Pop Pink Dryer, $89.95, Ulta.com
Also consider: Xtava Allure Professional Ionic Hair Dryer, $36, Amazon
You're probably thinking, duh, obviously. But did you know there's a specific time and technique to blow drying that will help keep your hair smooth? Healey said to apply a heat protectant spray before beginning, sectioning off your hair, and blow drying from top of the scalp to the root (always in the same direction), ideally with a high-quality ceramic dryer. It's also best to wait until your hair is 85 to 90 percent dry before beginning so that you hair doesn't incur unnecessary heat damage (which, in turn, causes more frizz).
6. Bun It Up
Founder of the style site Glamamom Jill Seiman recommended simply throwing your hair up into a bun right after drying it. This will prevent excess moisture from getting into the hairshaft, and you can take it down right before you get to wherever you're going for a super volumnious, slightly wavy look. I used to use this trick when I had to go straight to evening events from work, and seriously got more compliments on my hair that way than when I spent hours doing it.
7. Keep Up With Haircuts
Mena also noted the importance of getting your hair cut regularly to prevent split ends, as they significantly increase the appearance of frizz. "Get your hair trimmed every eight weeks," he said. "Cutting your hair regularly will prevent the hair from splitting or breaking on its own." And I know — every two months may seems excessive, but just make your next appointment before you leave each haircut session to make it as seamless and effortless as possible.
Frizzy hair can be a point of incredible frustration and can make you feel totally deflated about your overall look. The good news is, there are a ton of small and super easy changes you can make in your routine that can make a huge difference to the overall sleekness of your hair. And remember — it's just hair, so have fun!
Images: Cp 360 lifestyle/Moment/Getty Images; Giphy