9 Quick Hacks For Making Sweaty Hair Look Fresh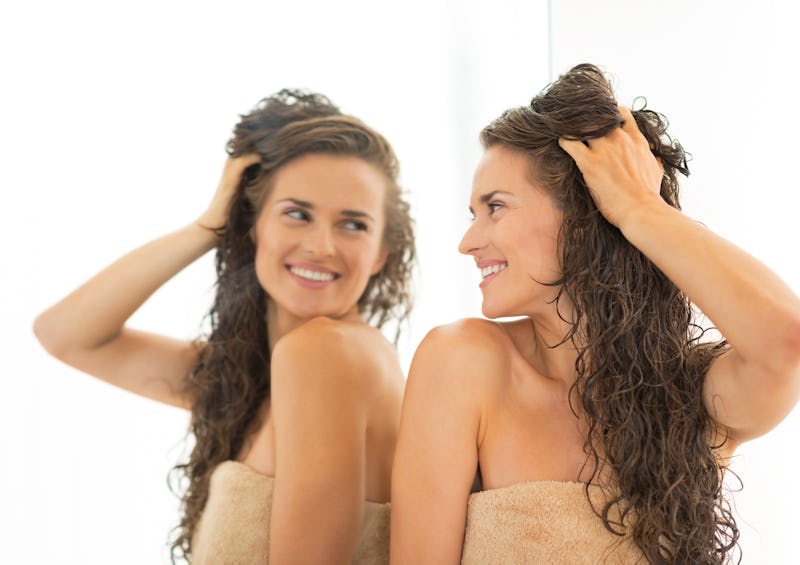 Sweat happens to the best of us. In fact, it happens to all of us. There are a lot of situations that bring on the perspiration, whether you're running around town on your day off, getting your heart rate up on a run, or relaxing poolside with your squad. Of course, a shower in these situations would be ideal, but, sometimes, that's not an option when you're on the go. For any situation that has you feeling warm, there are a ton of quick fixes for sweaty hair that will keep it from falling victim to flatness and have you looking (and feeling) fresh in no time.
It all starts with the right mix of preparation, product, and damage control. To start, you can try sweat-proof hairstyles and prep them with an element-fighting hair gel to keep your hair looking pristine all day long. If you've just come back from a fun hiking or camping trip, you can wash your hair with an all-natural cleansing shampoo to rid your hair of excess dirt and oils that may have creeped in.
Read on for nine ways to feel fresh when you break a sweat. With these tricks, you no longer have to, well, sweat about that sweat after your lunchtime workout.
Use Herbal Hair Tonic To Refresh Strands
Running errands all day, but meeting friends for drinks before you can head back home? Keep this refreshing herbal hair and scalp cleanser on hand. This formula uses vegetable protein extracts to soothe irritated scalps, and lavender, rosemary, and lemon balm leaf extract keep your hair growing long and healthy.
Try Travel-Sized Hair Fragrance In A Fresh Scent
For the times when you end up walking 10 blocks in the wrong direction in 85-degree heat, it helps to have this fresh hair fragrance spray on hand. Users say the formula isn't drying, and the light peachy fragrance smells great and isn't overpowering. Stash this little magic fix in your bag, so you'll never have to stress about sweating the small stuff.
Wear A Transitional Gym-To-Office Headband
Sweaty Bands Fitness Headband, $22, Amazon
If you're squeezing in a quick workout class during your lunch hour (power to you), try wearing the headband that can stay on from the gym to the office. These machine-washable, non-slip active hair bands will keep your hair in place with a strong grip and velvet backing. One user praised this accessory as "the best headband ever," saying there's "absolutely no slipping."
Dry Damp Strands With A Professional Hair Dryer
Xtava Allure Ionic Hair Dryer , $36, Amazon
When you need a quick boost of style after spending the day relaxing in the sun, blow-dry your hair at the roots with an ionic dryer for quick drying. This ionic technology reduces frizz caused by sun exposure and sweaty strands, leaving you with soft and smooth hair. Bonus: This dryer comes with a diffuser to help you spot-target sweat-induced tangles in one easy step.
Deposit Color-Safe, Silky Serum For Moisture & Shine
TIGI S Factor Silky Smooth Moisture Serum, $17, Amazon
Dry your hair 95 percent of the way, then add a very light amount of this high-gloss hair serum to your strands. This wheat protein product is great on color-treated hair and will replace the necessary moisture you lost during those hours laying poolside under the sun. After massaging through, continue drying for soft, smooth, and shiny hair that will make you forget you were sweating in the first place. Pro tip: Leave this product in your beach bag and apply a little to your ends throughout the day for extra sun protection.
Use Apple Cider Cleansing Shampoo After An Active Weekend Trip
Apple cider has a reputation for cleaning unwanted build-up, dirt, and oils from hair. This apple cider and pear purifying shampoo will wipe any traces of sweat from your hair that accumulated during your weekend hiking trip. Your hair will not only smell like juicy, fresh fruit when you hop out of the shower, but your hair will feel totally renewed and ready for some amazing hair days for the week ahead.
Comb Knotted Hair With An Easy-Glide Detangling Brush
Crave Naturals Glide Thru Detangling Brush , $11, Amazon
When your hair gets sweaty, knots and tangles easily make for some serious style headaches. For those mornings when you're running late, having this strong and painless detangling brush in your bag eases those pesky knots in a pain-free hurry. This comb's bristles are different lengths, so they easily separate your hair's worst knots without causing breakage. Users love how this brush works on any hair type, even thick, unmanageable strands.
Secure Sweat-Proof Braids With Frizz-Fighting Hair Gel
A tightly braided ponytail will keep hair locked in place when it's time for you to get active — or when you're spending some time under the sun. Use this firm hold hair gel (with extra resistance to humidity) to keep frizziness and fly-aways at bay. Users love this product because it holds hair in, but it doesn't create that crunchy drying sensation other gels can cause.
Dry Shampoo Adds Texture If You've Over-Cleansed
Sweaty work commutes and regular workouts lead to long shower hours. To avoid stripping your hair of nutrients from too many shampoo sessions, spray this gentle, volumizing dry shampoo on your off days (and use a shower cap to cover your hair while washing). This product uses oat milk to add volume to any hair type, while removing any traces of oil that can mess up your bouncy 'do. Pro tip: This product can also be used pre-sweat to prevent excess moisture from reaching your locks.
Bustle may receive a portion of sales from products purchased from this article, which was created independently from Bustle's editorial and sales departments.
Images: Fotolia (1); Amazon (9)