11 Stunner Nature Tattoo Ideas For Spring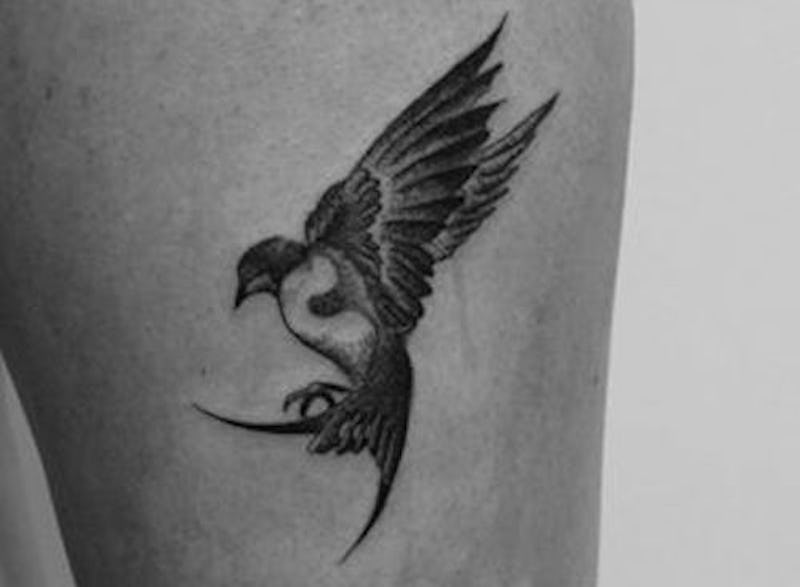 With birds chirping and flowers blooming, spring is officially here and there's only one thing to do: get a new tattoo! OK, OK, I kid, you don't have to get a new tattoo just because it's warmer outside, but these stunner nature tattoo ideas for spring might just convince you to. Given my love of new tats, I certainly won't be the one to stop you.
By the way, if you do end up falling for one of the designs below and decide to get a new tattoo, make sure you're prepared. As pointed out by Bustle's Elizabeth King in her article on insider information you need to know before you get inked, definitely find a reputable artist, develop custom art you feel good about, be willing to spend decent money, and prepare for the pain.
Also, slacking on aftercare is a total no-no. To ensure your tattoo heals correctly, remember to clean it properly, use the right ointments, fight all urges to scratch, and always wear sunscreen. And of course, reach out to your artist if you ever have any questions.
All of the designs below totally celebrate the bliss that is spring, so prepare for all the bright and sunny feels.
1. Sweet Earth Vibes
A blooming earth captures all that spring love.
2. Deer And Bird
Animal lovers look no further.
3. Blooming Branches
Go for a blooming sidepiece for elegant drama.
4. Climate Awareness
With Earth Day coming up, this is especially appropriate.
5. Dot Work Swallow
Dot work adds an intricate touch to this elegant bird.
6. Geometric Flower
Elaborate and engaging, people will want to gaze at this forever.
7. Colorful Bird
Go beyond black ink for a tattoo that's extra bright and happy.
8. Floral Sleeve
Consider going totally all out with a sleeve of blooms. #Swoon
9. Sweet Scenery
A geometric landscape is both peaceful and cool.
10. Minimalist Leaf
Get all the drama with this clean standout leaf.
11. Lavender
The truest burst of spring . . .
Images: charlie_leszy, edko0102, livewirearts & chrismasontattoo, beautifulaftermathtattoo, ajmcguiretattoos, SophieAdamson_Tattoo /Instagram; Oriana Tattoo, TattoosAndTatShop(2), Nile Automotive LLC, Fitness Agenda/Twitter