Michelle Fields Opens Up About Alleged Assault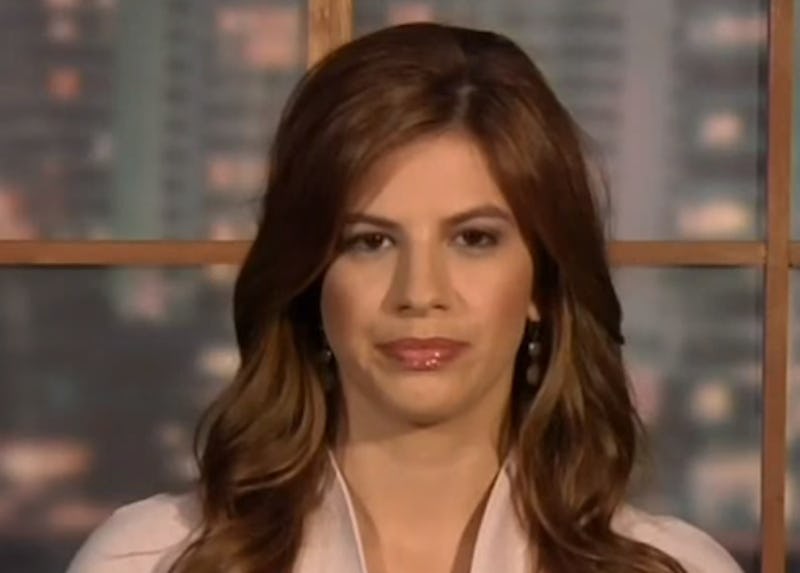 If you're politically progressive, there's a good chance you don't spend too much time consuming unabashedly right-wing media, whether more mainstream broadcast outlets like Fox News, or far-right Internet sites like Breitbart. But bear with me here, because this is important: On Tuesday night, following yet another one of Donald Trump's bizarre victory pressers, reports emerged of violence inflicted on a journalist named Michelle Fields by a senior Trump official. And now, the woman herself has spoken out — Megyn Kelly interviewed Michelle Fields' about her alleged assault by Trump campaign manager Corey Lewandowski for Fox News' The Kelly File, and it's absolutely worth every second.
The interview video is exclusive to Fox News at the moment, and if you want to watch it, you can do so through the link above. In the event you didn't hear about this incident when it first unfolded, here's the background: Fields is a Breitbart reporter, and her employer has provided a lot of glowing coverage of Trump throughout his primary campaign. Writing after the incident, Fields alleged that while attempting to ask the GOP front-runner a question about affirmative action, she was forcefully grabbed by the arm and nearly pulled to the ground, though she managed to maintain her balance and stay on her feet.
While Fields didn't see her assailant firsthand, another reporter, Ben Terris of The Washington Post, immediately told her that it was Lewandowski who manhandled her. Despite this eyewitness corroboration, as well as physical evidence (she tweeted out a photo of her bruised arm) and recently released video that shows Lewandowski reaching towards Fields before being obscured from view, she's found herself on the receiving end of a slew of attacks from the Trump camp, accusing her of fabricating her story.
As Kelly mentions in her introduction, Lewandowski has roundly denied Fields' claims, calling her "delusional" and an "attention-seeker." In fact, no less than Trump himself has accused Fields of lying: "Perhaps, she made the story up, I think that's what happened." Here's what Fields told Kelly on Friday night, about why she's now filed a criminal complaint against Lewandowski:
Well, I didn't want to do it. After this had happened, I called my editor and told him what had happened. I didn't want to file a police report, I didn't want to make a big deal out of it, because I didn't want to be all over the press, and I certainly was worried about my job. What would happen if I went to the police? I told my editor and he called Corey, and he spoke to him ... he said that he did it, he did not deny it ... He said that he didn't realize I was a Breitbart reporter.
Obviously, this is a pretty bizarre excuse, unless you're of the opinion that it's OK to rough up reporters if they're not representing sympathetic news outlets. Fields also says she was told Lewandowski would apologize to her, but after a day passed, the campaign transitioned into all out "character assassination."
I never got that apology. Instead, yesterday, they released a statement calling me a liar. They have basically done a character assassination on me, they're linking to blogs with conspiracies about me, and they're not telling the truth. There are videos, there are pictures, there's an eyewitness, a Washington Post reporter who is very credible, and they seem to not understand that. Their statements continue to say there's no video, there's no pictures, they continue to lie.
Fields also related just how rough this experience has been for her, saying: "It feels awful. This has to be, aside from my father's death, the worst experience I've gone through. The hate that I've received, the email messages — I'm sure, Megyn, that you can understand and sympathize with some of the stuff I've received, but it's been awful." She also acknowledged that, while she did feel properly supported by Breitbart at-large editor Ben Shapiro, "[I]t's a shame that my bosses have decided to come out against the facts."
The Trump campaign, for its part, sent out spokesperson Katrina Pierson to try to tamp down the criticisms. She maintained, much as the campaign's tenor so far suggested she would, that the allegations against Lewandowski were fabricated — "The allegation that Corey Lewandowski reached out, grabbed a reporter, and threw her on the ground is absolutely false. That did not happen."
Notably though, as Kelly immediately pointed out, that's not what Fields actually alleged — she never claimed that she was "thrown to the ground," but that she nearly lost her balance when Lewandowski grabbed her. When Kelly asked Fields to weigh in following Pierson's rebuttal, her response was succinct: "I think it's sad. This election is sad. This campaign is sad. I think Donald Trump has been a bully, his campaign has bullied me since this happened. I think Katrina is a very nice person, I've met her multiple times, I've spoken to her multiple times. I find it hard to believe that what she's saying she actually believes."
Image: The Kelly File/Fox News