This 'L.A. Clippers Dance Squad' Rookie Will Shine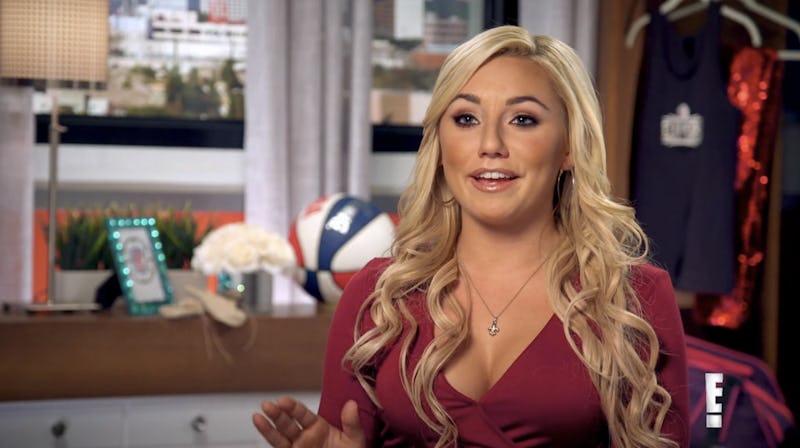 The new E! reality series L.A. Clippers Dance Squad is totally giving me a Showgirls vibe. The show begins as the Clippers Spirit, the dance team for the NBA's L.A. Clippers, holds auditions to find the ladies that will grace the Staples Center court as part of this season's squad. Naturally, it looks like there's going to be some tension between the longtime members and the rookies looking to grab the spotlight as well. One of the newcomers hoping to win a place on the dance team is Hannah Cormier, but who is this L.A. Clippers Dance Squad star, and will we see her turn into a real-life Nomi Malone?
I would be surprised if that happened because this young southern belle just seems too genuinely sweet to let her hunger for notoriety get the best of her. But fame is a strange and fickle thing that can turn even the most kind-hearted and down-to-earth among us into over-competitive people.
I sincerely hope the big city doesn't transform Hannah into that kind of person. How sad would that be? Anyway, before we get ahead of ourselves, let's get to know Hannah for the bubbly and talented young lady she actually is. Since this isn't actually Showgirls, after all.
She's A Louisianian
Hannah's hometown is Lake Charles, Louisiana, according to her official Clippers Spirit bio, and it looks like she's going to bond with her teammate and fellow southerner Savanna Read on the show. Well, that is if they can learn to speak the same language, as the above preview clip from the series shows.
She's Got Spirit, Yes She Does
Hannah may be new to town and to the Clippers Spirit, but she's definitely not new to professional dancing or sports. Before coming to L.A., Hannah was a cheerleader for the New Orleans Saints' Saintsations, according to the NFL team's official website. Though she may not be dancing for that NFL team anymore, Hannah definitely still shows her Saints pride.
She Made A Big Sacrifice To Join The Clippers Spirit
Hannah left behind her boyfriend when she moved to L.A. and joined the Clippers Spirit, according to her show bio. Hopefully, she doesn't regret her decision.
She May Look Familiar
Hannah is one of the dancers featured in AWOLNATION's music video for the band's single "I Am," as she pointed out on Instagram last year. There are a lot of performers in this video, so Hannah is a little tough to spot, but you can get a pretty good-but-brief glimpse of her in the center of the frame around the 1:27 mark. But even so, Hannah is barely recognizable in this video.
She Doesn't Just Dance
Not only is Hannah very talented at busting a move, which always impresses me, but she also has experience in performing with aerial silks. Do you see how much strength it takes to do something like that? I'd definitely love to see the Clippers Spirit incorporate some of those moves in the squad's next routine.
She Has A Pop Idol
Hannah is a big fan of Britney Spears. In fact, she's "obsessed with her," as she previously stated on Instagram. Hannah even dressed up as Britney a la the pop star's "I'm a Slave 4 U" performance at the 2001 MTV Video Music Awards, which she totally pulls off in the above pic. Get it, get it, get it, get it, Hannah.
Hannah seems like a pretty fabulous woman. Let's just hope L.A. Clippers Dance Squad doesn't change her.
Image: E!