'The Bachelor' Wedding May Be Very Soon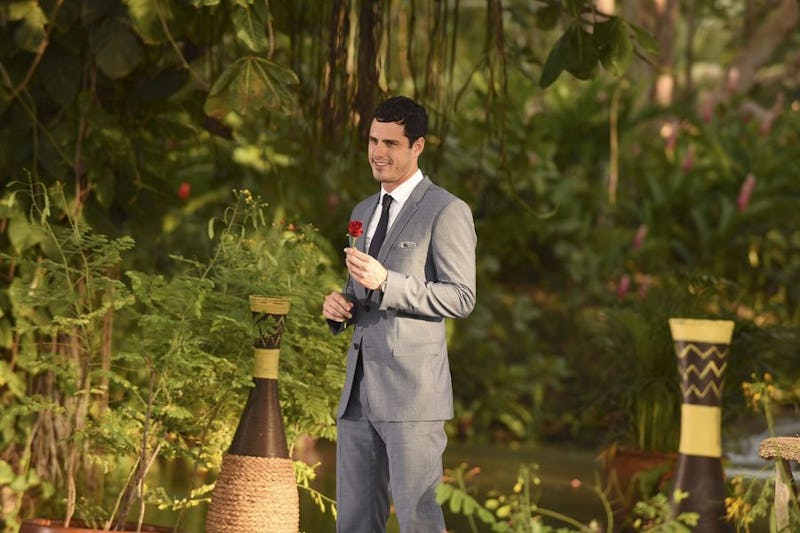 It was no secret that Lauren and Ben had a serious connection from the moment they met on The Bachelor. I swear, we actually saw stars come shooting out of their eyes when they first got a glimpse of each other. So, when it came to the finale, it simply had to be her, and I doubt many fans were surprised when Ben proposed to Lauren on The Bachelor . Now that we officially have the engagement of Blauren, or Len, (we can nail down their celebrity couple name later) to root for, the countdown to their wedding is officially on. So, when are Ben and Lauren getting married?
There doesn't seem to be any say from The Bachelor in when a couple ties the knot, so it should be up to the couple themselves to pick a wedding date. In this case, that means that it will be pretty soon. On last week's Women Tell All episode, Ben told Chris Harrison that he would marry "that woman" tomorrow, and we now know "that woman" is Lauren. After Monday's finale, we now know that Lauren feels the same way. These two will probably have a relatively short engagement, as Lauren said on Monday. They seem so in love and eager to start a life together, it'd be surprising if they waited very long to do that.
Remember, the final rose would have been handed out way back in November, when the finale was reportedly filmed. That means Lauren and Ben have already been engaged for about four months. In a recent interview with Extra, Ben also said that he wants to get married right away and the only thing holding him back is the fact that his fiancée has been "put through hell and back," he said. "She's had to watch me date somebody else and kiss somebody from week one to now."
It can't be easy to watch your now-fiancé dating other women on TV every week, so I certainly don't blame Lauren for needing some time to process all of that. Luckily for her, Ben has plans to make Lauren happy before getting to the wedding. In the same Extra interview, he said that he owes it to his fiancée "to date her well, treat her well, to take her on some great dates, to have some fun and maybe take a little vacation and then start talking wedding plans because it's not something we want to push off, but it's also not something [we want] to rush into."
So it seems that while Ben and Lauren are looking forward to marriage and won't stall on their way to the altar, they do want some time to themselves during their engagement. But considering that they've already had four months of a (very private) engagement and Monday marked the finale of The Bachelor, they may be nearing the end of that time soon.
Images: Matt Dunn, Levy Moroshan (2)/ABC