'Kimmy Schmidt' Season 2 Has More Wacky Characters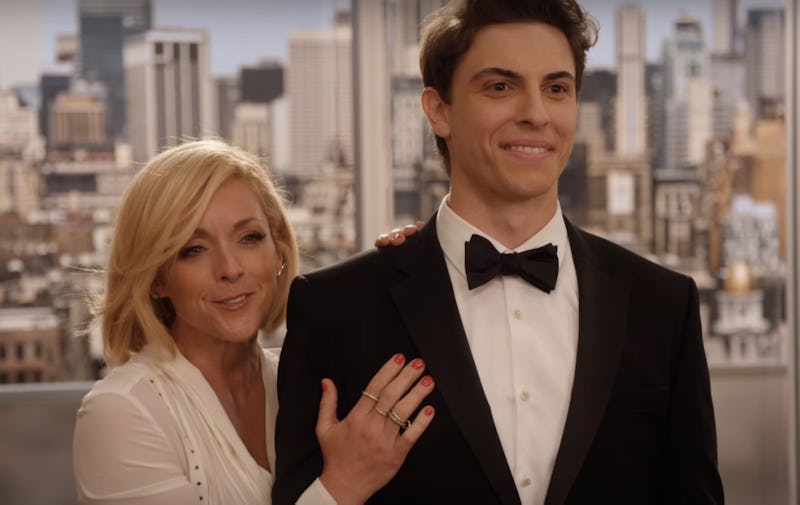 Living in an underground bunker has created a pretty crazy life story for Kimmy Schmidt. However, it seems like getting on your feet in New York City can be getting even more bizarre for the main mole woman of Tina Fey's hit Netflix comedy. With the Monday release of the Unbreakable Kimmy Schmidt Season 2 trailer on Buzzfeed, it's clear that all new characters are entering Unbreakable Kimmy Schmidt in Season 2. And, as expected, these newbies are additions to the show that prove that Titus and Mrs. Voorhees are just the beginning of what makes up Kimmy's odd (and extremely lovable) social circle.
So, who are all these new faces in the city? Well, from the looks of it, there's Kimmy's new (possibly short-lived) boss, Terry; there's a supposed new guy in Kimmy's life (who we cruelly don't actually see); and Kimmy may also be going to a therapist (I can't wait to meet this sure-fire weirdo). However, the most notable of the new names and faces has to be Douglas, a stereotypical pretty boy-type who Mrs. Voorhees introduces as someone who is "coasting on looks." Oh, yeah. That one's going to be interesting. However, aside from those specifics, it also seems as if Kimmy will be returning to school once again (bring back, Dong, please) and there's a whole lot more adjusting to do for her former bunker-mates. Seriously, the second season looks even more lovable than the first with all these folks in tow.
So how will these newbies make the show hashbrown Kimmier? Well, first of all, any new guy in Kimmy's life is definitely going to be bringing on the drama. That one's obvious. And as for Douglas? Well, either he is Mrs. Voorhees' very own new boy toy, or Mrs. Voorhees is on a mission to set him up with Kimmy. Either way, I cannot wait to see it all go down.
As for the rest of the characters, they seem to be bringing on the trouble as well. From introducing Kimmy to new viewpoints to helping her sort out her own crazy, some will be holding Kimmy's hand and others — like her bunker-mates Gretchen and Cyndi — may still need Kimmy to hold their hands (like when one of them gets into some drugs with a junkyard Elmo). But, no matter what, this show is definitely packing on the laughs and the new and improved funky catch phrases.
So, grab your glass of piiiiiiiiiinot noir, because Unbreakable Kimmy Schmidt premieres on Netflix April 15. You know, just in time to file your taxes and take the edge off with a woman who represents the opposite of real life responsibilities.
Images: Netflix