The 'OTH' Reunion Photos Prove A Lot Has Changed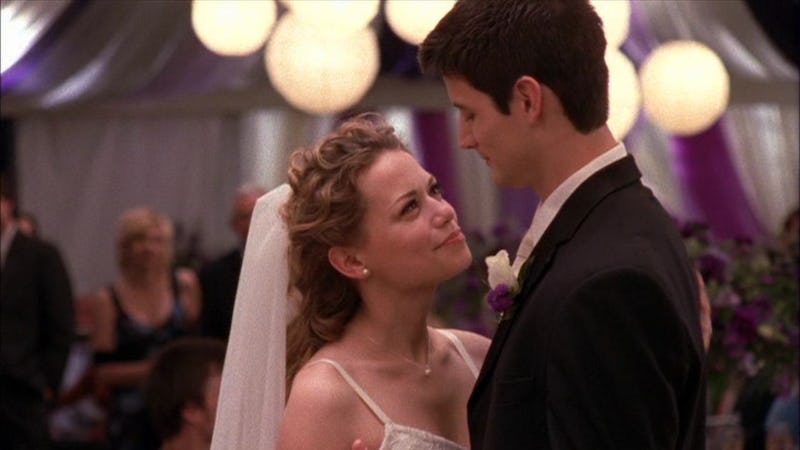 If there's one teen drama that still has my heart, it's One Tree Hill. The love triangles, the daddy issues, the teen weddings... my teenage self was all about it. Yes, the series occasionally veered into the melodramatic, but didn't all of our high school lives at some point? With heartbreaking moments (RIP, Keith!) and life-affirming monologues ("six billion people in the world, and sometimes, all you need is one") One Tree Hill was a master class in emotion, and though the series ended in 2012, those feelings haven't been forgotten — so much so that, every year, EyeCon hosts a One Tree Hill reunion in Wilmington, North Caroline to honor the show.
The EyeCon convention brings fans to the old One Tree Hill stomping grounds — the show was shot mainly in Wilmington — but it wasn't just fans who celebrated. Many One Tree Hill cast members also hit up the convention to remember the show that brought us the Brooke, Lucas, and Peyton love triangle. April 4 will be four years since the series ended, and somewhat surprisingly, the reunited One Tree Hill gang looks... pretty much the same since when we saw them last. If you didn't have a chance to make it to North Carolina this year, the cast provided plenty of adorable photos via social media. Here's how the cast looks now versus how they appeared on the show:
Lucas & Nathan, Season 1
This photo is from Season 1 of One Tree Hill, circa 2003. At the time, both Lucas (Chad Michael Murray) and Nathan (James Lafferty) were series regulars and the stars of the show.
James Lafferty & Chad Michael Murray, 2016
You need to appreciate CMM's commitment to the beanie.
Haley & Nathan, Season 1
It's crazy to think about, but there was a time when Haley (Bethany Joy Lenz) and Nathan were nothing more than tutor and student.
Bethany Joy Lenz & James Lafferty, 2016
Naley is still serious relationship goals.
Nathan & Jamie, Season 4
Nathan and Haley's adorable son Jamie (Jackson Brundage) first appeared after the series time jump, in Season 4. Brundage has since appeared as a regular cast member on the sitcom See Dad Run and as a voiceover artist on animated comedy Harvey Beaks.
James Lafferty & Jackson Brundage, 2016
Aww! Is there anything cuter than a reunited father and son?
BRB, going to start re-watching One Tree Hill right this second.
Images: The CW (4)