ModCloth's Bridal Line Is Stunning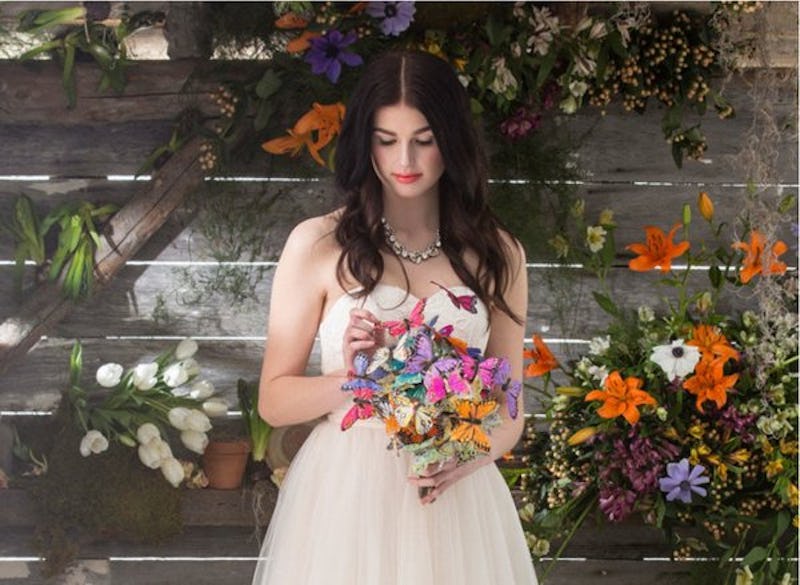 Weddings are notoriously pricey events, but who says getting married always has to break the bank? One brand is here to take some major cost off your big day, at least when it comes to the fashion department. ModCloth has launched a bridal collection that is just as pretty as it is budget-friendly, because price and style don't have to be mutually exclusive. If you're a bride on a budget or a bridesmaid in search of the perfect dress, you may now be wondering — when does ModCloth's bridal line come out?
ModCloth is proving that dressing your bridal party, and yourself, can actually be affordable. Wedding gowns range from $175 to approximately $450, and bridesmaids gowns fall between $70 and $175. I don't think it gets much better than that. In addition to 30 wedding dresses the collection also offers over 50 bridesmaids dresses, as well as footwear, intimates, accessories, and even gifts. It's basically your one stop shop for all things wedding.
The brand's signature bohemian chic vibe translates seamlessly into their bridal collection as well. From ivory lace to tea-length tulle skirts, the line embodies a certain vintage-inspired style that has come to define the label. If this sounds like it's right up your alley, you're in luck. The full bridal range is currently available to shop on ModCloth.com. Additionally, the collection will be available via a series of pop-up shops as part of the "ModCloth IRL Tour," which kicks off in Austin and concludes in Pittsburgh, according to WWD.
Check out some of the gorgeous wedding styles below.
For Love and Matrimony Dress, $300, modcloth.com
At just $300, this luxe-looking mermaid dress is practically a steal.
Perfect, As Planned Dress, $175, modcloth.com
I'm seriously digging the ethereal vibes of this dress.
Eloquent Admirer Dress, $150, modcloth.com
A truly one-of-a-kind piece.
Mesmerize to the Occasion Dress, $250, modcloth.com
Oh so chic.
Terrace Ceremony Dress, $175, modcloth.com
A bridesmaid dress at under $200? Now that's what I'm talking about.
Make Your Decadence Known Dress, $219.99, modcloth.com
Or perhaps charcoal is more the color scheme you're going for.
Divine Dining Heel, $138.99, modcloth.com
Do these scream vintage or what?!
A Hug and A Kick Flat, $49.00, modcloth.com
An adorable alternative to heels, if flats are more your thing.
Sassy Statement Fascinator, $39.99, modcloth.com
ModCloth has got all your bridal accessory needs covered.
Want more fashion and beauty tips? Check out the video below and subscribe to Bustle on YouTube!
Images: ModCloth (9); ModCloth/Twitter