More Reasons 'The Night Manager' Is A Must-Watch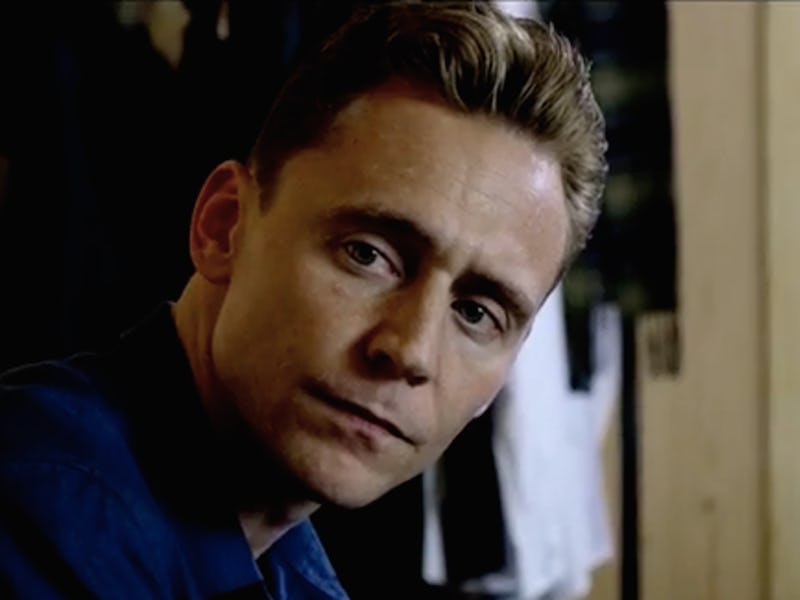 If spies aren't your thing but you love Tom Hiddleston, good news: The actor has given viewers a ton of reason to look forward to his upcoming spy miniseries The Night Manager (based on the John le Carré novel of the same name) even if you don't love spies. Hiddleston and co-star Elizabeth Debicki share a hot sex scene in The Night Manager –– and if Twitter's reaction to it when the fourth episode of the series aired in the UK on Sunday night is any indication, it's a good one.
In a six-episode miniseries — which is co-produced by Ink Factory and BBC 1 — Hiddleston plays an ex-soldier-turned-night manager turned spy named Jonathan Pine. He has to go undercover and befriend a super evil illegal arms dealer named Richard Roper (who is played by Hugh Laurie). Pine also happens to fall in some sort of love/lust with Roper's girlfriend, Jed Marshall (Debicki), and in Episode 4, their relationship comes to sexy fruition –– much to the delight of Hiddlestoners the world over.
In the scene in question, Pine and Marshall find themselves having sex against the wall of a hotel room. And yes, ladies and gentlemen, this is not a drill, we get to see Hiddleston's butt.
Our British Hiddlestoner brethren shared their two cents about Hiddleston's behind, so much so that they practically broke the Internet. The following are some of the best reactions to what may be, and I'm not exaggerating here, the most beautiful butt of all time.
One User Was Super Relatable
One Tweeter Thought It Might Be Her Birthday
Someone Said What We All Thought
One Hiddlestoner Almost Died
Basically, People Are Losing It All Over The World
We won't be able to catch a glimpse of the bum in the U.S. until Episode 4 airs (presumably four weeks after April 19, when the show premieres). But stand strong, American Hiddlestoners; only when we band together can we overcome this long, long wait.
Image: BBC One